Talibah Begay
(
Image
by
Talibah Begay
)
Details
DMCA
This is Talibah Begay's video update on the activities at Standing Rock, an interview with Dallas Goldtooth of the Indigenous Environmental Network. Talibah is a Navajo singer and teacher from New Mexico who is camped out at Standing Rock.
In the video, Dallas explains the details behind the incidents on Saturday and Sunday at Standing Rock:
A previously unknown sacred site and burial ground was just discovered, and determined to be a significant example, as well as one of the largest finds in the upper midwest. It included ceremonial sites and gravesites, and was in the direct path of the pipeline.
So, on Friday paperwork was filed in Washington DC to ask for an injunction to be granted because of this newly discovered and significant site. This would require state officials to go to the site to do an official survey. If this site was determined by state officials to be a significant cultural site, this could cause delay or cancellation of the pipeline.
On Saturday, Dakota Access stopped their pipeline construction 15 miles away, and brought their bulldozers to the area of the cultural site. They plowed through two miles of land, apparently purposefully destroying all remnants of the cultural site on a holiday weekend, therefore circumventing the request for an injunction before it could go through proper channels.
Of course the Native Americans were horrified at this terrorizing turn of events and moved forward to try to protect the sacred land.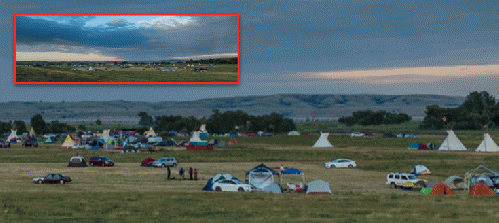 Dakota Access Pipeline protest at the Sacred Stone Camp near Cannon Ball, North Dakota, Aug. 25, 2016
(
Image
by
Tony Weber
)
Details
DMCA
Clearly, Dakota Access had planned ahead, and had a security force onsite that maced the front line of unarmed protesters, which included women and children.
The security force also had attack dogs. Goldtooth notes that it was apparent that it was an untrained or poorly trained canine unit, as one of the workers was bit by his own dog, and then let go of the leash, allowing dog to run loose into the crowd of men, women and children, where it bit several people and a horse.
There is a strong sense that this was done on purpose, to remove evidence of the site before it could be documented, and to try to prove the false narrative that the peaceful protesters are actually violent.
Donations can be made to Standing Rock Sioux Tribe via Paypal or credit card.
#standingrock