Shobha Shukla, Citizen News Service - CNS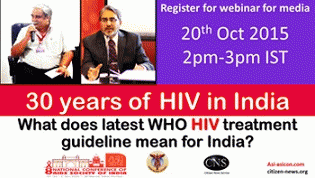 30 years of HIV in India: Long way to go still?
(
Image
by
CNS (Citizen News Service)
)
Details
DMCA
Video is online at: https://www.youtube.com/watch?v=5N3EWRoXhzM

It is almost 30 years since the first case of HIV infection was detected in India in Chennai in 1986. In a recent webinar organized by Citizen News Service (CNS), Dr R R Gangakhedkar, Director-in-charge, National AIDS Research Institute, Pune (Indian Council of Medical Research), presented a vivid picture of India's tumultuous journey in its fight against this dreaded disease.
Going down memory lane, Dr Gangakhedkar recalled that India took almost 6 years (after the 1st HIV patient was diagnosed) to finally wake up to the realization of the imminent threat of HIV/AIDS, and thus was born the National AIDS Control Programme in 1991-92. Initially it offered treatment only for sexually transmitted infections (STIs) and opportunistic infections (OIs) arising out of HIV. The developed world was, at that time, already providing sequential mono therapy for the disease. 1994 proved to be another landmark year for the West, when prevention of mother to child transmission (PMTCT) became possible with AZT (generic name zidovudine, Retrovir). Also, protease inhibitors led to the evolution of the 3 drugs combination anti retroviral therapy (ART).
From despondency to action
The first anti-HIV drug, zidovudine was marketed in India in 1995 but the cost was prohibitively high. It was only in 2000 that generic pharmaceutical companies started manufacturing the drug and prices came down drastically. At that time the feasibility studies for PMTCT, that began in 1998-99, were already over. The government's PMTCT programme started in 2001--with a private pharmaceutical company CIPLA providing single dose Nevirapine free of cost to as many women and children as possible across the country. Then free ART was rolled out in 2004.
Current status
Today, government programme uses the CD4 cell count cut-off 210, and this is much better than that in many other countries, says Gangakhedkar.
The new WHO guideline
(Note: You can view every article as one long page if you sign up as an Advocate Member, or higher).