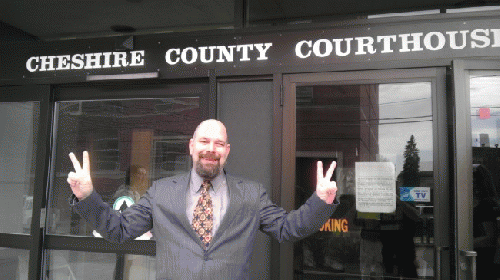 Rich Paul Outside the Cheshire County Courthouse
(
Image
by
Free Keene
)
Details
DMCA
The remarkable story of jailed New Hampshire marijuana activist Rich Paul has become widely shared and justifiably celebrated in the past year or so since his troubles with the state first began. His story has been diligently covered by a variety of both major and independent news and blog sites, and was most notably featured not just once, but twice among the outlandish and eye-catching stories of the tremendously-popular VICE media group, which could arguably be nicknamed the "front page of the internet."
After refusing to accept the state's bribes in exchange for pleading guilty to charges of drug trafficking, the heroic activist (who first gained notoriety after starting the public marijuana "4:20 rallies" in New Hampshire) turned down offers of shorter jail-time and other lesser sentences in order to stick to his principles. In fact, he even went so far as to refuse the final plea deal that was offered to him on the day before his trial proceedings began, which would have resulted in his having to spend absolutely no time in jail and an immediate sentencing for an extended period of probation instead. However, selling his own morals out in such a slippery manner and admitting guilt for a peaceful act that had ultimately been his own choice (and which had left no victims in its wake) would have been utterly unthinkable for someone as principled and true to himself as Rich Paul.
(As a side note: I will from here on continue to refer to him as "Rich," due to our status as friends who operate on a first-name basis, and because it would seem weird to refer to him as "Paul" or "Rich Paul" for the rest of this article. Also, I don't think he'd like it if I did.)
On the contrary, wrongfully condemning oneself to admitting false guilt for having committed an act that is only considered criminal in the eyes of a morally bankrupt and predatory organization such as the state would have been far more damning for any truly honest person than whatever sentence could be delivered by robe-wearing men in positions of judicial "authority." Rich is indeed so hardcore about his beliefs that he was willing to risk a sentence of up to 81 years in prison in order to stand up for his actions--and all just for selling medically-harmless products to those who willingly wanted to buy them from him. Since the very beginning of his struggles with the state, he has refused to cooperate with authorities or betray either himself or his associates, even when he was threatened and bribed by FBI agents to wear a microphone into an establishment formerly-known as the Keene Activist Center. At the time, the "KAC" had been a regular gathering place where a noteworthy group of New Hampshire-based libertarians engaged in social functions of an exclusively peaceful nature. Unfortunately, the KAC came to find itself under official speculation due to the anti-establishment viewpoints of its members, but the investigation seems to have fizzled out following Rich's refusal to participate in it.
Rich has remained incarcerated since April 18th, 2013, and is serving his time in the Cheshire County House of Corrections for five drug-related felony charges for which he was sentenced on June 7th (including one conviction for a piece of paper, wrongfully presumed to contain LSD). However, Rich and his countless supporters argue that his actions never hurt anyone in the first place. His courageous determination to stand up to the unjust drug laws that so many across the nation are beginning to find the courage to speak out against makes him deserving of any drug-war activist's moral support. However, I should note that my recent investigations into Rich's well-being have only revealed that he needs support from the activist community now more than ever.
Rich has recently been denied access to the jail's freshly-enacted "partial release" program by the facility's superintendent, Richard Van Wickler. The program was first introduced to the jail's "eligible" inmates on September 26, 2013, allegedly with the intent to allow prisoners to leave the grounds for extended periods of time. Under the condition that participants in the program pay $20 a day to wear a bracelet that acts as a tracking device that monitors their every move, those who are approved for the experimental approach to "correction" receive more preferable experiences than simply sitting in jail cells for the duration of their sentences. However, in the almost two months since the policy was brought into existence at the jail, only a few inmates have ever been approved by Van Wickler (the man who holds the ultimate say over which prisoners are granted access to the program). One such individual, despite having been convicted of embezzlement--a far more serious crime, and one that establishes a very clearly identifiable victim, unlike in that of Rich's case--was approved for partial release by Van Wickler, but later ultimately denied the grant by the local prosecutor. Van Wickler's sole justification for letting a thief go, rather than a peaceful merchant, was as follows: "I just don't think that he [Rich Paul] will stay out of jail." It is also interesting to note that among those who have been approved for the program is a fellow marijuana convict. But such is often the logic used in a system where personal pull holds more sway than honest and upright justice, in terms of right and wrong.
Following his incarceration, Rich began composing a motion to be presented before the courts as an argument that he was deserving of either a home-confinement sentence (rather than outright jail-time), or of being let out on the terms of a work-release program. Shortly after being taken into custody, his progress on the motion was cut short after his keyboard privileges were suddenly denied on the grounds that other inmates in the past had abused such privileges. It was not until Rich was transferred to a new cell block that he regained the use of a keyboard through what seems to have been little more than a bureaucratic clerical error that worked in his favor.
Upon its completion, the motion and its accompanying collection of information were presented to the court by friend and fellow activist Ian Freeman (founder of FreeKeene.com , a website for which Rich has remained an active contributor, even during his time spent in jail). The accompanying selection of facts that was submitted with the motion included over 170 pages of marijuana facts and statistics, in addition to the deeply moving and detailed statements Rich had penned in order to address both his existential innocence and personal suffering as a result of having been wrongfully caged for a victimless act. The motion presented four requests to the courts that could possibly have been granted to him: that he either be released early as a result of the time he had already served, that he be granted home confinement in the event that he were to be denied his request for early release, that he be granted work release in the event that he was denied the request for home confinement, or finally, that he be granted a hearing on the matter if all else had failed. Both the prosecutor and the judge granted Rich access to either a home- confinement or work-release program, but superintendent Van Wickler denied him both.

As a result, Rich's only remaining option is to stay in jail until his upcoming release date, which will be determined by an executive decision based on his "good time" spent in jail. His only other option for an early release would have been a bail motion, which has been denied by the Supreme Court. Hopefully, the Supreme Court will overturn his conviction during the appeal process (which will begin in January), a decision that may take up to two months before being made. During the appeal proceedings, Rich's best hope lies in New Hampshire's unique and groundbreaking new state law, which authorizes defense attorneys to explain the legal process known as "jury nullification" to members of a jury during the actual court proceedings. Jury nullification is the avenue through which jurors are legally permitted to determine the outcome of a case, based not only on its facts and circumstances, but also upon their own consciences regarding the very nature of the law itself: it gives individuals the ability to vote "not guilty" on behalf of individuals who are being tried for breaking a law that is altogether immoral.
Ultimately, if even one juror in Rich's case were to vote "not guilty" (despite whatever evidence might exist that could legally incriminate him), simply because they felt that marijuana prohibition is wrong as a practice altogether, Rich would legally have to be found innocent. No other state has ever allowed such an important aspect of the justice system to be clarified in a courtroom before members of a jury, despite the complete legality of the procedure. In fact, many states have attempted (often successfully) to prosecute jury-rights activists for jury tampering upon becoming aware of efforts to educate individual jurors about their rights to vote their conscience during the trial process.
Until that time comes, however, Rich has remained active, despite his incarceration. During the course of his time spent in captivity within the Cheshire County House of Corrections (which has been pseudo-affectionately nicknamed the "Keene Spiritual Retreat" by fellow liberty activists), Rich has made efforts to maintain contact with the outside world as a content contributor for the aforementioned website "Free Keene." Blogging from time to time about the atrocities he has been forced to undergo throughout the duration of his involuntary stay in the facility, he has certainly shed some light onto the struggles of incarcerated victims of the drug war. However, Rich and others now suspect that his honest and damning portrayals of the ugly realities of everyday cell-block life might be contributing to the recently-escalating levels of disdain and contempt with which he has been treated as of late. Since publishing such gut-wrenching articles as, "House of Corrections' is House of Horrors for Mentally Ill," Rich has begun to find himself more and more frequently on the receiving end of a flurry of minor behavioral write-ups, which ultimately could add up to some less-than-trivial consequences.
*** FINISH THE STORY AT http://www.statelessstatements.com !! ***