Email: nicholaspshankin@gmail.com
SHARE

Nicholas Shankin (View How Many People Read This)

I have 1 fans:

Become a Fan.
You'll get emails whenever I post articles on OpEdNews
My writings are an outlet for me to discuss current events and everyday instances of oppression (and resistance) that occur because of the continued and irrational belief that government is somehow necessary or beneficial to society.

It seems as though every day I am consistently bombarded with new scenarios, each overwhelming in their own way, and each serving to further illuminate the gravity of the consequences that come about as a result of a society who refuses to embrace true freedom.

The scenarios are endless, the examples are bold, and the implications are dire. It's time for people to begin to see the undeniable writing on the wall and wake up to the rapidly-dawning era of new ideology that is inevitably going to come about: a mentality of self-government that is uncompromising in its devotion to unbridled personal liberty.

Each of these pieces is just another one of my contributions to the growing shift in the direction of humanity. I hope you enjoy it, whoever you are.

Peace, Love, and Liberty,

Nicholas Shankin
OpEdNews Member for 338 week(s) and 2 day(s)
5 Articles, 0 Quick Links, 3 Comments, 0 Diaries, 0 Polls
Articles Listed By Date
List By Popularity
SHARE

Monday, April 7, 2014
Jack Daniel's Recipe Is So Good, It Should Be Mandatory!
An analysis of new regulations being proposed for "Tennessee whiskey," and the nature of regulatory standards, in general.
(4 comments) SHARE

Saturday, March 8, 2014
"Papers, please! Papers, please!"
A 23 year old with no previous forms of identification learns just how difficult it is to get "on the grid," and makes observations about the intrusive, Orwellian necessity of identification papers in the United States.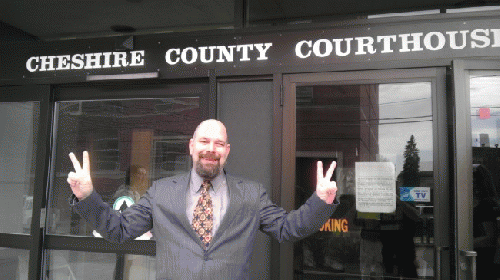 SHARE

Thursday, November 21, 2013
The Latest Trials and Tribulations of Activist Rich Paul, Modern Folk Hero
A recap of recent events in the life of jailed New Hampshire marijuana activist Rich Paul, and his struggles against the persecutions of a system rigged against him while he serves his term in jail.
SHARE

Thursday, October 31, 2013
Watching Philadelphia's Watchmen: A Week's Worth of Corrupt Cop Cases
A summary of only a week's worth of corruption in the Philadelphia Police Department. An argument against monopoly on law enforcement.
(2 comments) SHARE

Thursday, October 24, 2013
Carpe Brutality, Carpe Corruption: Prime Time For Government Crime
An analysis of the difference between government employees and private workers, in terms of the consequences of on-the-job inadequacy and misconduct. How the political class is more economically privileged.