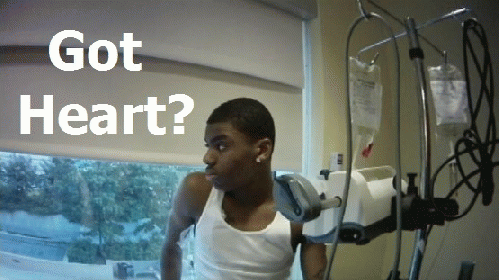 Maybe not for Anthony
(
Image
by
Google Images w/caption by Rev Dan
)
Details
DMCA
"Fifteen-year-old Anthony Stokes has less than six months to live unless he receives an emergency heart transplant. But his family has been told that Anthony doesn't qualify for the transplant list because he has a " history of non-compliance " -- partly due to his history of earning low grades and having some trouble with the law."

Low grades and trouble with the law can get you killed - by lack of compassion.

Racial profiling has been in the public eye since the Travon Martin case. And it's possible that the case of Anthony Stokes came to attention because of racial profiling awareness: young black man with poor grades in school and having "trouble with the law" does not deserve respect.

Children's Healthcare Atlanta at Egleston:

"The well-being of our patients is always our first priority. We are continuing to work with this family and looking at all options regarding this patient's healthcare. We follow very specific criteria in determining eligibility for a transplant of any kind."


Noncompliance

The official reason for the denial given to the parents was "noncompliance." People are scratching their heads, however, since neither the family nor Anthony have been known to have any reluctance to comply with medications or treatments. The hospital refused to go into further detail.

And lack of detail may be a key point: without specifics, suspicions and assumptions can arise and with the case of Trevon Martin still fresh in the American psyche, African American mistrust of any predominantly white (Southern) organization (as Children's Healthcare is) is bound to exist. So, the only other reason Anthony's family see before them is that Anthony is a poor black youth with a less-than stellar past. The stereotype fits half the black youths in Atlanta, but unfortunately for Anthony, his past may have sealed his future.

The Southern Christian Leadership Conference also questions the reason of "noncompliance."
"He's been given a death sentence because of a broad and vague excuse of noncompliance. There was nothing specific in that decision. Just noncompliance," said Christine Young Brown with the SCLC.
"Trouble With The Law"
"The group talked about how Stokes is normally a healthy teenager who set high goals for himself, but one thing they did not address in the press conference, but later admitted, was that Stokes has been in some trouble and that might be the reason for the denial."

Also troubling about the case is the vague statement of "trouble with the law." No indications were given that Stokes had a criminal record, just minor "run-ins" with police. Melissa H In a country where convicted felons have received transplants while in jail, "trouble with the law," seems a flimsy reason at best. The devil may indeed be in the details.

Death From Profiling

Just as support is lining up for Anthony Stokes, so is criticism: the "race card" is being used just as it was in be Travon Martin case. To be sure, comparisons exist between Stokes and Martin, but the situation involves not "stand your ground" and a gun, but a hospital possibly determining life or death on the basis of the 15 year-old's past.

"We are continuing to work with this family and looking at all options." Death from profiling should not be an option.