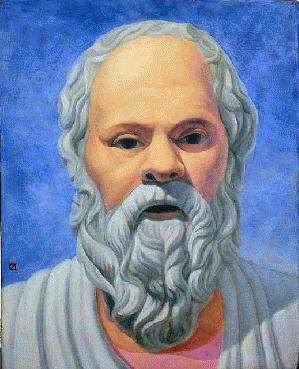 .Know thyself!.

(

Image

by

(From Wikimedia) Juliethe,jaramillo

, Author:

Juliethe,jaramillo

)

Details Source DMCA
1. A Spy Speaks
I was there. I saw with my own eyes, heard with my own ears.
He was ranting, as usual, squawking in the agora--for all to see, for all to hear. Any passer-by--male or female; yes, some girls and women paused to hear him, too! Such blasphemy! And, his usual gaggle of unbearded youth--his students, disciples--Plato and the rest of them, all in my notes.
I pretended to be one of them, got close. Just one of the stragglers who comes to hear his carrying-on--all that questioning he does, misleading minds too young to make distinctions, minds pliable for his palavering.
It's in my notes! I pretended to be listening to all his slippery--what he calls "logic." Two plus two equals any proposition suits his fancy!
Mostly, babbling about the State (as he calls it), our fair city-state, Athena's pride, proud Athens. Diatribing--if you will--against the recent laws. (As though those laws did not protect him, too!) As though we had a choice--with Sparta at our gates; and even downcast Persia gaining strength again, casting envious eyes at us! As though our officers' foremost obligation was not to protect us from our enemies--"terrorists" abroad, "domestic extremists" within our very walls!
Extremists posing as though they, too, belonged! Citing ancient texts to justify their claims, ignoring the exigencies of these dark times! Radicals! Like the crop of rising "playwrights"--humanizing ancient foes; they'd have us weeping over the plight of conquered women!
Enough! I've done my duty. I have no regrets. I would do it again. And again. And again. Till all these damnable vermin are wiped out! How dare they question the Authorities, sow doubts? Now, when no one's to be trusted--behind every cloak--a dagger!
Suppose a wandering slave should hear his claptrap? Suppose that slave spoke to another, and that one still another, on and on? You see where such things lead?
I would do it again! They say he will be put to death now, offered hemlock for an easy passage. Let him go to hell! Good riddance to him and all his kind!
2. Jocasta speaks
I am not from there, have always heard great things of Athens, and confess I was amazed to see the alabaster walls, the works of marble Pericles commissioned. How unlike our own great Thebes! And, grandest of all--how shall I put it--an atmosphere of freedom--one could feel it in one's bones. But now.
Of course, I could not go as myself, being known in Thebes, and perhaps familiar to some emissary who has visited our realm. So, I made myself to look the way their women look (a little younger than myself, I confess!). So, I was surprised when some strange man accosted me. (I am not young enough to be accosted by strange men, no matter how much wizardry I plaster on my face!) Truth be told, I was affronted by his boldness. Then, affront upon affront compounded!--another came, and another, bidding me go with them. "On what charge?" I calmly, half-politely asked. But, they were grim-faced, and with their hands upon my forearms ushered me away.
(Note: You can view every article as one long page if you sign up as an Advocate Member, or higher).