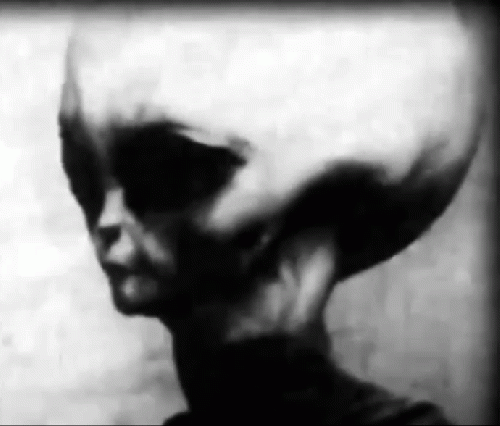 Skinny Bob
(
Image
by
Ivan0135 public domain
)
Details
DMCA
In September 2019, the United States Navy admitted that widely circulated F-18 gun-sight videos of physics defying UFOs are real. The high speed flying objects, now officially referred to as "Unidentified Aerial Phenomena", looked and behaved like exotic alien spacecraft, not like natural phenomenon or any man made aircraft.
Eight years earlier on April 13th, 2011, an individual or group using the screen name Ivan0135 posted on YouTube a KGB film from the 1940s which showed saucers flying over a city, crash wreckage, dead aliens, and one walking extraterrestrial survivor. The film looks real, and would be difficult to fake. This tells us that Soviet dictator Joseph Stalin knew about the ongoing extraterrestrial presence on planet Earth at a very early date. Like Franklin Delano Roosevelt, Harry S. Truman, and succeeding American presidents, Joseph Stalin thought this knowledge was too psychologically, politically, and culturally hot to be disseminated to the general public.
On May 1st, 2011, Ivan0135 released a mind bending video of an alleged alien being which was claimed to be from the Zeta Reticuli star system. It was nicknamed "Skinny Bob" by its human captors.
On May 8th, 2011, Ivan0135 released a brief video message stating that no commercial interests had ownership or control of the videos, and that "The revelation of further material will depend on the events and people." The video included a police station style hand print from Skinny Bob revealing his four long fingers per hand.
Finally, on May 17th, 2011, Ivan0135s posted an enticing video titled "Family Vacation". This allegedly showed a group of extraterrestrials walking freely at a military base to meet high ranking officials for an important conference. The alleged 1961 human-alien meeting was secretly filmed with a hidden camera against the wishes of the Grey Aliens. Ivan0135 did not reveal the location of the conference, but I suspect both the group meeting and the Skinny Bob filming sessions were held within the borders of the United States of America.
Ivan0135 refers to the videos as being leaked from "air force" files. If he was talking about the Russian air force, he might have used their official tile, the Voyenno-Vozdushnye Sily Rossii, which literally means "military air forces of Russia". My strong suspicion is that Ivan0135 and compatriots are American citizens with current or past ties to the United States Military, Los Alamos National Laboratory, the CIA, or the NSA. The use of the name "Ivan" may be a simple misdirection to help obfuscate true identity.
Family Vacation
(
Image
by
Ivan0135 public domain
)
Details
DMCA
Special effects experts have analyzed the Skinny Bob videos and found them to be authentic. Our most talented artists cannot duplicate their level of realism. In my six minute YouTube video, Skinny Bob - The Real ET, I directly compare Skinny Bob and his companions to the best science fiction films Hollywood has to offer, and there is no comparison. Animatronics are ruled out as a possibility, as is pure animation. The computer generated image (CGI) techniques of big budget films pale in comparison.
What convinced me the most was the natural gait of the extraterrestrials at the meeting. The little Grey Aliens of Roswell fame are believed to possess telepathic powers, which requires a superconscious state of mind. The natural and flowing walk of the Grey Aliens reminded me of advanced human meditators as they walk away from intense meditation sessions. That seemingly floating walk would not likely have been even imagined by professional CGI artists, whose alien creatures move as if they were constructed of rubber and clay, not living flesh and bones.
Credible testimony by Area 51 and Area S4 insiders, such as Captain Bill Uhouse USMC and scientist Bob Lazar, support the fact that saucers have crashed, alien bodies have been recovered, and living extraterrestrial beings have spoken to us in the English language. Imagine all of the incredible things Grey Aliens must have told our scientists while ordinary citizens are left in the dark. Imagine if Christopher Columbus had returned to Spain and told Queen Isabella that there was no New World, only empty water. A secretive military cabal and a handful of politicians are censoring world history that dramatically rewrites our physics, astrophysics, biology, and anthropology textbooks.
For more UFO videos and scientific and military professionals recounting thrilling encounters with spaceships and humanoids from other worlds, please see Crazy World of UFOs.