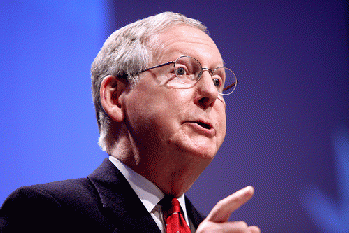 Mitch McConnell
(
Image
by
Gage Skidmore
)
Details
DMCA
by Walter Brasch

The U.S. Senate--under the leadership of Mitch McConnell who once said his primary mission was to see that the Senate didn't agree with anything President Obama said or did, and to limit him to one term--continues to be one of the nation's leading obstructionists. This time, the Senate isn't meeting to advise or consent to the President's nomination of Chief Judge Merrick Garland to the Supreme Court.
Garland was valedictorian in his class at Harvard College and magna cum laude from the Harvard law school. He worked in the Department of Justice before becoming the chief judge on the D,C. Court of Appeals, having been confirmed by the Senate, March 1997.
The reason for the judicial committee not to meet to even discuss the nomination to the Supreme Court, according to the Republican members, is not because of the judge's qualifications--where he was widely praised by plaintiffs and defendants, Democrats, Republicans, and most third parties--but because they don't believe a president in his last year of office should nominate Supreme Court justices, even though six justices were nominated and appointed by the Senate since 1900 in a president's last year of office.
The following scene reflects what may be what the Republicans apparently want in a Supreme Court justice.
Facing the Senate Sub-Committee on Obstruction of American Life was President Obama's latest choice for Supreme Court justice.
"Have you now or have you ever led anything and did you ever have any opinions?" asked the committee chair, Sen. Porkbelly Pineapple.
"I once led Boy Scout Troop 7 on a Wilderness hike," said the nominee. "But I never told them they must be led or that they should follow my example or that they couldn't have any opinions about the hike."
"That's very good," said Sen. Pineapple. "What is your value system?"
"I believe in Rush Limbaugh, God, motherhood, the American flag, and apple pie," said the nominee.
"Did you say apple pie?" asked Sen. Harry Hazelnut.
"No, no!" said a sweating nominee. "I meant to say cherry pie. Yeah, that's it. I believe in cherry pie. It was George Washington's favorite pie, and whatever was good enough for the father of our country is good enough for me. Unless he later disowned cherry pie. And if he did, then so do I."
(Note: You can view every article as one long page if you sign up as an Advocate Member, or higher).