I almost forgot. How could I forget? My friend and cinematographer Noel Donnellon who has worked in Congo and Rwanda reminded me that my friends in Central Africa were in mourning. They will be in mourning for all of April. But I forgot. My "adopted" children saw their parents murdered and I forgot. Such is self-absorption in the modern world--but we must never forget. Our ex-pat friend and mentor, Rosamond Carr is buried there and we miss her still. She survived hell in the garden of Eden and Noel reminded me of her words of sixteen year ago...

When my cook came in with my breakfast, I said, " President Habyarimana's dead.' His face turned a completely different colour, he put the breakfast tray down and he looked at me and said, "Madame, this is the end of the world.' It was." - Rosamond Carr
The historical event is straightforward and easily summarized. The plane carrying Hutu Rwandan President Juve'nal Habyarimana and Burundi President Cyprien Ntaryamira was shot down on April 6, 1994, on approach to the Kigali airport. Their assassination sparked the Rwandan genocide, which lasted for 100 days. Up to one million Tutsis and moderate Hutus lost their lives. In the initial bloodshed a majority of the dead were Tutsi.
A French judge has since blamed current Rwandan President, Paul Kagame, for orchestrating the rocket attack. Others still hold to the theory that it was members of Habyarimana's inner circle who ordered his assassination.
In 1994, Kagame was leader of the Tutsi rebel group, the Rwandan Patriotic Front (RPF), which was training in Uganda. Kagame led his troops into Kigali in July, the Hutu government fell, and over 2 million Hutus fled into neighboring Zaire (now the Democratic Republic of Congo). Among the refugees were members of the Interahamwe, and their presence in Congo has resulted in continuing bloodshed. This tension is exploited by multi-national interest in the wealth of Congo.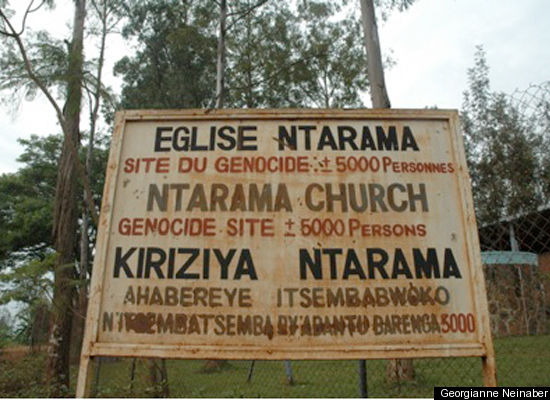 "Plus or minus 5,000 persons" is written in French, English and Kinyarwanda on the rusting sign outside of the little Catholic church in Ntarama, Rwanda--30 Km from Kigali. On April 15, 1994 while villagers were defending themselves with bows and arrows in the surrounding countryside, members of the Interahamwe, the Hutu militia and Rwandan government forces knocked holes in the church walls and threw grenades into the church nave before using guns, machetes and clubs to murder the Tutsi villagers who took shelter there. Surely God would protect those huddled on sacred ground. "I believe God will be with us until the end," reads a note we found stuffed in a discarded, blood-spattered church hymnal. The dead were wrong.
The images in this report are atrocious and in some cases obscene. But, they speak the truth of what happened during 100 days in 1994, and how the repercussions of those events of fifteen years ago have led to the deaths of six million or more in Congo.
Incredibly, just as happened in the years following the Holocaust, there are some who say that genocide never took place. Most Americans cannot visit the memorials depicted in this article. It is reason enough to show the photos.
In the United States, if a rapist or child molester is released from prison, the perpetrator is hounded from civil society, driven from neighborhoods and ostracized forever. Every American has access to databases that indicate the residence of every known child abuser and criminal.
Imagine having the world community tell you that you must live side by side with individuals who murdered millions, including your loved ones. To say "we are all Rwandans now," is a public relations attempt to mask the undercurrent of rage and despair that still permeates Rwandan society. This is a lie and the world press continues to paint Rwanda as a miraculous post-genocidal society that has somehow risen from the ashes of recent atrocities. Our collective guilt has given Rwanda a free pass.
Ask the Hutus in Ruhengeri how they feel about millions in foreign aid going first to Tutsi President Paul Kagame's vision for his modern city of Kigali. Ask the poor who are being moved from the outskirts of Kigali to an already overburdened countryside so that modern high rises and apartment buildings can replace their wooden shacks. How they will feed their families?
Ask the Tutsi survivors of 1994 if they still feel hunted and afraid if they live close to the Congolese border, or even in the Hutu community of Ruhengeri.
Ask the Hutu survivors in Rwanda and Congo about the retaliations forced upon them and their families by Kagame's victorious RPF in 1994 and 1996.
(Note: You can view every article as one long page if you sign up as an Advocate Member, or higher).