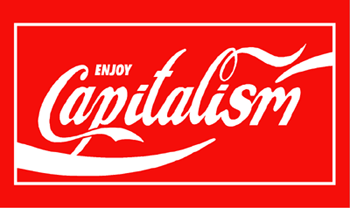 Some quotes:
"Democracy is the worst form of government, except for all the others."--Winston Churchill
"You shall know the truth, and the truth shall make you free."--John 8:32
"You may think times are bad, and the young are taking this country in the wrong direction. The elders always see it that way. It's no different today."--old men
"I don't want eternal truth; I want a chili dog."-- Anonymous, 1966
"greed, for lack of a better word, is good."--Gordon Gekko
"If there was another way I would take it. But there is no alternative"--Margaret Thatcher
"If we don't do this tomorrow, we won't have an economy on Monday." -- Ben Bernanke to Congress September 18, 2008
"Unless you act, the financial system of this country and the world will melt down in a matter of days." --Treasury Secretary Henry Paulson to Congress September 18, 2008
"Madoff made off with all the money. And his clients are down to skunk weed. Repeat after me it's so easy to see. We're only talking simple greed."--Jimmy Buffett, (A Lot to Drink About)
Okay, okay. Enough with the quotes! My point is this: Everybody knows there's something wrong in the USA. But practically nobody knows what or why. And that includes economists who have won a Nobel Prize. One, Milton Friedman, did know how to be an authority figure for plutocrats to point to when defending their vast and growing wealth and the growing poverty that has been noticed by others.
But is there really "no alternative"? Is this polarized economy of winners and losers really a democracy? Is greed really good? Instinctively, we know better, but if we don't know what we don't know, we can't hope to propose a better way and a realistic path to its adoption.
Friedman's economic theories are, unfortunately for the 99.9%, the received wisdom of today. The Federal Reserve System and all other central banks worldwide are stripping assets from individuals, governments, and the Earth as rapidly as possible through debt slavery. The end result of this con game will be the death of humanity and, perhaps, the destruction of all life on Earth if it is allowed to play out.
There are, however, a few economists today who understand what is wrong and have explained it in language the general intelligent reader can readily understand. They do their work primarily at the Levy Economics Institute of Bard College and the University of Missouri at Kansas City. Some of the most prolific authors among them are Michael Hudson, L. Randall Wray, and William Black. There are others as well. The most notable predecessor of these scholars, IMO, was Hyman Minsky, who passed away on October 24, 1996.
I recommend Hudson's Killing the Host as a first book for those interested in learning what is wrong and what to do about it. Next, I suggest reading Why Minsky Matters, by Wray, who studied under Minsky.
(Note: You can view every article as one long page if you sign up as an Advocate Member, or higher).