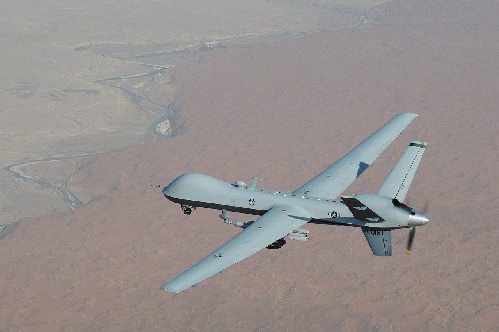 General Atomics Reaper
(
Image
by
public domain
)
Details
DMCA
Below are my remarks as part of a panel presentation on psychology and weaponized drones at the American Psychological Association Annual Convention in Washington, DC last week. -- RJE
********
Because drone warfare has profound psychological effects on many different levels, it raises critical questions for members of our profession, including questions about the do-no-harm ethics of psychologists' participation in drone-related operations and research. That's what I'd like to briefly discuss this morning.
Last year Taylor Owen, research director of the Tow Center for Digital Journalism at Columbia University, summarized certain aspects of the psychological impact of drones this way:
"Day and night, you hear a constant buzzing in the sky. Like a lawnmower. You know that this flying robot is watching everything you do. You can always hear it. Sometimes, it fires missiles into your village. You are told the robot is targeting extremists, but its missiles have killed family, friends, and neighbours. So, your behaviour changes: you stop going out, you stop congregating in public, and you likely start hating the country that controls the flying robot."
Owen's description is consistent with the findings from the detailed 2013 Stanford/NYU Living Under Drones report examining U.S. drone policy. That report states: "Their presence terrorises men, women, and children, giving rise to anxiety and psychological trauma among civilian communities. Those living under drones have to face the constant worry that a deadly strike may be fired at any moment, and the knowledge that they are powerless to protect themselves." And Kat Craig, Legal Director at Reprieve, has said, "These findings represent further evidence that drones not only kill innocent civilians, but that their use amounts to a form of psychological torture and collective punishment."
It's important to recognize that even as U.S. drone proponents boast of the surgical precision of these instruments of war -- including in regions where no war has been declared -- these same advocates offer no comment on the psychological devastation caused by "living under drones." These well documented harmful effects call into question any comfortable claim that drone warfare meets law-of-war requirements regarding proportionality and distinction, since the victims number many more than those killed or physically injured by drone attacks.
As described in their 2013 report titled Will I Be Next, Amnesty International rejects the view of the U.S. government that "international law allows it to engage in a global and pervasive armed conflict against a diffuse network of non-state actors" and that "it is lawful to kill individuals anywhere in the world at any time, whenever the USA deems appropriate." Amnesty is not alone in arguing that such state practices "fundamentally undermine crucial human rights protections that have been painstakingly developed over more than a century of international law-making."
This international law context should matter to all of us here this morning, especially since the American Psychological Association remains an accredited nongovernmental organization (NGO) at the United Nations. We can't limit ourselves to the dim view expressed several years ago by a past-president of the APA, Gerald Koocher, who remarkably wrote: "I have zero interest in entangling APA with the nebulous, toothless, contradictory, and obfuscatory treaties that comprise 'international law.'"
But those words are not the only troubling evidence that the APA leadership does not seem particularly interested in engaging with thorny ethical issues that could put the Association at odds with U.S. government policies. Indeed, as another telling example, 10 months ago the president-elect (Brad Olson) of APA's Division 48 -- the peace psychology division -- wrote to Stephen Behnke, the director of APA's Ethics Office, to request timely guidance regarding how the APA Ethics Code addresses four hypothetical drone-related scenarios:
First, according to the Code, is it permissible for a psychologist to directly operate or otherwise be involved in the operation of a weaponized drone?
Second, is it permissible for a psychologist to work as an intelligence consultant involved in the targeting of drone strikes?
Third, is it permissible for a psychologist to participate in programs designed to select drone operators or train them in such a way as to overcome the natural psychological aversion to killing other people?
And fourth, is it permissible for a psychologist to assist in promoting public support for the use of weaponized drones by misrepresenting evidence of the psychological harms that result from such attacks?
Other ethically fraught scenarios can be imagined as well. Regrettably, aside from acknowledging receipt of the letter, Dr. Behnke has never responded to this October 2013 inquiry from the peace psychology division. The silence from the Ethics Office is disturbing. It suggests that the APA leadership continues to believe that retaining its proverbial "seat at the table" is more important than examining potentially controversial and ethically fraught issues that call into question the Association's carefully nurtured connections with the Department of Defense and the CIA.
(Note: You can view every article as one long page if you sign up as an Advocate Member, or higher).