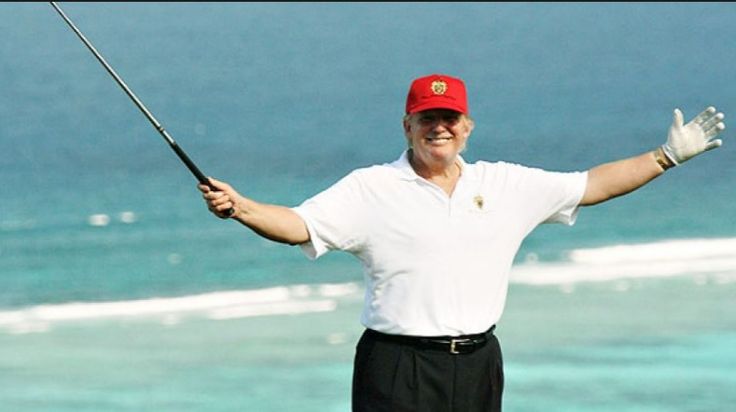 Trump golfing
(
Image
by
politicalhaze.com
)
Details
DMCA
Donald Trump is moving.
No, not out of the White House.
Not yet. (It's coming.)
Like millions of septuagenarians, he's relocating to Florida because New York is just too damn expensive.
According to documents filed with the Palm Beach County, Florida Circuit Court, Trump completed a "declaration of domicile," changing his primary residence from 721 Fifth Avenue in Manhattan to his Mar-a-Lago residence in Palm Beach late last month.
Why not?
He's already spent nearly 100 days--10 percent--of his two years and 285 days in office there, mostly playing golf.
But he hasn't declared residency there to be able to play more golf or enjoy the Florida climate.
Perhaps he's going because of the tax law he signed nearly two years ago that eliminates the previous deduction for state and local income or sales taxes, and caps the property-tax deduction to $10,000, cited as discriminatory towards 13 states, including New York, that paid more in federal taxes than they received in federal spending.
Or maybe it's because New York is assiduously pursuing the grift upon which Donald Trump has predicated his financial life.
In September, Manhattan district attorney Cyrus Vance subpoenaed eight years of Trump's tax returns as part of the investigation into hush-money payments Trump paid to women, including adult-film actor Stormy Daniels, during the 2016 presidential election.
Last month, a New York federal appeals court ruled Trump's accounting firm, Mazars USA, must turn over to Congress eight years of personal and business tax returns, refuting Trump's claim he is immune from criminal investigations.
U.S. District Judge Victor Marrero labeled that claim "repugnant to the nation's governmental structure and constitutional values."
He added:
"The court cannot square a vision of presidential immunity that would place the President above the law."
(Note: You can view every article as one long page if you sign up as an Advocate Member, or higher).