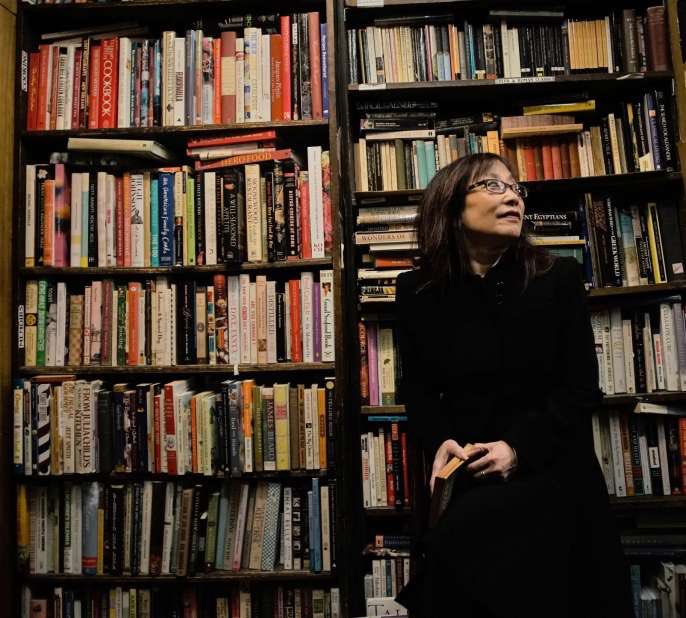 Image from Twitter User charleypurvis
(
Image
by
Twitter User charleypurvis
)
Details
DMCA
Duluth, Minnesota (OpEdNews) July 18, 2018: Michiko Kakutani was born in 1955 in New Haven, Connecticut. Her father was a math professor at Yale University. She was an English major at Yale, receiving her B.A. in 1976. At the time, the swirl of thought known as deconstruction was swirling around in the English department at Yale. For many years, she was the chief book reviewer for the New York Times -- until she retired from that position in 2017. She reviewed both fiction and non-fiction. Occasionally, I read some of her well-informed and well-written reviews of non-fiction books about politics. In general, I was impressed by her knowledge of the subjects and of related books and by her writing style.
Consequently, I decided to take a look at Kakutani's new short book The Death of Truth: Notes on Falsehood in the Age of Trump (Tim Duggan Books/ Penguin Random House, 2018). Her short new book comes equipped with bibliographic end-notes (pages 175-206) and a list of additional books she also used as sources (pages 206-208), but no index. However, this book is overflowing with names, and an index would have been a helpful addition to have handy. Kakutani's spirited prose is admirably lucid. If you like fast-paced prose, you'll like her book.
Kakutani clear announces the purpose of her book: "To examine how a disregard for fact, the displacement of reason by emotion, and the corrosion of language are diminishing the value of truth, and what that means for America and the world" (page 12).
Kakutani frequently adverts to the 1960s (see, for example, pages 44, 45, 46, 52, 64, 70, 78, 83, and 161). Frankly, I was surprised that she does not mention that Senator John F. Kennedy of Massachusetts (1917-1963) was elected in the 1960 presidential election. President Kennedy is one of my heroes. In 1960, I turned 16; Trump turned 14; and Kakutani turned 5.
In any event, Kakutani says, "[Trump's campaign slogan] 'Make America Great Again' translates into turning the clock back to the 1950s, before the civil rights movement, before the women's movement, before LGBT rights, before Black Lives Matter" (page 154). No doubt America did emerge as great in World War II, and America's greatness was expressed in the Marshall Plan and in the generous benefits given to WWII veterans.
Kakutani says, "In the 1960s, when postmodernism took off in Europe and the United States, it was an anti-authoritarian doctrine, proposing an overthrow of old humanistic traditions, and its tenets of irony, self-consciousness, and sarcasm leaked into popular culture, it could be seen, as David Foster Wallace observed in the early 1990s, as an antidote to the hypocrisy and smugness of the 1950s world of Leave It to Beaver; it was a 'bad-boy' means of exploding old pieties and conventions at a time when the world seemed increasingly absurd" (page 161).
No doubt "the world seemed increasingly absurd" to the British writer George Orwell (1903-1950) when he wrote his famous dystopian novel 1984 (1949) and to the American writer John Hershey (1914-1993) when he wrote his famous book Hiroshima (1946). (Kakutani studied writing under him at Yale.)
For relevant further contextualization about the 1960s, 1970s, and 1980s than what Kakutani supplies, see Robert C. Christopher's book Crashing the Gates: The De-WASPing of America's Power Elite (Simon & Schuster, 1989).
Disclosure: As an undergraduate from a white working-class family, I majored in English at Saint Louis University, the Jesuit university in St. Louis, Missouri (USA). I received my B.S. in 1966 -- around the time that the swirl of thought known as deconstruction emerged and became prominent at Yale. I transferred into Saint Louis University as a junior in the fall semester of 1964. In my junior year there, I heard the Reverend Dr. Martin Luther King, Jr., speak on campus on Monday, October 12, 1964, and I heard him speak again in Montgomery, Alabama, on March 25, 1965. Dr. King is one of my heroes, and he deeply influenced the subsequent course of my life -- and my professional publications.
In my junior and senior years at Saint Louis University, I took two English courses from the American Jesuit Renaissance specialist Walter J. Ong (1912-2003; Ph.D. in English, Harvard University, 1955): (1) Practical Criticism: Poetry in the fall semester of 1964 and (2) Practical Criticism: Prose in the spring semester of 1966. The name of those courses (Practical Criticism) paid homage to the British literary critic I. A. Richards' influential book Practical Criticism (1929). The young Canadian Marshall McLuhan (1911-1980; Ph.D. in English, Cambridge University, 1943) had taught English at Saint Louis University (1937-1944) and had introduced Ong and other students to the work of I. A. Richards and F. R. Leavis.
In the spring semester of 1964, when I was 20 and Kakutani was 9, around the time that deconstruction was becoming prominent in the English department at Yale, Ong delivered the Terry Lectures at Yale, the expanded version of which was published as the 1967 book The Presence of the Word: Some Prolegomena for Cultural and Religious History (Yale University Press, 1967). Thus, Ong was rising into prominence at about the same time that the swirl of thought known as deconstruction was rising into prominence in the English department at Yale.
In the preface to Ong's 1977 book Interfaces of the Word: Studies in the Evolution of Consciousness and Culture (Cornell University Press, 1977, pages 9-13), Ong names certain other authors whose thought was by then emerging as prominent in literary studies: Jacques Derrida, Michel Foucault, Jacques Lacan, Roland Barthes, Tzvestan Todorov, Paul de Man (in English at Yale), Geoffrey Hartman (in English at Yale), J. Hillis Miller (in English at Yale), and Harold Bloom (in English at Yale) (page 10).
Speaking of Geoffrey Hartman, he edited a volume in the book series Twentieth Century views titled Hopkins: A Collection of Critical Essays (Prentice-Hall, 1966), which includes a selection by Ong titled "Sprung Rhythm and English Tradition" (pages 151-159).
For a more up-to-date scholarly study of Hopkins' sprung rhythm. See James I. Wimsatt's book Hopkins' Poetics of Speech Sound: Sprung Rhythm, Lettering, Inscape (University of Toronto Press, 2006).
Ong reviewed Geoffrey Hartman's book Saving the Text: Literature/Derrida/Philosophy (Johns Hopkins University Press, 1981) in the journal Philosophy and Rhetoric, volume 15, number 4 (1982): pages 274-277.
(Note: You can view every article as one long page if you sign up as an Advocate Member, or higher).