Every once in a while a story grabs the headlines and it makes us sit up and take notice at man's inhumanity to man or in this case, one man's inhumanity to three women.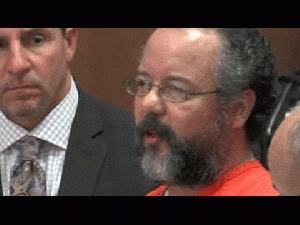 Ariel Castro by YouTube


Last week, Ariel Castro pleaded guilty to more than 937 counts including murder and kidnapping and made an apology to the women he held captive for more than a decade saying, <blockquote>"I am truly sorry for what happened. I just hope they can find it in their hearts to forgive me".we had a lot of harmony going on in that home."</blockquote> In his own mind, Ariel Castro has claimed that he is "not a monster" and that the women "lived a normal life" and that the sex he had with them was "consensual."
According to Castro, "Most of the sex that went on in the house and probably all of it, was consensual. These people are trying to paint me as a monster. I'm not a monster. I'm sick. My sexual problem, it's so bad on my mind. God is my witness, I never beat these women like they're trying to say that I did. I never tortured them."

Castro probably believes in what he is saying as the truth but only a "monster' can describe what took place in the closed quarters of his home as "harmony."
The women who were kidnapped near his west side neighborhood between 2002 to 2004, when they were 14, 16 and 20 years of age, at the time, kept diaries and documented what took place behind the walls of the horror house in Cleveland, Ohio during their captivity.
One victim described it as being a "prisoner of war." The former bus driver kept them chained to a pole, sexually abused them, beat and threatened them with a gun and, as if that wasn't enough to maim the soul and take away their dignity, they were kept indoors most of the time and fed but once a day. Amanda Berry delivered a daughter during her imprisonment and Michelle Knight, the other victim was threatened with death if she didn't help deliver the baby. One of the women suffered five miscarriages after Castro intentionally starved her for weeks and beat her in the abdomen to induce abortions.
Furthermore, Castro not only had his personal ""sex slaves" to satisfy his every whim but he made sure that there was no means of escape from the hell-hole he called a harmonious home. The house was wired with alarm clocks which went off when anyone tried to escape and the windows were heavily boarded up. Besides beating and abusing them, he used the "cold of the basement" and the "heat of the attic" as further punishment techniques.

Tim McGinty, Cuyahoga County prosecutor has said in his sentencing memorandum filed on Wednesday that Ariel Castro "admits his disgusting and inhuman conduct" but "remains remorseless for his actions." Yes folks, only a "monster' can wash his hands of any wrong-doing as far as his victims are concerned. The ordeal came to an end on May 6 th when Amanda Berry kicked out a part of the locked door to the house and walked out of the house and to freedom.
Castro, in the meantime, has worked out a deal. Under the agreement, he will spend the rest of his life behind bars without the possibility of parole which means he will likely die in prison. He did, however, offer some form of an explanation for his despicable crimes saying, "I was a victim as a child and it just kept going."
End of story? Not by a long shot. Castro will spend the rest of his life behind bars if he is lucky, if not he will face the death penalty if more charges are filed. Either way, he walks off easy. The three women, Amanda Berry, Michelle Knight and Gina De Jesus whom he tortured, abused and treated as animals have a "lifelong sentence" imposed on them through no wrong doing of their own. They lost ten years of their lives, lost touch with the world and reality during that time and the terror they lived through will stay with them for the rest of their lives.
Yes, "monsters' walk amongst us and Castro is just one example. There are more like him out there who think that they can impinge their will on helpless individuals because they had been wronged at some point in their lives. Every once in a while, a story grabs the headlines and holds us captive"..