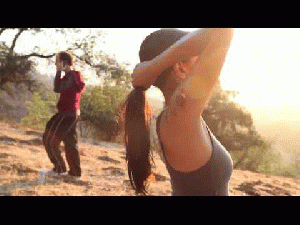 Man on cell phone with woman playing with her hair in the foreground
"Innocence is complicity". That's a quote from an old Chris Hedges column writing about Americans. It struck me then and still resonates to this day.
I believe we're a nation of those who see themselves as "innocent" as in "I didn't do anything wrong so how could I be responsible?"-never mind "complicit". That's a concept requiring reflection.
After the Snowden revelations came out I was talking with a neighbor who I occasionally talked politics. I asked her what she thought of the NSA surveillance of everyone's electronic communications and her response was, "I haven't done anything wrong so why should I worry".
That took me aback. Our discussion ended there. There was no need to elaborate what the spooks were doing was illegal and against the Constitution, something they took an oath to defend.
It still baffles me. Snowden wanted the American people to know the truth and let them decide. That was his motivation and I believe he has no regrets.
Yet what does he now think of the American people not demanding their government immediately cease the NSA's surveillance of Americans?
I think my neighbors response is the clue. Americans see themselves as innocent so what's to worry about?
That the surveillance is illegal and un-Constitutional? I don't think most Americans let themselves even consider that.
No most Americans have drunk the kool-aid. Fully absorbed the government's propaganda, been thoroughly indoctrinated without really thinking about it. Then it's all reinforced by the governments unofficial mouth piece, the complicit, enabling corporate MSM. And like the "good German's in Hitler's 1930's Germany are the "good Americans" of today.
So with most Americans insouciant, without a care what does the government have to worry about?
Nothing. If a few of the unwashed natives get restless, start protesting and demonstrating they'll soon be subverted, co-opted by agent provocateurs who'll initiate some violence get the militarized police to arrest a few and then the whole thing will be put down.
Sinclair Lewis in his 1935 novel, "It Can't Happen Here" put it succinctly, "In America-fascism with a smile".
Regrettably most Americans believe in American exceptionalism, the indispensible country the "Land of the free and the home of the brave", from sea to shining sea, bringing freedom and democracy to the world, our Navy a "Force for good", yadda, yadda.
It's still my country even though at times I don't recognize it.
(Note: You can view every article as one long page if you sign up as an Advocate Member, or higher).