When Crazy For You was released by the indie-pop duo, Best Coast, in the summer of 2010, the response was overwhelmingly positive. The blogosphere instantly fell in love with the lo-fi beach melodies that evoked Phil Spector's work with the 1960s vocal acts such as The Crystals and The Ronettes. Indie mandarins adored the fuzzy guitars, the humid reverbs, and the sun-soaked ennui of lead singer Bethany Cosentino's amateur reflections. The record is a perfect soundtrack to the kind of lazy summer most people stop having around the age of 18 when financial and materialistic concerns become more prominent in their lives.
What distinguished Best Coast from dream-surf contemporaries such as The Drums, Beach Fossils, Wavves, and Tame Impala was the potent nostalgia of youth carried in Cosentino's soaring vocal melodies and lovelorn obsessions. She, herself, commented in an interview that "nothing makes [me] happier" than "playing to two rows of 16-year-old girls that are all singing every single lyric to her song" (1). And in that capacity, the debut LP received high praise from major reviewers including The Los Angeles Times (3.5/4) , Pitchfork (8.4/10 BNM), and Robert Christgau, the dean himself, who gave it an A- (2) (3) (4).

Because the band was categorized with outfits like The Drums and Wavves, her ostensibly bratty, shallow, and simple lyrics were well-received and added to the band's appeal because they resonated so well with the surf-pop and youthful nostalgia narratives. However, that kind of appreciation is predictably unsustainable. Like a comic-book superhero movie, Crazy For You was basically deemed a thoroughly enjoyable seasonal release, albeit perfectly forgettable and unsuited for deeper literary or acoustical investigation.

It was within this context that Best Coast's follow up, The Only Place , was received in mid-May. For this go-around, the band hired producer Jon Brion to advance their sound to the next level. He is known for his production work with Kanye West and his graceful soundtrack work on Eternal Sunshine of the Spotless Mind . This effort found the band dropping the damp, lo-fi sound for a cleaner and more polished sound that puts more focus on tempo, instrumental precision, and Cosentino's absolutely stunning vocal talent. Indeed, the production upgrade allows the listener to fully acknowledge her song contributions that were somewhat stifled in Crazy For You .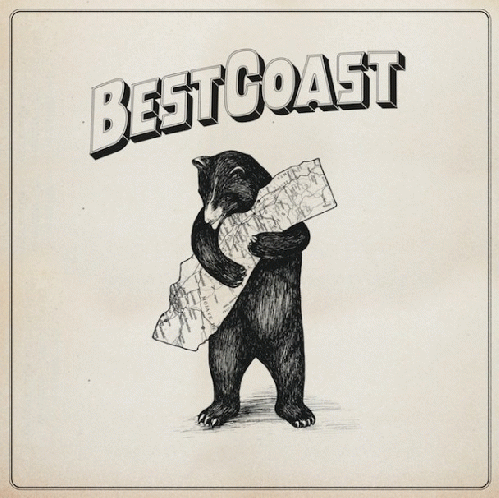 'The Only Place' by Best Coast
(
Image
by
Best Coast
)
Details
DMCA
The reaction has been expectedly lackluster. With a 2/5 score in the Guardian, the reviewer laments that the lyrics "about being bored and lazy become cloudingly familiar," and that the record "needs more sunshine" (5). Similarly, a 6.2/10 review by Pitchfork opined that the departure of the original summer haziness emphasized the "weakest quality" of Best Coast: the lyrics (6).

Unfortunately, the duo was pretty much doomed from the release of the first LP. They suffered from a grave miscategorization of which the band itself was likely unaware. Though Cosentino's simplistic declaratives and yearning melodies were understood as enhancements of the overall beachy lo-fi vibe, they were not correctly recognized as the principally redeeming aspects of the band's work. The first record was great not because it was a solid addition to the surf and dream pop catalog of Wild Nothings and The Drums, but because Cosentino achieved something extraordinarily intelligent and creative. While evoking the sound of 1960's era girl groups and rock bands, she simultaneously explored themes of postmodern feminism, rebellion, and adolescence that did not exist for the Shangri-Las.

The bipolar narrator in "Crazy For You" is a free and independent girl reflecting on her own irrationality and possible insanity, which is not an exaggeration. The other verses on the record are the ramblings of an intoxicated, erratic, jealous, and bored ex-girlfriend. However, even though she had 16-year-old girls in the front row of her shows that might relate to this identity, there's no doubt that present, too, were males of all flavors. There was something deeper that was more compelling than just fantasizing about boyfriends.

A little bit of contemplation makes clear that the band's original record was more than just the soundtrack to a lazy summer. Given the overarching themes of Cosentino's musings and repetitions, her lyrics were far from ordinary and even farther from being the weakest quality of the album. It is a rare postmodern exploration of ennui and the liberated mind. Most notably, the conflict is internal to Cosentino: she's singing to herself. And her bipolar erraticism is not unlike Dostoyevsky's Nastassya Filippovna from The Idiot. Her self-destructive nature is prominent on the first record while the compassionate and pitiful elements are explored on the follow-up. It is only within this proper context that the follow up record can be regarded as the worthy piece of work which it represents.

The Only Place , lyrically, is the meditation of a maturing young adult. Though it was attacked for cheaply celebrating a return to the band's Californian roots and rehashing familiar topics of laziness and heartbrokenness, a closer listen reveals an existential sorrow that was not present on Crazy For You . Gone is the carefree ennui, and newly present are themes of taking responsibility and real appreciation for the familiar concept of home. The original sun-drenched intoxication has been replaced with the quiet clarity and regret of a post-hangover reckoning. It is not the Thom Yorke's despair; rather, it is closer to Nicholas Cage's character's struggle to reconcile real life with his obsessive compulsive disorder in the 2002 film, Matchstick Men. Indeed, some of the lyrics sound like the sober musings of the Alcoholics Anonymous variety: "I used to wake up in the morning and reach for that bottle and glass, but I don't do that anymore...kicked my habits out the front door."

And yes, in some ways, it is a drug-recovery record. And in this sense her burnt out sentiments recall Iggy Pop's Berlin-era wok. But Cosentino succeeds by employing her incredibly emotive voice and raw honesty: "My mom was right, I don't wanna die, I wanna live my life." As she repeats this refrain in a distinctive Best Coast manner, it is difficult not to be overwhelmed by sympathy and solemnity upon first listen. It certainly was for me, so I'd suggest trying it for yourself. It is doubly gut-wrenching when juxtaposed with the childish frivolity of some of her past lyrics: "I just want to tell you, that I've always missed you. I just want to tell you, that I've always loved you." Though we may remain skeptical at her newfound seriousness, she sings confidently: "Cause you seem to think you know everything, but you don't know why I cry." The complex reconciliation of two opposed personalities is food for thought.

The reality of her journey into adulthood is encapsulated in perhaps the albums strongest verse: "What a year this day has been, what a day this year has been." Regardless, even if the revamped lyrical context is not sufficiently convincing, the record is still redeemed by its fantastic pop-sensibilities and vocal melodies. The delicate and gentle guitar arpeggios of "How They Want Me To Be" recall some of the finer moments of the underrated Wincing The Night Away by The Shins. And the refreshing gentleness extends to pretty much every track.

As a standalone record, it most certainly holds its own. I suspect that the negative reviews were likely the result of incorrectly evaluating the merits of the first record, for which everyone was hoping a mere extension. Careful and sympathetic consideration, however, demonstrates that the two can be and ought to be viewed as companion pieces that color in the existential drama of the Best Coast's young adult. Best Coast is not a zeitgeist or an acoustic innovation, but they have certainly crafted a poignant narrative that nourishes the imagination which contemporary acts such as Frankie Rose and Real Estate do not even attempt. It is sorrowful in a way that makes part of me wish I never heard it.

Notes.

(2) http://articles.latimes.com/2010/jul/28/entertainment/la-et-0728-albumreviews-20100728
(Note: You can view every article as one long page if you sign up as an Advocate Member, or higher).