See original here
By SemDem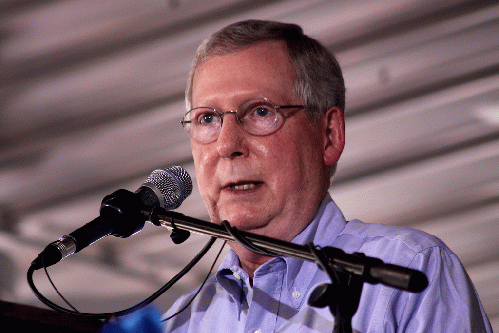 Mitch McConnell
(
Image
by
Gage Skidmore from flickr
)
Details
DMCA
Ideally, if Democrats do their job up to and on Jan. 5, we will win both of Georgia's Senate seats, and secure a bare majority in both chambers of Congress. Coupled with President-elect Joe Biden, this small trifecta means, at the very least, that our government can still function. This is a big deal, since certain Republican senators have indicated that they plan on indefinitely blocking every single one of Biden's Cabinet nominees. Biden shouldn't waste any precious time trying to get the Republican Party to do the right thing, such as respecting the will of the voters. If he wants to get anything done, he is going to have to do it alone.
Hopefully, Democrats will take both Senate seats in Georgia, as this would be the easiest path for governance. However, it isn't at all necessary for Biden to get things done. There is a critical loophole that would prevent Senate Majority Leader Mitch McConnell from blocking votes -- as long as Democrats are willing to use it. There's also plenty of things that Biden can make happen, and not a single Republican is required to participate. Extremists rule the opposition, so we must continue to rethink the old adage that bipartisanship is a good thing; the other side -- either through sabotage or cowardice -- is hellbent on undermining democracy and going all in with the politics of destruction.

But what if the Democrats don't win both Senate seats in Georgia? McConnell retains control of his chamber, and blocks all legislation and all nominees, leading to at least two years of solid obstruction. Game over, right?

Nope.

The Senate Majority Leader is a made-up position. It's not in the Constitution, or even in the Senate rules: The power of the Majority Leader is based solely on Senate norms and traditions. Since Republicans have decided those no longer concern them, then Democrats aren't bound by them, either, which presents a serious opportunity for the Biden administration. Article I, Section 3 of the Constitution clearly states that the vice president shall be "President of the Senate," but have no vote unless the votes are equally divided.

Vice President-elect Kamala Harris is also the president-elect of the Senate.

When the vice president is not presiding over the Senate, the Senate will choose a president pro tempore to preside in her absence. Tradition has junior members of the majority party presiding, but the president of the Senate can take control anytime. If McConnell refuses to bring up legislation, or refuses to hold hearings or votes on Cabinet or judicial nominees, then Vice President Kamala Harris has the legal authority to take control. She would then decide what comes up for a vote.

This would come in handy in a situation where, say, McConnell decides to go with the Ted Cruz plan to block all of Biden's Cabinet nominees. While the overwhelming majority of Republicans would back McConnell, sadly, not all of them would. A few, like Utah's Mitt Romney, know that not having qualified experts in top positions during a pandemic or a foreign policy crisis is dangerous. It isn't typically in the Democrats' nature to play this kind of hardball, but we've got a nation to repair -- a nation we all know the GOP is now hellbent on destroying.

As far as appointments go, Biden has a lot of options, as helpfully outlined by Washington Monthly. Obama paved the way for the appointment of nearly unlimited policy czars, and Biden also has the ability to appoint "acting" positions for more than 1,200 agency positions. (Trump managed to do it for other positions, as well.) Perhaps most interestingly, Biden can use the adjournment clause, in Article II, Section 3 of the Constitution, to force numerous recess appointments. This technique would simply require the speaker of the House to propose a lengthy adjournment, of which the Senate can either accept or disagree. However, if the Senate disagrees, the refusal would constitute a "disagreement...which means Biden gets to decide. This technique has never been used, but again, if the GOP is going to obstruct everything they can, Democrats better be ready to fight back hard.

As far as legislation goes, if we lose the Senate, and can't get one Republican to do the right thing, there are plenty of things Biden can do by himself without Congress. The one thing Donald Trump did well was show us all how much a president can get done without Congress.

(Note: You can view every article as one long page if you sign up as an Advocate Member, or higher).