The first Holocaust and Genocides event was organized by Muslims in Dallas, Texas, after the United Nations unanimously passed the bill to commemorate Holocaust in their 60th General Assembly meeting on November 1, 2005. They designated January 27 of each year as Holocaust Memorial day.
The first event was organized on Sunday, January 29th, and was addressed by the Holocaust survivors, Ms. Rosa Lee Schiff and the late Mr. William Schiff. This year, we will start with the Holocaust conversation followed by the Genocides of Native Americans and the Gujarat Massacre. This is a serious event for us to reflect on the inhumanity within each one of us, and learn to do our individual share of saying never again.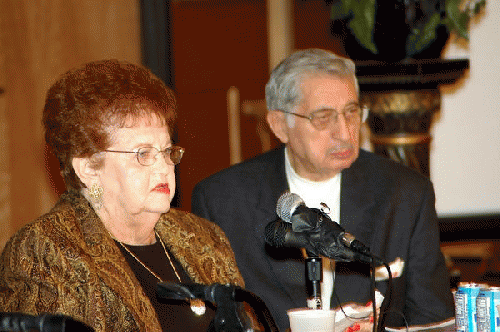 William and Rosa Lee Schiff
(
Image
by
Mike Ghouse
)
Details
DMCA
I have always believed, and I read the assessments of some of the best brains, that if we can resolve the Jewish-Palestinian conflict, i.e., security to Jews and justice to the Palestinians, most of the world issues will collapse and a period of peace on earth will begin.
Commemorating Holocaust and Genocides for seven years is a fulfillment of a lifelong drive to build bridges.


Of all the people on the earth, my mother would be pleased to know that I am doing what it takes to be a "good Muslim," to respect, honor, and protect the sanctity of life.
A healthy society can be defined by how well it functions together, where no member of the society has to live in apprehension, discomfort, or fear of the other.
Hate is one of the many sources of disrupting peaceful functioning of a society and it is our duty, both individually and collectively, to track down the source of such hate and mitigate it. Indeed, each one of us needs to do our share of work. This hate takes many avatars including anti-Semitism, racism, misogyny, homophobia, Islamophobia, and other ailments of the society. Untreated, they will erupt in violent and hostile expressions like crusades, inquisitions, 9/11, terrorism by individuals and nations, Holocaust, genocides, and massacres.


The Jewish-Christian conflict stems from Jesus' crucifixion; the Christian-Muslim conflict has origins in how each sees Jesus, and the Jewish-Muslim conflict took root in the late 1940s. Much of the conflict with Native Americans, native societies, Hindus, pagans, and others stem from forced conversions by the arrogance of Christian and Muslim missionaries.
Religion came into existence to save mankind; most people get that right and a few don't. No religion teaches hatred or encourages hostilities. On the contrary, religions are committed to building cohesive societies where no one has to live in discomfort or fear of the other. The bottom line of all religions is based on the golden rule, "Do unto others as you would wish to have done unto you."
There is always a room for bringing a positive change, even if it were a small step. The Foundation for Pluralism, Memnoysne Institute, and the World Muslim Congress have teamed up to find solutions, which begin with the acknowledgement of the problem and taking small healing steps.
We are pleased to invite you to join us for the 7th Annual Holocaust and Genocides event set for Sunday, January 26, 2014, between 3 and 6 PM at the Unity of Dallas, 6525 Forest Lane, Dallas, TX 75230. Details are at www.HolocaustandGenocides.com
(Note: You can view every article as one long page if you sign up as an Advocate Member, or higher).