Articles Listed By Popularity List By Date
Friday, December 27, 2013 (3 comments)

Same Sex marriage criminalized by Supreme Court of India, it is an UN-wise decision The Supreme Court's decision on December 11, 2013 to uphold section 377 of the Indian Penal code that criminalizes same sex marriage is not wise, and needs to be challenged. Is the judgment influenced by the undue belligerence from the right wing Hindu, Muslim and Christian leaders or is it in the spirit of the constitution?
Thursday, January 2, 2014 (12 comments)

Pope Francis is a mercy to mankind Every century produces a great soul, and we are blessed again to start this century with a great human being; Pope Francis, a mercy to mankind. His acts bring hope and relief to the women, children, oppressed, poor, minorities, the weak, and believers and non believers alike. Indeed he is reinvigorating the work of Moses, Jesus, Krishna, Buddha, Muhammad, and other great souls with love for humanity.
Sunday, May 25, 2014 (2 comments)

Mr. Narendra Modi's hypothetical acceptance speech on Monday, May 26, 2014 This is the biggest historic moment in the world of governance. Never in the history of mankind, there has ever been an individual freely elected to govern by such a huge mandate, the largest number of people on the earth have voted Mr. Narendra Modi to lead the democratic Republic of India. On Monday, May 26, 2014, Mr. Modi will take the oath of office of the Prime Minister. His speech would be about inclusive development.
Tuesday, January 7, 2014

Festivals of the World : 348th Birth Anniversary of Guru Gobind Singh, establisher of Sikhism. Guru Gobind Singh established and gave a final shape to the religion of Sikhs; Sikhism. He stood up against the mighty Mogul emperor Aurangzeb and ensure that no religion was annihilated.
Friday, December 27, 2013 (6 comments)

Narendra Modi's Nakshatras are not in his favor, he needs to save the embarrassment. India, the world largest democracy is facing a major moral dilemma; to vote for the incumbent Indian National Congress, weak on development but inclusive of all Indians or the other frightful choice is a pro-development and socially exclusive party led by Mr. Narendra Modi, who is often compared with Hitler for his focus on development at the cost of exclusion of minorities.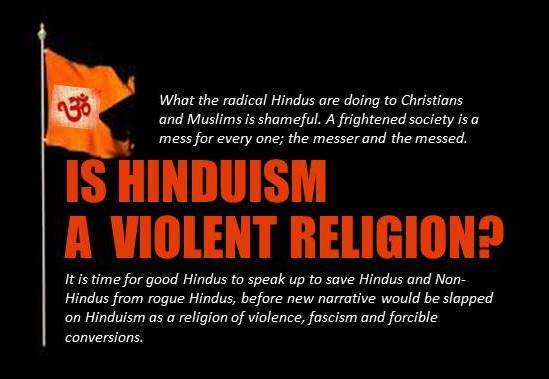 Thursday, January 15, 2015 (12 comments)

Is Hinduism a violent religion? Hinduism is indeed blessed not to be slapped with 9/11-like terrorism label on it, despite the massacres of 3000 Sikhs in New Delhi by the violent Hindu mobs in just three days, for a total of 8,000 Sikhs within a week. Nearly a thousand Muslims were butchered by the fanatic Hindus in Gujarat within two weeks in 2002.
Tuesday, June 24, 2014 (9 comments)

A response to Sean Hannity's Fox News Panel on Radical Islam Can you call Pamela Geller a murderer, and Bill Blasio a rapist? Because New Yorkers murdered over 1500 people, and raped over 3000 women last year? It would be dumb, wouldn't it? Blaming Islam or Muslims for the acts of the few is equally dumb. Blaming Islam does no good. You cannot beat, kill, hang, slaughter, shoot or bury religion - it amounts to barking at the wrong tree, it does not produce any result.
Monday, December 30, 2013

India: Arvind Kejriwal sworn in as Chief Minister of New Delhi and follows Lincoln's idea of government A historic moment for Indian democracy, a common man becomes the Chief Minister of New Delhi. He brought ordinary citizens together to fight corruption in government and formed the Aam Aadmi Party (Common Man) a year ago, and wins with no financial or party backing against two big parties. Abraham Lincoln must be smiling and saying, this is what I meant by government of the people by the people for the people.
Wednesday, January 15, 2014 (3 comments)

Fixing Sharia Laws Rather than rejecting Sharia out-right, we need to fix it. Sharia serves as a system of justice to the given populations in Muslim majority nations; without it a large swatch of population would become rudderless. Our own constitution has been amended several times, and that is what is needed to be done with Sharia.

Friday, June 24, 2011 (1 comments)

Bigotry of Newt Gingrich, Herman Cain and other Republicans Bigotry of the Right wing Republicans surfaces when the elections are on the horizon, they fabricate an enemy that is not there and shamelessly dupe a few Americans. It is time to question their integrity and verify the veracity of their statements.
Tuesday, December 15, 2015 (1 comments)

A Muslim's Christmas God loves each one of us and showers his blessings each time we make an effort to restore the harmony and cohesiveness of his creation; life and environment. He is offering another opportunity for this year to further strengthen our bonds on the auspicious occasion of the birthday of Jesus Christ for Muslims and Christians to come together
Saturday, June 25, 2011 (4 comments)

Sharia, not in America The intent of the Sharia laws was to construct a complete justice system with fairness to all members of society. Peace and a sense of security are the products of justice in a given society. The violations of justice and the rule of law are found in every faith, culture and political system, to varying degrees. In this respect no community is free of blame and no one can cast the first stone against another community.

Sunday, July 10, 2011 (4 comments)

Muslim Prayers in Canadian Public Schools The best thing for the school is to untangle itself from any religious affiliation. When our interests become subservient to the interest of the society at large, no one will lose but gain. That's how we build civil societies. As the beneficiaries of this sacred value, we have to continue to guard against mixing church and the state.
Monday, March 24, 2014 (2 comments)

Muslim response to Hindu Temple conflagration in Pakistan The Muslim majority is concerned about the destruction of Hindu temple. Here is an action plan to create a fund to rebuild the temple; that is the least one can do to fellow countrymen. Every society has a responsibility to guard the safety of its minorities, women, seniors, and children; no one should feel fearful of the majorities. That is the hallmark of civil societies.
Saturday, January 25, 2014 (3 comments)

Holocaust and Native American's Genocides event in Dallas organized by a Muslim. The Jewish people have lived with apprehensions and fear of anti-Semitism for nearly sixty years after the Holocaust. Yom HaShoah has been commemorated in the Synagogues and Holocaust museums throughout the world since then; however, attendance was predominantly by the Jewish community. It was time for the world to stand up with Jews and say, we are with you in your most difficult moment.
Thursday, July 2, 2015 (3 comments)

Muslims and Americans: a shared heritage since July 4, 1776. The Muslim Americans take pride in their connection with America since our independence. Two of the first three nations to recognize our sovereignty were Muslim Kings in 1776.
Wednesday, May 14, 2014 (6 comments)

Muslims must fix Boko Haram We cannot push or bush the extremists to dig in their heels and stick to their positions. Dialogue opens up opportunities with least damage and least cost. I have been thinking of taking a Muslim delegation to Nigeria. Mr. Abubakar Shekau needs to be included in a conversation and asked to explain the sources of his claims. Neither Qur'an nor Prophet (pbuh) support his actions. He is holding innocent girls against their will.

Wednesday, March 9, 2011 (6 comments)

Muslims welcome congressional hearings by Peter King We have to identify the criminals who are individually accountable for their actions, and we need to punish them expediently according to the law. As a civil society, we must also resist the temptation to blame their families, their nation or their religion.

Saturday, September 20, 2008 (4 comments)

The Spirit, rituals and politics of Ramadan The Spiritual masters have captured the human gravity for rituals and have molded it with the art and science of self-discipline in their respective religion. The noble purpose of each one of them was to bring a balance in our lives and a balance with things that surround us; life and environment. Every faith is composed of a set of unique rituals to bring discipline and peace to human life. Fasting is one of the five rituals
Sunday, May 24, 2015 (19 comments)

Muslims Challenge Al-Baghdadi's Lunatic Message The self proclaimed Caliph Al-Baghdadi of an unrecognized state, ISIL, is mis-quoting and abusing the name of Islam. Muslims are challenging him to prove his claims, which are not in the Quran, and which in fact contradict the directives that are in the Quran.

Monday, July 28, 2014 (2 comments)

Sanity Prayers for American Jews and American Muslims The conflict between Israelis and Palestinians is a humanitarian one, and it would be wrong to label it as Jewish and Muslim or between Judaism and Islam. We have to guard ourselves from labeling each other as enemies, which we are not, and we shouldn't be. Of course a few among us look to the other as if they have wronged us. No, none whatsoever. I have not wronged any Jew and neither my Jewish friends have wronged me.
Sunday, May 24, 2015 (2 comments)

A Muslim's Reflections on Memorial Day 2015 Muslims are progressively integrating with American society to realize the dream of one nation under the flag with liberty and justice for all.
Thursday, July 16, 2015

Ramadan for Christians, Jews, Hindus and other This article tracks the general purpose of religion and how each religion can appeal to people of different faiths. Religions and festivities came into being to bring people together and not divide them. Here we explore Ramadan, two of the major festivals of Muslims.
Wednesday, May 20, 2015 (4 comments)

Jeb Bush, beat it, you are dead politically Jeb Bush is showing his true colors, the right wing guy who has no problem with discrimination. He has never been one to understand.
Saturday, December 28, 2013

India: Narendra Modi's words sound hollow after the court verdict Mr. Narendra Modi, the chief minister of Gujarat, has been compared for his focus on development of his state, while tearing the social fabric of Gujarat and reducing minorities to second-class citizens. The Gujarat Massacred killed nearly 1000 people and displaced 20,000 without any rehabilitation or compensation. The lower court sided with the recommendations of a special-investigative team on December 26, 2013
Thursday, October 29, 2015 (1 comments)

A Muslim's offer to Ben Carson and Trump Presidential Candidates like Dr. Carson are making statements about fellow Americans without verifying the information.
Saturday, June 13, 2015 (1 comments)

Rick Perry embraces Muslims, a gutsy political first. Perry announces his candidacy with two Muslims on stage with him
Saturday, May 30, 2015 (10 comments)

Bikers to draw Muhammad Cartoons in Phoenix A group of Armed Bikers in Phoenix have decided to draw cartoons of Prophet Muhammad (pbuh), as a sequel to the Garland event, and want to march in front of the mosque. Muslims have decided not to react and instead pray for a safe, sane and secure America.
Tuesday, June 16, 2015 (1 comments)

Freedom of speech is an Islamic value defended by Muslims Freedom of speech is the hallmark of civilizations, it is an enduring value and we simply cannot compromise on it, however much a few may abuse it. We believe in free speech and that is the only way societies sustain and grow.

Friday, May 6, 2011 (1 comments)

Muslims rejoice the end of an evil era. Muslims sigh with relief, pray and celebrate, they were not only victims of Bin Laden's terrorism, but were also the subject of harassment by several governments around the world and in the Airports as well.
Thursday, December 24, 2015

History is made, Christians and Muslims celebrate birth of Jesus Christ and Prophet Muhammad together It is incumbent on Christians and Muslims, who make up half of the world population to come together and create a safe and secure world for every human. Here is the history making start.

Sunday, February 22, 2009 (6 comments)

Obama the Macho Man Obama is a fresh thinker, his approach is refreshing, and he is endowed with a re-fresh button. Unfortunately, he has shown this dumber than dumb streak in him to show off his macho manhood; killing and destruction. Obama is my hero, and those of us who admire him, have an obligation to point out his mis-steps that could cost us dearly in economic and moral terms.
Friday, April 25, 2014 (1 comments)

TIME 100 list is flawed with questionable integrity of the TIME Institution Did Mr. Narendra Modi really made it to the top of TIME 100 annual lists of the most influential people in the world, given the questionable integrity of the poll? Can Time audit its computers to determine how many clicks have come from the same computer? They have made the same mistake once before.
Thursday, July 9, 2015 (2 comments)

Congressman Peter King Owes an Apology to Muslims No American uses the N word or Anti-Semitic statements and gets away with it, now thanks to the Supreme Court, Gay bashing will be gone. That leaves Hispanic immigrants and Muslims. With Amnesty, hopefully xenophobia will be reduced but Americans together need to stand up and put a stop to irresponsible statements made against fellow Americans.
Tuesday, October 6, 2015 (3 comments)

Anti-Muslim protests across America and Muslim Response Muslims cannot keep taking this, it is time to short-circuit the prolonged process of acceptance and have a dialogue with our friends who have misunderstood us.
Monday, September 21, 2015 (2 comments)

Muslims have become the latest Punching Bag in the Republican Party Presidential Campaign for 2016 We hope Americans will stand up for the rights of every American that is the least we can do to build a secure America for everyone.

Monday, May 26, 2008 (1 comments)

The Final Journey of Najma Ghouse Najma had prepared herself for this journey, she had jettisoned the anxiety, and cleared her mind from desiring to do a few more things or touch a few more lives. She accepted her role in the world and was content with what she had done. She was grateful to the creator for enriching her with a full spectrum of life experiences from serene bliss to utter sadness, loneliness to being loved, bad times to good times and fun times

Monday, December 29, 2008 (12 comments)

The Gaza Solutions The world sympathized with Israel for the rockets they endured in their backyards, but when they get on the revenge bandwagon and indiscriminately kill, they lose sympathy. The oppressed ones all around the world including the majority of Israelis and Jews feel the pain of this massacre, it flies in the face of our continued efforts to stop massacres, it is time for all of us to speak up. This is not the act of peace making.

Sunday, October 12, 2008 (1 comments)

Republicans, please put America first. It is time for you, the good principled Republican senators, congressmen and women and all those committed to the principles of the party to wake up and rescue the party from being hijacked again by those who want power devoid of republicanism.
Friday, November 6, 2015 (1 comments)

India's Modi on Track to Cripple India India's Prime Minister Modi is doing nothing while India is burning with intolerance, and it will cripple the nation.
Wednesday, December 16, 2015

HH Aga Khan's birth celebrations - Khushali Mubarak Aga Khan is the spiritual leaders of Shia Imami Ismaili Muslims, a sub group of Shia Muslims. He is one of the rare gems of Islamic scholarship and a Harvard Graduate. He has understood the essence of Islam and articulates it very well. Islam to him is serving and caring for people around you, regardless of their affiliation.
Tuesday, September 22, 2015 (4 comments)

Dr. Ben Carson out- trumps Trump in Discriminatory Attitude. Dr. Ben Carson has made four major mistakes in his campaign - 1. one is innocent until proven guilty; 2. You don't stereotype groups based on individual behavior; 3. Per Declaration of our independence we are all created equal; and 4. He has prejudice against Muslims based on unreliable source of information.
Wednesday, September 23, 2015

Muslims Welcome Pope Francis Pope Francis is a blessing to humanity and his presence in the United States is an honor.
Monday, May 26, 2014

Personal Reflections on Memorial Day Memorial day helps us appreciate those who have given up their lives for the sake of our freedom, and it is also a day to reflect upon life and death and our existence, haughtiness and humility.
Wednesday, March 9, 2016

Most dangerous Presidents in America on Day # 1 We are apprehensive about the next president, what will they do, how will it impact our day-to-day life from Day # 1 they assume the office. Here is what they want to do.

Monday, January 19, 2009

Holocaust, Genocides and Muslim Initiatives The Muslims have taken the lead in colloboration with Jews and other faith based communities to commemorate Holocaust and Genocides in Dallas
Wednesday, August 5, 2015 (2 comments)

American Muslims launch an organization in Washington DC The hallmark of civil societies is to treat every human with dignity, and our founding fathers encapsulated that in our immortal declaration of independence that all men are created equal. At American Muslim Institution we are committed to promote those values.
Tuesday, November 17, 2015 (1 comments)

The Islamic way of dealing with Terrorists The President concludes with this, "Blaming the religion is the dumbest thing to do, because we cannot beat, kick, hack, shoot, hang, kill or bury a religion, it's an intangible thing my fellow Americans! We can blame the individuals and restore trust and harmony back in the society. "
Friday, October 9, 2015 (2 comments)

Anti-Muslim protests can be a positive force to bring Americans Together It is new approach to solving the problems, instead of causing the the protesters to dig in their heels and get stuck in a position, we need to offer dialogue to understand them and be understood.

Monday, March 3, 2008 (28 comments)

Obama the Shepherd Thank God for Obama, he mirrors the dreams of millions of Americans and is our new shepherd on the political spectrum. He will lead us to a safe, secure, strong, and respectable and a healthy America.

Thursday, December 27, 2007

Religious Violence in Orissa, India Eleven Churches have been razed to ground following a reported attack on Swami Laxmanananda Saraswati, a political party leader. Shamefully this is a normal thing in India and it needs to be stopped before it escalates.
Thursday, September 24, 2015 (1 comments)

Yom Kippur and Rosh Hashanah Greetings from American Muslims "Festivals of the World" is an educational series by Mike Ghouse since 1993. When we live in the same communities as neighbors, we might as well learn about each other.

Tuesday, April 29, 2008

Ahmadiyya Muslims, what next? The real issue is not about who is a Muslim, but it is about how the majorities treat their minorities. Should the bad decisions of a few in the name of Islam, reflect on the Muslim community at large? Now, Indonesia is planning to ban the "heretical" Muslim sect, should that reflect on Islam? The least we can do is to speak up against the tyranny of one group of people against the other.

Tuesday, May 20, 2008 (1 comments)

With Friends like Bush, Israel doesn't need enemies. The Neocon gang talks peace, but doesn't mean it. Their plans have failed badly, and they still don't get it. They are no good for Israel, Palestine or America, their actions and words are the root cause of terror and turmoil in the world. The more they talk about terrorizing the little nations, the more dangerous they make it for Israel. With Friends like Bush, Israel doesn't need enemies.

Monday, May 5, 2008 (5 comments)

Could weTrust the American Media? Could the Iraq war have been prevented had the American media asked the right questions? How do conservative media commentators frame the actions of different religious communities? Does the media pay due attention to history? Mike Ghouse reflects on the political impact of mainstream media decisions.

Wednesday, May 7, 2008 (2 comments)

With friends like Clinton, Israel don't need enemies. With friends like Clinton, Jews don't need enemies. Her words fuel the anti-Semitic repressed sentiments among average Americans and certainly evoke anger in the Middle East; where as McCain's Islamophobic attitude fuels terrorist outfits like Al-Qaeda. Do we need these two to run our nation down?

Monday, March 10, 2008 (2 comments)

Yes we can bring peace to Gaza Israel owes peace and security to her citizens and it is directly dependent on the security and peace needs of the Palestinians. You cannot live in peace, when your neighbor's aren't. Finding a balance is the most difficult thing to do and both the nations are trying and failing. No wonder the phrase "love thy neighbor" plays such a crucial role in every society.

Wednesday, May 7, 2008 (1 comments)

With friends like Clinton, Israelis don't need enemies. With friends like Clinton, Jews don't need enemies. Her words fuel the anti-Semitic repressed sentiments among average Americans and certainly evoke anger in the Middle East; where as McCain fuels Islamophobia. Do we need these two to run our nation down? Absolutely not!

Friday, December 28, 2007 (3 comments)

Hope for Pakistan She threatened the extremists, a dare move perhaps calculated to win the support of majority of moderates in Pakistan who want to live a normal life. They got to her before she could get them. Pakistan is ripe for democracy; a majority of her people believes in it. We cannot ambush terrorism with bombs; we can certainly dissolve it through dialogue, education and patience. We need a whole new generation into thinking