From Common Dreams
Barr's history of helping Republican presidents in legal crises may explain why Trump brought him back in to head the Justice Department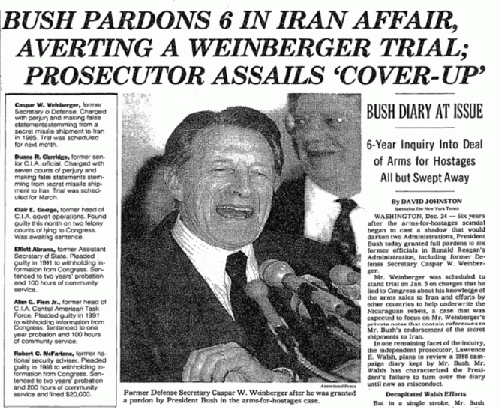 Back in 1992, the last time Bill Barr was U.S. attorney general, iconic New York Times writer William Safire referred to him as "Coverup-General Barr" because of his role in burying evidence of then-President George H.W. Bush's involvement in "Iraqgate" and "Iron-Contra."
General Barr has struck again -- this time, in similar fashion, burying Mueller's report and cherry-picking fragments of sentences from it to justify Trump's behavior. In his letter, he notes that Robert Mueller "leaves it to the attorney general to decide whether the conduct described in the report constitutes a crime."
As attorney general, Barr -- without showing us even a single complete sentence from the Mueller report -- decided there are no crimes here. Just keep moving along.
Barr's history of doing just this sort of thing to help Republican presidents in legal crises explains why Trump brought him back in to head the Justice Department.
Christmas day of 1992, the New York Times featured a screaming all-caps headline across the top of its front page: Attorney General Bill Barr had covered up evidence of crimes by Reagan and Bush in the Iran-Contra scandal.
Earlier that week of Christmas, 1992, George H.W. Bush was on his way out of office. Bill Clinton had won the White House the month before, and in a few weeks would be sworn in as president.
But Bush's biggest concern wasn't that he'd have to leave the White House to retire back to Connecticut, Maine, or Texas (where he had homes) but, rather, that he may end up embroiled even deeper in Iran-Contra and that his colleagues may face time in a federal prison after he left office.
Independent Counsel Lawrence Walsh was closing in fast on him, and Bush's private records, subpoenaed by the independent counsel's office, were the key to it all.
Walsh had been appointed independent counsel in 1986 to investigate the Iran-Contra activities of the Reagan administration and determine if crimes had been committed.
Was the Iran-Contra criminal conspiracy limited, as Reagan and Bush insisted (and Reagan confessed on TV), to later years in the Reagan presidency, in response to a hostage-taking in Lebanon? Or had it started in the 1980 campaign with collusion with the Iranians, as the then-president of Iran asserted? Who knew what, and when? And what was George H.W. Bush's role in it all?
Walsh had zeroed in on documents that were in the possession of Reagan's former defense secretary, Caspar Weinberger, who all the evidence showed was definitely in on the deal, and President Bush's diary that could corroborate it. Elliott Abrams had already been convicted of withholding evidence from Congress, and he may have even more information, too, if it could be pried out of him before he went to prison. But Abrams was keeping mum, apparently anticipating a pardon.
Weinberger, trying to avoid jail himself, was preparing to testify that Bush knew about it and even participated, and Walsh had already -- based on information he'd obtained from the investigation into Weinberger -- demanded that Bush turn over his diary from the campaign. He was also again hot on the trail of Abrams.
(Note: You can view every article as one long page if you sign up as an Advocate Member, or higher).