Articles Listed By Popularity List By Date

Page 1 of 7 First Back Next 2 3 4 5 6 7 View All

Saturday, August 6, 2011 (27 comments)

S&P Blames Republicans, Mainstream Media Fails to Report It S & P has made it clear, profoundly clear that the reason for the downgrade was because of Republicans

Monday, February 8, 2010 (13 comments)

Globalization Is Killing The Globe: Return to Local Economies Globalization is killing Europe, just as it's already wiped out much of the American middle class. Spain and Greece are facing immediate crises that many other European nations see on the near horizon: aging boomer workers are retiring with healthy benefit packages, but the younger workers who are paying for those benefits aren't making anything close to the income (or, therefore, paying the taxes) that their parents did.

Tuesday, July 21, 2009 (23 comments)

The Great Tax Con Job today the uber-rich are spending hundreds of millions to make sure words like "burden" are always associated with the word "tax," and to convince average working people that they should throw out of office any politicians who are willing to raise taxes on the rich.
Saturday, December 16, 2017 (23 comments)

The Uncanny, Frightening Ways That Trump's America Mirrors Hitler's Germany How will the heirs of today's GOP/Trump-financing billionaires look back on this era? That's assuming, of course, that any sort of real history of the events of this time survives Trump and Pence's dual assault on our news organizations and net neutrality. Given that the only force that can defeat organized money is organized people, whether our republic will withstand this assault is now in our hands.

Sunday, October 22, 2006 (4 comments)

The Truth about the Trust Fund-- Destroying Social Security to Destroy the Two Party System What do you do when you want to screw only the working people of your nation with the largest tax increase in history and hand those trillions of dollars to your wealthy campaign contributors yet not have anybody realize you've done it? If you're Ronald Reagan, you call in Alan Greenspan.

Saturday, July 18, 2009 (1 comments)

The Deciding Moment: The Theft of Human Right From Chapter Six, "The Deciding Moment" of "Unequal Protection: The Rise of Corporate Dominance and the Theft of Human Rights". There is comparatively little difference in the strength of men; a corporation may be one hundred, one thousand, or even one million times stronger than the average man. Man acts under the restraints of conscience, and is influenced also by a belief in a future life. A corporation has no soul and...

Thursday, December 17, 2009 (12 comments)

Healthcare: First They Came for the Banksters We're awake, we're mad as hell, and we're not going to take it any more. Natalie Portman to Matt Taibbi to Arianna Huffington to Bill Moyers represent the span of our four awakened generations; generations who have figured out how the game is played. And don't like it.
Sunday, February 11, 2018 (3 comments)

How the GOP Used a Two Santa Clauses Tactic to Con America for Nearly 40 Years Between their tax cut and the nearly-trillion dollar spending increase passed on February 8th, in the first year-and-a-month of Trump's administration they've spent more stimulating the economy (and driving up debt by more than $2 trillion, when you include interest) than the entire Obama presidency.
Thursday, October 25, 2012 (27 comments)

Globalism is the #1 Risk Facing Humanity Globalization tears down borders across the planet - giving corporations free rein to move about the world and set up shop in nations wherever governments are the weakest, wherever there's the least amount of regulation, and wherever workers are willing to work for practically nothing. they just move in and take over, enslaving local populations and using local communities as garbage dumps.
Saturday, July 13, 2013 (16 comments)

Snowden's Revelation Paves the Way for Federal Lawsuit Against NSA Thanks to Edward Snowden, a federal court may finally hear the Electronic Frontier Foundation's case defending our Fourth Amendment rights. Long before the whistle-blower exposed top secret NSA documents, the EFF was fighting to protect our privacy.

Monday, April 4, 2011 (12 comments)

Is the Demise of the Tea Party Near? According to a new CNN poll -- the Tea Party's favorability rating has sunk to an all-time low -- just 32%. Thom talks about the REAL tea party.
Saturday, July 29, 2017 (15 comments)

The Past 5 GOP Presidents Have Used Fraud and Treason to Steer Themselves to Electoral Victory The Trump and Republican campaign of 2016, Americans are now discovering, was nearly all lies, well-supported by a vast right-wing media machine and a timid, profit-obsessed "mainstream" corporate media. Meanwhile, it seemed that all the Democrats could say was, "The children are watching!" Fraud, treason, and lies have worked well for the GOP for half a century.

Wednesday, September 8, 2010 (27 comments)

Thom Hartmann Interviews Book burner pastor Terry jones It is apparent that Terry Jones, pastor of the Dove World Church is doing Osama Bin Laden's work, doing the Devil's work by burning the Quran. It's tragic, and dangerous.

Wednesday, August 10, 2011 (36 comments)

Democracy Died First in Wisconsin -- Long Live the Oligarchs The Wisconsin recall election was the first major test of the new era in American politics. That new era began in January of 2010 when the US Supreme Court ruled in "Citizens United v. FEC" that the political voice of We The People was no longer as important as the voices of billionaires and transnational corporations. The Citizens United election experiment is over, and the oligarchs won. Long live the oligarchy.

Friday, September 26, 2008 (6 comments)

How Wall Street Can Bail Itself out without Destroying the Dollar Create an agency to fund the bailout, loan that agency the money from the Treasury, and then have that agency tax Wall Street to pay us (the Treasury) back. It's been done before, and has several benefits.

Wednesday, November 24, 2010 (33 comments)

Michael Chertoff, Bend Over, Please" If we are serious about stopping Middle Eastern zealots from attacking us, instead of blowing up our own Fourth Amendment right to be secure in our persons, let's stop blowing up Middle Eastern countries. Until then, it's just theatre -- with a few millions in profit for Chertoff and his friends.

Tuesday, July 6, 2010 (3 comments)

Hiding it all from "The Little People" the amount of oil leaked, the liability of BP are being hidden-- by BP, by Obama... and that sure isn't helping the little people.

Saturday, August 20, 2011 (3 comments)

Caught? Fake conservative identities re-writing the web? Earlier this year - ThinkProgress obtained hacked emails from the defense contractor HB Gary Federal - that suggest that - with the help of other security firms - HBGF was working with the Chamber of Commerce to sabotage Progressive organizations like ThinkProgress and the union SEIU.
Sunday, July 29, 2012 (10 comments)

Conservative Millennials, Boomers & Libertarians All being Conned As Bill A. Clark put it, "I never bought anybody who wasn't for sale." The Kocks, Waltons & other wealthy parasites were paying attention & who knows, maybe the price of the next election is 561 million dollars.
Thursday, October 8, 2015 (30 comments)

The Billionaire Hypocrisy of Helping the Poor If the richest in the US really want to help uplift the most impoverished regions around our own country, they could certainly do it. The business magnates who have made billions from our trade deals can stop outsourcing jobs. They can start reopening factories and build new manufacturing facilities right here in the United States.

Wednesday, June 30, 2010 (14 comments)

The Hard Reich in the Republican Party Shows their True Stripes Racist Republicans can't get over Brown vs Board of Education & Justice Marshall's role in the decision. Elena Kagan was one of his clerks & therefore tainted.

Friday, April 23, 2010 (10 comments)

Profiling CEOs and Their Sociopathic Paychecks what part of being a CEO could be so difficult-so impossible for mere mortals-that it would mean that there are only a few hundred individuals in the United States capable of performing it? In my humble opinion, it's the sociopath part.

Friday, December 19, 2008 (7 comments)

Alexander Hamilton's Advice To The Obama Administration Alexander Hamilton, in 1791, proposed to the United States our first true industrial policy. We adopted it over the next few years, Abraham Lincoln reaffirmed it fourscore years later, and it was again affirmed by every President of the United States until Reagan began his now-28-year "Reagan Revolution" which has disassembled America's industrial base and impoverished our nation.

Wednesday, August 11, 2010 (2 comments)

The Real Problem is the Professional Right because of the messaging incompetence of Mr Gibbs in the White House, and the cacophony of voices from the professional right, polls show that fewer than 5% of Americans know the difference between Obama's acutely effective stimulation plan and Bush's insane bank bail out plan.
Sunday, February 16, 2014 (10 comments)

We Better Get Net Neutrality Signed into Law Before Media Mergers Kill the Internet as We Know It Comcast and Time Warner are two of America's largest internet service providers, providing millions of Americans access to the World Wide Web. If you factor in Comcast's proposed takeover of Time Warner, with last month's ruling on net neutrality, American consumers could be screwed. Last month, the D.C. Circuit Court of Appeals struck down the Obama administration's net-neutrality rules.
Saturday, December 30, 2017 (2 comments)

How the GOP Tax Cut Will Also Shrink Your Paycheck With the GOP now getting another Reaganesque tax cut, get ready to see working people's pay start dropping again, just as it did starting in the 1980s after Reagan's tax cut, and in the early 2000s after Bush's. Also get ready to see income inequality grow even worse, as the truly rich see a big boost in their take-home pay and thus their overall wealth, while working people and our nation's infrastructure get screwed.
Saturday, June 6, 2015 (40 comments)

Who Pays Taxes in the US? Everyone but the Super-Rich After 40 years of corporate America infiltrating and subverting our democracy -- they've grabbed so much power and influence over our politics that they've essentially written themselves out of our tax code. So now -- only the regular working people in the US -- the doctors, plumbers, servers and small business owners -- pay taxes in the US.
Thursday, June 28, 2012 (4 comments)

Time for Congress to Impeach Justice Antonin Scalia So in 1803 Samuel Chase criticized the president for trying to expand voter rights and got impeached. In 2012 Antonin Scalia criticized the president for trying to save young undocumented immigrants from deportation... but there's virtually no chance he'll be impeached. But it goes beyond Scalia's comments on immigration -- the guy has a history of tarnishing the integrity of the Supreme Court.

Thursday, December 18, 2008 (34 comments)

Three Cups of Tea for Rick Warren While some consider homophobe Rick Warren to be THE guy with a bullseye on his back for progressives, consider the metaphor of the three cups of tea for a moment.

Monday, December 3, 2012 (7 comments)

Goldman Sachs' Global Coup D'etat Goldman Sachs and its alumni are implicated in all the great economic crises and scandals of the last several years. Their procedure is to create a bubble, while betting against it, then profit handsomely when the bubble bursts. They were in on the American bank bailout of 2008; they engineered the destruction of the Greek economy; now they are working to impose austerity and undermine economies across southern Europe.
Tuesday, October 3, 2017 (45 comments)

So Few Americans Understand What the Second Amendment Is Really About -- or Its Dark History The Second Amendment, which is now used by the weapons industry to justify selling weapons of war to civilians, was originally created, at least in part, to help preserve slavery in the South. You really couldn't ask for a better metaphor for everything that's challenging about America and its history.

Thursday, January 29, 2009 (15 comments)

Two Santa Clauses or How The Republican Party Has Conned America for Thirty Years This weekend, House Republican leader John Boehner played out the role of Jude Wanniski on NBC's "Meet The Press." Odds are you've never heard of Jude, but without him Reagan never would have become a "successful" president, Republicans never would have taken control of the House or Senate, Bill Clinton never would have been impeached, and neither George Bush would have been president.
Friday, January 23, 2015 (19 comments)

Is John Boehner a Traitor, a Criminal? So, why is Boehner's invitation to Netanyahu such a big deal? First off, it's a huge violation of protocol and massively disrespectful to President Obama and the authority of the executive branch. It is completely unprecedented for the Speaker of the House, or any member of Congress, to invite a foreign leader to come to the US and speak to Congress without getting authorization and/or cooperation from the White House.

Wednesday, September 28, 2011 (12 comments)

If Obama Doesn't Want to Lead the Revolution - Young People Will This is the revolution that Americans hoped for when Barack Obama pledged to "fundamentally change the United States and the world" when he was elected President in 2008. But so far - this pledge has been unfulfilled. Barack Obama was not much of a revolutionary. But ultimately - it was never about him - it was about us - and in particular it was about the young people - because all revolutions originate from the bottom up.

Sunday, July 31, 2011 (4 comments)

The Battle to Save Democracy Opednews is, with author and publisher permission, reprinting Thom Hartmann's essential to read book, Unequal Protection, which explores the history, development and implications of corporate personhood. Thanks to Thom and publisher, Berrett-Koehler. This is the book's Introduction
Thursday, September 27, 2012 (24 comments)

How Can You Plan a Revolution when Big Brother is Watching? It's increasingly looking like the United States is one generation away from completely forgetting what privacy means. And the consequences of this Great Forgetting will be tragic for our nation. Why? Because without privacy - without the ability to be anonymous - America can't even plan a peaceful revolution or non-violent progressive social change movements - because if big corporations or Big Brother are watching
Tuesday, April 15, 2014 (31 comments)

American Democracy No Longer Works Money has taken over our political process. For the first time in American history, a majority of lawmakers in the House of Representatives are millionaires, and a startling number -- at both the federal and state level -- are being bankrolled by billionaires like the Koch brothers. This isn't what the founders had in mind when they founded our once-great nation.
Tuesday, October 17, 2017 (29 comments)

The America I Knew Has Almost Disappeared There's really very little democracy left in our democracy. Our votes are handled in secret by private, unaccountable for-profit corporations. Our laws are written, more often than not, by corporate lawyers/lobbyists or representatives of billionaire-level wealth. And our media is owned by the same class of investors/stockholders, so it's a stretch to expect them to do much critical reporting.

Thursday, March 1, 2012 (5 comments)

Hartmann: Imagine life with no water...in America! A new study by the American Water Works Association reveals that America's underground water pipe infrastructure is rapidly deteriorating - and needs to be revamped to the tune of one trillion dollars. Most water pipes were laid down more than fifty years ago. And today - after more than 30 years of "starve the beast" Reaganomics that didn't invest one dime in our infrastructure - those pipes are past the end of most of their
Saturday, January 6, 2018 (53 comments)

How America Ended Up With Donald Trump Once the oligarchs get their oligarch -- in this case Donald Trump -- they're going to do everything they can to defend him and keep him in place unless he's no longer useful to them. It shouldn't surprise us when the people who are putting our politicians in office, essentially, by buying the elections, don't give a damn about governance.

Saturday, January 14, 2017 (57 comments)

The Trump Story the Media Dare Not Utter Freedom of the press in America has become as much an economic as a political issue. This is problematic, because no democracy can survive when most of the media has a sole commitment to profit with little consideration for the public good. The Trump presidency is virtually entirely a product of our modern for-profit, highly-consolidated media.
Saturday, August 8, 2015 (6 comments)

If You Liked the Iraq War, You'll Love the Iran War This isn't a deal between the US and Iran -- this is a binding international agreement negotiated between six countries, ratified by the United Nations, and supported by the strictest inspection regime ever devised. And if this deal fails -- it won't be Iran that has gone rogue from the international community. It will be the United States and Israel.

Monday, October 10, 2011 (6 comments)

Columbus Day - As Rape Rules Africa and American Churches Embrace Violent 'Christian' Video Games Slavery, apartheid, and the entire concept of conservative Darwinian Economics, have been used to justify continued suffering by masses of human beings. the Native American word wÃ-' -tiko (pronounced WET-ee-ko) describes the collection of beliefs that would produce behavior like that of Columbus. WÃ-' -tiko literally means "cannibal,"
Saturday, September 19, 2015 (16 comments)

The Wall Street Journal's Attempt to Take Down Bernie Sanders Backfired It's 5 trillion dollars that we the people will save with Bernie's plan -- and get back -- by adopting an efficient -- and affordable -- single payer health-care for all system. And that would be good for everyone -- and the economy as a whole.
Saturday, August 22, 2015 (47 comments)

Picking Apart One of the Biggest Lies in American Politics: "Free Trade" President Obama continues to follow his predecessors -- Reagan, Bush, Clinton, and Bush -- in the religious belief that "free trade" will save us all. It's nonsense. "Free trade" is a guaranteed ticket to the poorhouse for any nation, and the evidence is overwhelming.
Sunday, February 4, 2018 (6 comments)

Did Trump Just Announce His 9/11 "Unification" Strategy? Billionaire Trump and the billionaire-funded Republicans (and their billionaire-owned "news" channel), true to color, are only interested in what will increase billionaire wealth over the short term, regardless of how badly it devastates working people or the nation long-term. The Trump Reality Show, in all its sick horror, is just getting underway.

Monday, December 6, 2010 (6 comments)

Tax Cut Lies: The Day The News Died EVERYONE would have gotten a tax cut under the Democrats' proposal. Every single taxpayer in America, from the street-sweeper to Bill Gates. Everyone!

Monday, February 16, 2009 (5 comments)

The Ghost of Vice President Wallace Warns: "It Can Happen Here" Written in 2004, and published by CommonDreams.org, Henry Wallace's quoted article comes into focus ever clearer after the "meltdown" toward the end of GW Bush's 2nd term. Progressives can be advised to save it in their documents after that term finally (!) ended.
Saturday, May 6, 2017 (12 comments)

Republicans' Vicious and Immoral Health Care Bill Is Just Part of a Sinister Long Game While Democrats are jubilant that the GOP passed a terrible healthcare/tax-cut bill through the House, which they think will cause voters to reject the GOP in 2018, it's a very, very premature celebration. The Republicans are playing a longer game here, one based on a time-tested strategy first explicated by Machiavelli and fully put into place by Goebbels in the early 1930s, then fine-tuned by Reagan through the 1980s.

Monday, August 17, 2009 (12 comments)

From Thom Hartmann; Dear President Obama: A Modest Medicare Proposal I understand you're thinking of dumping your "public option" because of all the demagoguery by Sarah Palin and Dick Armey and Newt Gingrich and their crowd on right-wing radio and Fox. Fine. Good idea, in fact. Instead, let's make it simple. Please let us buy into Medicare.

Tuesday, November 29, 2016 (28 comments)

Here's How We Can Really Protect America It's time to wake up and realize that we've become the planet's village idiots. Giant transnational corporations and the politicians the Supreme Court has allowed them to own have sold us out. We're the only developed country in the world that doesn't aggressively practice at least some form of protectionism.

Wednesday, July 18, 2012 (20 comments)

The No Billionaires Campaign I believe it's time we reconsider the role billionaires play in our economy and our society. In fact, I say it's time we outlaw billionaires by placing a 100% tax on any wealth over $999,999,999. Trust me, we'll all be much better off in a nation free of billionaires.
Tuesday, March 18, 2014 (12 comments)

Billionaires ... First They Came for the Economy Over the past 40 years, billionaire oligarchs have slowly but surely taken over just about all aspects of life in America. It's time to end America's oligonomy by rolling back the Reagan tax cuts and enforcing the Sherman Anti-Trust act, so that corporations can't amass endless piles of money. As for Washington's ruling oligarchy, we need to roll back Citizen's United, and and say loudly and clearly that money is not speech.
Tuesday, January 20, 2015 (20 comments)

Four Ways Republicans Are Trying to Take Us Back to the Jim Crow Era During the Jim Crow era, it was pretty much impossible for black people to vote. While the Constitution banned voter discrimination based on race, Southern states got around this ban by using tricks and tests to keep African-Americans way from the polls. These weren't fair tests, either -- they were designed to make people fail.

Tuesday, February 21, 2012 (6 comments)

Greece - The Eurozone's first colony? Or Where War Begins? Europe is nearing a tipping point - and it's not so inconceivable that the ongoing financial crisis could descend into all-out war. With a second bailout coming down the pike for Greece - and more austerity - or starvation - on the way for the Greek people - hotter heads are speaking up.
Wednesday, February 11, 2015 (26 comments)

Exposing the Republican Party's Sleazy Playbook to Destroy Social Security It is clear that the GOP plan is to use this unnecessary, manufactured crisis as an opening to "reform" Social Security -- translated: cut and privatize. Thus, forcing Democrats to become the Social Security anti-Santa a different way. Democrats must accept neither the cut to disability payments, nor the entree to Social Security "reform."
Tuesday, January 27, 2015 (7 comments)

The Trans-Pacific Partnership Will Sink the Middle Class Two decades of free-trade deals have eviscerated the middle class and bloodied the "American dream." If President Obama goes ahead and signs us onto another free-trade deal, especially one as destructive as the TPP, that will be like tying a cement block to the feet of a drowning man.
Thursday, January 1, 2015 (14 comments)

The True Costs of Corporate Welfare If we're serious about going after "welfare queens" in the US, to use Ronald Reagan's phrase, then let's start by going after the corporations and industries that use the Walmart business model of paying such low wages that their employees qualify for welfare benefits.
Wednesday, October 22, 2014 (40 comments)

The Lost Generation Before lawmakers in Washington got hooked on Reaganomics and libertarian economics, our country never had a student loan debt crisis. To compound their problem, while millenials are struggling to pay off their student loan debt, they're also struggling to find employment, another consequence of libertarian economics.
Saturday, March 7, 2015 (2 comments)

Welcome to the New Corporate Feudalism For average working people, there is no such thing as a middle class in "natural" capitalism. Wealth accumulates at the very top among the elites, not among everyday working people. Inequality is the default option, just as it was in Medieval Europe under feudalism. Inequality is now at a record high, and the richest 3 percent of the population now controls more than half of all wealth.

Tuesday, October 31, 2006 (1 comments)

Killing the Middle Class; How the Corporatocracy Sets the Rules of the "Game" To Create Peons Always get suspicious when you see the words free market. One of the most pernicious claims the corporatocracy makes is that business flourishes best in a perfectly "free" market. And when business flourishes, they say, all of society does better. It's the old trickle-down philosophy that inevitably produces a nation of peons.
Saturday, July 18, 2015 (2 comments)

How the Billionaires Bought Justice for Scott Walker Scott Walker is the perfect example of how billionaires can purchase justice a la carte to protect their pet politicians. Now that's not to say that Scott Walker himself is a billionaire. But he has a well-known relationship with billionaires like the Koch Brothers -- and their assorted front groups.

Thursday, January 26, 2012 (1 comments)

#OWS Arrests Cost US Dearly in Press Freedom It has been a very tumultuous year for the Occupy movement, and even more so for the reporters and journalists who have covered the movement and it's principles. Throughout 2011 - reporters covering the movement were beaten - arrested and ultimately prevented from reporting on police action against Occupy protestors.
Saturday, June 13, 2015 (10 comments)

Why We Shouldn't Look the Other Way on Bush's Iraq War Crimes Rumsfeld may be distancing himself, but Bush and Cheney are still remorseless and still guilty. Vincent Bugliosi was right -- we need "some courageous prosecutor" to demand justice and to charge George W. Bush and Dick Cheney for their lies and the murders of 4,500 American soldiers and over half a million Iraqis.

Thursday, December 24, 2009 (9 comments)

The Holiday Gift This Country Needs... The gift our country needs this Holiday season is an economy that serves us instead of us just serving those who own or control most of the economy. We need policies that bring our jobs back home and make it possible for us to return to buying American.
Friday, January 17, 2014 (21 comments)

Company Responsible for Major Chemical Spill Is a Great Candidate for the Corporate Death Penalty It goes without saying that we need stronger regulations on companies like Freedom Industries whose activities threaten the health and safety of the general public. We need to make sure that corporations know that if they violate the public's trust that they will face serious consequences. It's high time we brought back the corporate death penalty.
Saturday, November 11, 2017 (9 comments)

It Doesn't Cost Billionaires Anything To Oppress You Republicans will never ever speak out against pollution because the donor class is making money on that, against guns because the donor class is making money on that, against the obscene profits the pharmaceutical industry is making because the Republican donor class is making money off that.

Thursday, July 28, 2011 (7 comments)

Thom Hartmann: The Question Republicans Can't Answer Now is the time that we ask the Republicans a question - a question that I guarantee they can't answer. And that question is" "Can you name one thing - just one thing - that millionaires and billionaires will have to sacrifice in this debt-limit deal as part of a 'shared sacrifice' approach?"
Thursday, May 14, 2015 (5 comments)

The GOP's Food Stamp Hypocrisy It's actually more expensive to stop poor people from eating shellfish than to just let the food stamp program go on as normal, but Republicans are all on board because it punishes and stigmatizes low-income people. So much for compassionate conservatism in the Republican Party. It was a lie and an oxymoron when George W. Bush promoted the phrase, and it's still a lie today.
Saturday, September 30, 2017 (9 comments)

How the Republican Party Has Conned America for Over 30 Years Ronald Reagan was the first national Republican politician to suggest that he could cut taxes on rich people and businesses, that those tax cuts would cause them to take their surplus money and build factories to make more stuff, and that the more stuff there was supplying the economy the faster it would grow.
Friday, March 28, 2014 (8 comments)

It's Time To Put America First Republicans are all for forking over billions of dollars to an unelected government in Ukraine, but when it comes to helping out unemployed Americans, they're suddenly screaming about the debt and the deficit. Republican obstruction looks even more ridiculous when you remember that those 2 million jobless people who are still without benefits paid into the unemployment insurance throughout their adult working lives.

Tuesday, November 29, 2011 (5 comments)

$7.7 trillion to Wall Street - Anything to keep the Banksters Happy! while Congress was debating back in 2008 whether or not to bailout Banksters with a $700 billion blank check, Elizabeth Duke, Donald Kohn and Kevin Warsh were just doing it. They were funneling $7.7 trillion to Wall Street under the table - without one constituent phone call - without worrying about one election - without having to give one explanation.

Monday, August 28, 2006 (5 comments)

Thom Hartmann; Reclaiming The Issues: Islamic Or Republican Fascism? Fascism is again rising in America, this time calling itself "compassionate conservatism," and "the free market" in a "flat" world. The RNC's behavior today eerily parallels the day in 1936 when Roosevelt said: "In vain they seek to hide behind the flag and the Constitution. In their blindness they forget what the flag and the Constitution stand for."
Saturday, November 4, 2017 (3 comments)

What America's Founders Would Say to Alabama's Fundamentalist Hustler Roy Moore Moore's main arguments for keeping a graven image of the Ten Commandments in the Alabama Supreme Court rotunda are, he said, that America is a Judeo/Christian nation founded by Christians, and that the foundation of American law is the Bible and the Ten Commandments. He's repeating these claims in his run for the Senate.
Tuesday, April 28, 2015 (14 comments)

"Fast Track" Flouts the Constitution If Congress does give President Obama fast-track power, our elected representatives wouldn't be allowed to make any amendments whatsoever to trade deals like the TPP. Instead, the treaty would be sent right to the floor where it would only have to pass a simple up-or-down vote after debate limited to eight minutes per member.
Thursday, November 6, 2014 (52 comments)

The Fatal Flaw With Democracy What we did with prisons, with voting machines, and with the surveillance state are all things that we've now done with our election system: we've privatized, outsourced, and corporatized it, with similarly disastrous results. The Founding Fathers are rolling over in their graves.

Wednesday, August 17, 2011 (3 comments)

How Republicans avoid angry constituents...outsourcing? Republicans have figured out a way to both make a buck off of doing their public duty of meeting with constituents, and making sure that they never again have to answer an uncomfortable question. Here's how:
Wednesday, May 14, 2014 (10 comments)

Republicans' Insane Political Strategy: Ruining Our Country Hurts the Democratic Party The Republicans have their strategy, and they're sticking to it, even though it involves destroying lives and even killing people. When Republicans go on television or radio and talk about how bad the economy is, and how many people are hurting, they are not complaining -- they're bragging.

Tuesday, September 5, 2006 (10 comments)

Thom Hartmann; Democracy and the Middle Class A political democracy and an economic middle class is the natural state of humankind. Indeed, it's the natural state of the entire animal kingdom. To have a democracy we must have a middle class. And to have a true middle class, a majority of the people in a nation must be educated and economically secure and must have full and easy access to real news so they can make informed decisions.
Sunday, June 28, 2015 (1 comments)

Bill O'Reilly and America Need to Be De-Programmed Slavery is gone, but the racial logic that made it possible is still very much with us. So why is that? Why, more than 150 years after the Civil War, do so many people still hold on to the white supremacy death cult? Easy -- Because Republicans have told them it's OK to do so.
Thursday, September 24, 2015 (2 comments)

A CEO Goes to Jail for Killing People A federal jury sentenced the former owner of the now defunct Peanut Corporation of America to 28 years in prison for his role in one of the largest salmonella outbreaks in US history. But Stewart Parnell wasn't charged with killing or sickening anybody, even though the outbreak was connected to at least nine deaths across five states. No, he was charged for 67 counts of defrauding customers.

Friday, June 29, 2012 (2 comments)

Watergate: The Hidden History and the 2012 Elections Finally, we have answers to the most important remaining questions about Watergate: What were the burglars after and why Nixon was willing to risk his presidency to get it? Watergate: The Hidden History: Nixon, The Mafia, and The CIA by Lamar Waldron lays it all out in extraordinary detail.
Thursday, September 11, 2014 (42 comments)

Why We Need to Prosecute Our Torturers Dick Cheney is a war criminal and a liar, and should be rotting in a prison cell in The Hague, not giving motivational speeches to Republican lawmakers who're trying to look tough during an election year. The fact that he isn't in jail, though, and the fact that he is making motivational speeches shows how badly we've never come to terms with either the Bush administration or its crimes.

Monday, September 29, 2008 (6 comments)

How Wall Street Can Bail Itself Out Without Destroying the Dollar We've done it before. We financed the Spanish American War and partially financed the Civil War, WWI, and WWII with STETs. We stabilized our stock market with a STET from the mid-30s to 1966, and other nations are doing it today. It's time to do it again, this time using the STET so tax Wall Street can pay for its own bailout.
Tuesday, December 15, 2015 (17 comments)

The Media Is Ignoring the Most Important Issue of Our Time The media loves terror porn; keeping people afraid is profitable. However, both common sense, and simple analysis, show that what really keeps most Americans up at night is money, or the lack of it. For the first time in the lifetime of many Americans, the Middle Class now makes up less than half of the US population.
Sunday, March 8, 2015 (27 comments)

One Simple Way to Save American Democracy: Get Serious About Taxing the Mega-Rich The Founders of our republic fought a war against an aristocratic, oligarchic nation, and were very clear that they didn't want America to ever degenerate into aristocracy, oligarchy, or feudalism/fascism. We must uphold their vision of an egalitarian, democratic republic, and a "No Billionaires" tax would be a great start.

Saturday, July 28, 2012 (8 comments)

Romney Camp Wants Anglo-Saxons (Master race?) in the WH Romney understands white conservatives from both parties & both genders- scratch one & you will find a racist.
Friday, March 4, 2016 (12 comments)

Why Is Our Government Working for the Private Good Over the Public Good? If the new chemical safety bill passes into law, cities and schools will be stuck with the bill to clean up Monsanto's cancer-causing chemical, and individuals will be stuck with the bill to treat the cancers that the chemical caused. That's a real possibility, because our government has stopped working for the public good, and now it works mostly to line the coffers of multibillion dollar corporations.
Monday, March 23, 2009 (9 comments)

The Real Criminals Are Neither Lynndie England nor the AIG Traders ...the real criminals of the AIG mess - and the entire financial meltdown that was set up between 1999 and 2006 and crashed starting in 2007 - were Grover Norquist, Phil and Wendy Graham, Tom Delay, and, sadly, Bill Clinton.
Sunday, March 20, 2016 (16 comments)

What Happens When Neither Political Party Answers to the Bottom 90%? America in Crisis With both political parties captured almost entirely by the interest of the top 1% (Republicans) and the top 10% (Democrats), the bottom 90% feel they have nowhere else to go. For the past few decades, they've expressed this reality of being unrepresented by simply not voting and not showing up for politics, which they correctly saw as rigged and not working in their interest.
Tuesday, January 19, 2016

One Thing Donald Trump Is Actually Right About When It Comes to America's Economic Problems During an exchange with his Republican rivals, Donald Trump said, "You can't deal with China without [a] tariff. They do it to us. We don't do it. It's not fair trade." Even the right-wing moderators quickly tried to dispute the Donald, but on this one point, he happens to be exactly right. Donald Trump may be wrong on just about everything, but he's absolutely right about tariffs.
Wednesday, February 18, 2015

Threat of Deadly Pathogens on the Rise Thanks to Climate Change Unknown infectious diseases could pop up across the globe thanks to climate change. For example, there are sure to be unknown bacteria and pathogens that have been frozen in Arctic ice for thousands of years. But, if that ice melts, and those never-before-seen pathogens get released into the air, they could start new epidemics that we simply wouldn't be able to fight because we've never had experience with them.
Thursday, May 1, 2014 (23 comments)

Cliven Bundy's Friends Have Become the Koch Brothers' Useful Idiots Despite all the milita movement's rage against corrupt government, American decline, and the elites, in the end, the only people who benefit from its fight against "big government" are the same people who are already destroying our country -- the billionaires and the oligarchs. To put it bluntly, the militias are the useful idiots of the one percent.
Monday, February 19, 2018 (4 comments)

We Live in a Country That Has a Totally Corrupted Political System The NRA's essentially outright purchase of senators like Richard Burr ($6.3 million in 2016), Marco Rubio ($3.2 million in 2016), Roy Blunt ($3 million), and Rob Portman ($2.2 million) -- and Donald Trump ($30 million in the presidential race) -- is so obviously corrupt to many of the students in Parkland that they're furious.
Thursday, September 15, 2016 (2 comments)

Why Does Trump Survive Scandals? Because Scandals Are Part of His Appeal Trump is someone who's made billions by hustles and bribes, and he's not going to suddenly change once he becomes president. He'll still be the same privileged bully he's always been. If he brings his corrupt deal-making skills to the White House, expect him and his buddies to get rich and US workers to get the shaft. That's the way it's always been with Trump the businessman; it's the way it'll be with Trump the politician.
Thursday, September 25, 2014 (28 comments)

Time for the US to Dump the Word "Homeland" While Germans still won't say it, the word "homeland" is everywhere in the United States. Bush and Cheney rolled it out in a big way after 9/11, and our media managed to completely ignore the dark history of the word. Let's rename the Department of "Homeland" Security, and remove from the United States' self-description this dark, strange and creepy term.
Thursday, August 20, 2015 (4 comments)

The Comcastization of MSNBC-- What To Do About It Comcast's firing of Ed Schultz was a wake-up call to many progressives. The 10 lawsuits against the FCC should be another -- a huge one.
Friday, July 29, 2016 (1 comments)

Trump Gets His Talking Points From White Supremacist Twitter Accounts Even if Trump doesn't believe what these Neo-Nazis think, he's bringing their ideas out in the open by tweeting memes and giving them shout-outs in press conferences. He's not making America great again; he's making US white supremacy acceptable again. Trump is a racist and a crypto-fascist, and the many of the people who actually are paying attention to his policies and still support him are even worse.

Wednesday, November 22, 2017 (2 comments)

So you think You'll Get a Tax Break, or tax cut? Really? So, you think you're getting a middle-class tax cut? Well, first of all only, about half the middle class might get even a tiny tax cut. The other half of the middle class is going to pay more.

Monday, July 6, 2009 (5 comments)

Fascism Coming to a Court Near You; Corporate Personhood and the Roberts' Court Thanks to the Roberts Supreme court, In just a few months, we may again stand at the same crossroad Roosevelt and Wallace confronted during the Great Depression and World War II. Fascism is rising in America, this time calling itself "compassionate conservatism," and "the free market" in a "flat" world. The point of its spear is "corporate personhood" and "corporate free speech rights."
Friday, July 4, 2014 (2 comments)

The Crash of 2016 Gets Closer Every Day Until the corporate elite and our billionaire class are under control, and our working class once again can enter the middle class, we stand at the precipice of a great crash. Without vigorous governmental action to radically reduce student and working family debt, increase wages, and suppress speculation, that crash comes closer to us every day.
Saturday, August 30, 2014 (78 comments)

You Don't Know What "Libertarian" Means Libertarians want to abolish Social Security, screw over working-class Americans, and take all the money that would go towards Social Security and invest it in Wall Street, so that their wallets can get even bigger. There's over $2.5 trillion sitting in the Social Security Trust Fund right now. They don't want to have any responsibility for society. Screw society!
Saturday, October 24, 2015 (4 comments)

It's Time for the US to Return to "Socialist" Policies For 35 years, Reaganomics and tax cuts for the rich have only benefited the rich, at the expense of the middle class and the country as a whole. Americans overwhelmingly want our nation to return to the "radical socialist" policies pioneered by Dwight D. Eisenhower and bring the middle class back again.

Friday, July 22, 2011 (2 comments)

Thom Hartmann: Final Words of Killer Cannot Be Ignored America still has a hate hangover, even as the 10th anniversary of 9/11 approaches, Thom brings us the story of a young American who went on a killing spree after 9/11 looking for random Muslims. His last words offer us a look at our own hate and hypocrisy (VIDEO).
Wednesday, May 11, 2016 (4 comments)

The EPA's Ties to Monsanto Could Be Disastrous for the US When Nixon authorized the creation of the EPA, there was bipartisan consensus that this country needs a single, streamlined regulatory agency dedicated to protecting our air and water. Now, we're approaching a bipartisan consensus that the EPA is broken. And the fact is, it's been broken for more than 30 years, ever since the Reagan administration turned it into a partner of industry, rather than a regulator.
Tuesday, February 16, 2016 (4 comments)

Why Republicans Have Only Themselves to Blame If Trump Wins the Nomination The Republicans are reaping the not-so-sweet rewards of fighting for more extremism, more political maneuvering and a boatload more money in our political process. If they really want to take on Donald Trump, all they have to do is adopt a few liberal views. I'm sure progressives everywhere are waiting to welcome them into the folds.

Thursday, January 29, 2009 (24 comments)

Should Gitmo be Used for Those Who Raped and Pillaged our Economy? Reopen Gitmo! Get it ready for the people who allowed the scams that created this economic crisis.
Tuesday, October 18, 2016 (21 comments)

The Danger With Trump's "Election Rigging" Talk The real problem with Trump's rigged election talk is that it will give Republican legislatures all across the country a new justification to ramp up their war on young people, people of color and older people voting. The base will want it because Trump will have primed them for it, and so will the party establishment, because they've always worked to suppress the vote.
Monday, August 3, 2015 (6 comments)

Jimmy Carter: American Democracy Has Been Subverted into an "Oligarchy" with "Unlimited Political Bribery" President Carter is right. Corporate interests (oil companies, for example, are why Republicans and a few bought-out Democrats deny climate change) and the billionaires who got rich off their corporations have seized control of most of our government.
Thursday, April 2, 2015 (2 comments)

Who's on Your Side -- Elizabeth Warren or Jamie Dimon? Today, thanks to the Supreme Court saying that industry can use money to distort politics, our government no longer looks out for average citizens, but instead promotes and protects the interests of the rich and powerful. By and large, corporations and the rich get their way, much as they did over 200 years ago when the British parliament passed the Tea Act.

Friday, July 8, 2011 (2 comments)

Thom Hartmann: Republicans ran up the debt & now they don't want to pay the bills What our nation is faced with today is a mountain of debt run up mostly by 3 Republican Presidents - Ronald Reagan - and the two Bushes. And now today - that very same Republican Party is saying "no way" to Democrats who just want to pay off that pile of Republican debt.
Thursday, August 6, 2015 (5 comments)

Welcome Back To the Smoked-Filled Back Rooms Nobody wants to admit it, but our political process is rapidly going back to the days when cigar-smoking insiders handpicked the nominees, except this time it's not corrupt political bosses choosing who they want to run for president, it's billionaires like the Koch Brothers.
Tuesday, October 10, 2017 (9 comments)

What the Corporate News Industry Won't Ever Tell Its Audience When the only metric is profit, everything can be explained by profit. And profit doesn't give a damn about morality or democracy or you or me or even the future of our nation or world. It's essentially a sociopathic business model, which works out really well for sociopathic politicians and the sociopathic polluters who own them -- and the media they lavish billions onto.
Tuesday, March 31, 2015 (1 comments)

Why the House of Representatives Doesn't Represent the US Public If more than half of congressional Democrats and way more than half of all citizens support doing things like expanding Social Security and making college free for all, why aren't those policies becoming law? Why, in our democracy, is the will of the people not being heard? The answer is both simple and tragic - we no longer actually live in a democracy. We live in an oligarchy.
Saturday, July 4, 2015 (1 comments)

What's Good About Guaranteed Basic Income The next time a conservative tells you about government waste and fraud with Medicaid and food stamps, just remind them. We could eliminate every single social welfare program and streamline our social safety net if we simply set up a guaranteed minimum income based on living wages around the country.
Thursday, May 7, 2015 (4 comments)

Jails Are a Cash Cow for the Rich Thanks to kickbacks from phone companies, state and local governments have every reason to keep their prison cells filled, no matter what the cost to the rest of society. And, when that money then gets recycled back to the politicians as campaign contributions, it's that much harder to get our elected representatives to reform our screwed-up criminal legal system.
Friday, September 26, 2014 (29 comments)

It's Time for the US Middle Class to Make a Comeback We need to get the middle class back on track. That starts by introducing trade policies that protect American jobs, tax policies that even the playing field, adopting policies that make life-saving health care more affordable and education policies that make a college education a reality instead of a pipe dream for millions of Americans.

Sunday, September 10, 2006 (8 comments)

Thom Hartmann: The Lie of the Free Market; Tax and SpendLiberals; Weapons in the War on the Middle Class answers to the "tax and spend liberal" accusation.

Wednesday, July 13, 2011 (5 comments)

Thom Hartmann: Important! Newt is right about the Supreme Court The Founders wanted the greatest power to be closest to the people - and Congress is up for election every two years. It's the body in our representative democratic republic that is closest to the people. It's where they wanted most of the power, which is why it's defined in Article One of the Constitution - the first among equals.
Thursday, July 6, 2017 (12 comments)

Is America Past the Point of No Return? While climate change is ravaging the world, the administration of billionaire oligarch Donald Trump has pulled the U.S. out of the Paris climate change agreement and is rolling back climate-protecting rules on behalf other oligarchs in the oil, coal and gas business so they can continue to use our atmosphere as a sewer.
Wednesday, June 12, 2013 (10 comments)

It's High Time We Abolished the Department of Homeland Security Our nation now finds itself at a crossroads when it comes to Constitutional rights and civil liberties. The DHS has become way too powerful, with no checks and balances. In effect, it's created an entire surveillance industry around itself. It is time for a change. Repeal the PATRIOT Act, dissolve the DHS, and let's return to sanity.
Tuesday, October 4, 2016 (41 comments)

Time To Save the World Now We are rapidly running out of time to stop climate change. We're already in the danger zone, and every single day we keep pumping fossil fuels into the atmosphere just pushes us closer towards total climate devastation. The situation may even be worse than most people realize. Let's get to work before it's too late.
Saturday, December 13, 2014 (3 comments)

Is the Koch Brothers' Curriculum Coming to Your Child's School? The curriculum being taught to North Carolina students is filled with the Koch brothers' libertarian beliefs and ideologies, and a whole lot of misinformation on US history. A great deal of the curriculum focuses on the libertarian love affair with "limited government."
Friday, March 21, 2014 (28 comments)

Reaganomics is a cancer, and we've reached its terminal stage As it picks up steam, cancer takes on more and more of the body's resources, and starts stealing the body's energy and tissues. Pretty soon, the cancer completely overwhelms the body and, without treatment, the person dies. Reaganomics has done the exact same thing to our economy and to the American people, and right now, we're on life support.
Thursday, March 15, 2018 (8 comments)

The Trump Administration Is a Government of Billionaires and Their Sycophants Many members of today's billionaire class think of themselves as "self-made," and so have a sneering disregard for the working people of America who "merely" aspire to the American Dream of being in the middle class with a safe job, good benefits, and a secure retirement. These oligarchs are more concerned with their profits than with the impact of their products or services on our country.
Wednesday, September 23, 2015 (5 comments)

The Republican Insurgency Against the Judicial Branch On January 20, 2009, the night when the Obamas were dancing at inaugural balls and most Americans were out celebrating the end of the Bush years, a group of powerful Republicans was planning the end of Obama presidency before it even got going. At the Caucus Room restaurant in Washington, DC, GOP leaders drew up a plan to intentionally sabotage President Obama at every point possible.

Sunday, November 19, 2006 (8 comments)

Low Minimum Wage Killing the Middle Class One in four workers are not paid enough to make it in the middle class. Becoming middle class in America today is like scaling a cliff. Most middle-- class Americans are clinging to the edge with their fingernails, trying not to fall.

Tuesday, November 15, 2005 (1 comments)

Losing Habeas Corpus - "A More Dangerous Engine of Arbitrary Government" In all probability 95 percent of Americans don't even know that the U.S. Senate voted last week to begin the process of suspending habeas corpus.
Saturday, August 6, 2016 (9 comments)

Are We Looking at a Mass Extinction Event? To save human and other life as we know it on this planet, we need to put a price on carbon NOW, and we need to hold those who fund climate deniers accountable for knowing the risks of fossil fuels for decades, and lying to the public about it. Our survival as a species may well depend on it.

Tuesday, October 10, 2006 (5 comments)

How the "Cons" Are Screwing Middle Class Children, Parents and Our Nation's Future by Destroying Public Education One of the primary elements of a true, functioning, democratic republic, like we aim for here in the United States, is that its citizens be well informed. When Thomas Jefferson wrote a letter to his friend J. Correa de Serra and said, "Our liberty depends upon the freedom of the press and that cannot be limited without being lost," he was assuming that Americans knew how to read their daily newspapers. Not anymore.
Thursday, June 21, 2012 (1 comments)

Republicans Stick the Knife in the Backs of American Workers Again The u.s. call center industry has lost 500,000 jobs over the last six years thanks to corporations like bank of america, well fargo, and t-mobile outsourcing americans jobs to foreign countries where they can exploit low-wage workers. On tuesday, republicans in the house had a chance to put an end to this giant sucking sound by passing the u.s. call center worker and consumer protection act. But Republicans voted it down
Tuesday, May 12, 2015 (8 comments)

Jeb Bush Isn't a Moderate, He's a Neocon Extremist back in the late '90s, Jeb helped found the Project for a New American Century or PNAC, a neocon think tank that called for the overthrow Saddam Hussein and well, pretty much every other government that the US didn't like. Jeb Bush is ultimately as extremist as they come, and if elected president, he'll run this country just like his dad and brother did.

Tuesday, April 20, 2010 (8 comments)

We Moved from a Manufacturing to a Service Economy under Reagan-Bush-Clinton-Bush A statement released last week by Obama administration Council of Economic Advisers Chair Christina Romer warns that when it comes to the economy we are very far from being OK.
Wednesday, February 19, 2014 (2 comments)

The New Fascism: Terms and Conditions Historically when we talk about fascism we think about Mussolini and his replacement of the elected parliament with corporate representatives. After all, he invented the word "fascism" to describe the merger of corporate and state interests. And today when we talk about fascism, we talk about how corporations are buying off politicians in Washington, and taking control of our democracy.
Saturday, May 31, 2014 (17 comments)

Time to Rethink American Exceptionalism? Saying that America is "exceptional" because we actually follow international law and advocate peace is to say that all countries can fit that definition and it sets a good example for the rest of the world. This doesn't make us weaker; it makes us stronger because it reaffirms the same values that make America so special to begin with.
Friday, April 10, 2015 (1 comments)

Beware Rand Paul's Bait-and-Switch When I say Rand Paul supports some unreal right-wing economic policies, I mean really unreal. Not only does he want to do away with Medicare and Social Security, he also supports going back to the "Lochner era," when the Supreme Court banned child labor laws and basically made life a living hell for the US worker. The solution is for the Democratic Party to go back to its progressive roots.

Friday, August 20, 2010 (7 comments)

Iceland is Exporting the Truth After Iceland's near-economic collapse exposed deep-rooted corruption, the country is looking to become a safe haven for journalists and whistleblowers from all around the world.
Thursday, July 21, 2016 (3 comments)

How a Bank Robber Is Right on Taxes If policymakers need to raise revenues, they should go to where the money is: Tax the multi-millionaires and billionaires on their net assets, end our insane system of corporate subsidies that funnel wealth from the middle class to the top 1%, and close the tax loopholes that let the top 1% hide their fortunes overseas in places like Panama and Switzerland.
Thursday, June 30, 2016 (2 comments)

Lying About Science for Politics Is Evil The Democrats have taken a good first step by coming together as a party to call for the Justice Department to investigate what companies like ExxonMobil knew about climate change, when they knew it and whether they misled their investors and the American public.

Wednesday, July 15, 2009 (8 comments)

Time to Restore Accountability There are three important stories in the news about the Bush administration. Mass murders in Afghanistan, assassination squads kept secret, by Cheney, from congress, and harsh interrogation techniques. Together, these decisions have created an atmosphere of kingly power around the presidency - exactly what the Founders wanted to prevent. President Obama has an opportunity now to shatter these terrible precedents...
Wednesday, May 28, 2014 (4 comments)

If the Law Is Bullshit, You Must Acquit But however much they try, the authorities will never actually be able to stop people from using their jury nullification powers. That's because the right to nullify is given to us by the Sixth Amendment to the Constitution, the same part of the Bill of Rights that gives us the right to trial by jury.
Thursday, April 9, 2015 (2 comments)

How About Some Chemical Waste With Your Fish? Somehow, the food industry and our government are still letting millions of citizens get sick each and every year from completely preventable food-borne illnesses. The fact is that our food safety system is completely out of whack.

Thursday, November 3, 2011 (6 comments)

Hartmann: Warning To The Gang Of 12 We now know what both sides in the Gang of 12 have on the table to begin negotiations to reduce our nation's deficit. And looking at the Republican and Democratic proposals...we're screwed.

Thursday, September 14, 2006 (6 comments)

Thom Hartmann; Free Public Education; Why We Should Have it, Why the Cons Hate it Democracy requires an educated middle class for its survival. Why Bush and his base want to take quality education out of the reach of the middle class and poor and how they're DOING it.

Thursday, February 23, 2012 (4 comments)

Corporate American has us Hooked on Meth Right now - in small towns across America - the working poor who've been hit hardest by the second Republican Great Depression - are turning to meth to get by. Either by manufacturing and selling it - or just by using it to escape. It's as though recessions are the harbinger of meth. As soon as an economic downturn hits - meth comes along right behind it.

Tuesday, January 8, 2013 (7 comments)

The Case Against Billionaires It's time we as a nation have a serious discussion about outlawing billionaires. Are billionaires dangerous to democracy?
Tuesday, May 5, 2015 (2 comments)

Right-Wingers Get Tip from Waitress Education is the foundation for a better country and a more forward-thinking society. But that, of course, is not how Governor Brownback and the rest of the Republican Party see it. To them, education funding is just another thing to cut to make way for massive tax cuts, tax cuts that in Kansas have been an absolute and unmitigated disaster.
Sunday, December 24, 2017 (2 comments)

Will The GOP Tax Scam Crash The Economy? This is no secret. Any economist can tell you this. High tax rates, high economic growth. Low tax rates, what happens? The country encounters a rough patch and what do we do? We have to stimulate the economy with debt. So now we're 20 trillion dollars in debt. And so now we get a giant cut tax cut in 2017. What's next? I'd say another crash.
Thursday, February 22, 2018 (20 comments)

Two Simple Laws Could Solve America's Epidemic of Violence Since the vast majority of mass murders of the 1930s were accomplished with fully automatic weapons, tightly regulating who could buy and own them pretty much removed mass murders from the streets of America. It's time for the NRA to get out of the way, or for American politicians to gather together the courage to stop taking the NRA's money.
Saturday, January 7, 2017 (4 comments)

The Massive Election-Rigging Scandal the Media Ignored In 2016, the Democratic Party and the American media and American people have wrongly decided that America should not count the votes that were not cast in Michigan, Wisconsin, Pennsylvania, and so many other places that determined the presidency of the United States.

Wednesday, March 16, 2011 (12 comments)

Will we have a tone-deaf response to the nuclear catastrophe in Japan? Thom Hartmann reminds us what short memories we have where nuclear, and other, disasters are concerned.
Wednesday, August 3, 2016 (5 comments)

How One GMO Nearly Took Down the Planet The issue surrounding GMOs isn't just about what these companies are putting into our food and stocking our stores with. What's potentially more devastating for the planet is that genetically modified organisms developed by companies like Monsanto and DuPont can escape into our ecosystems and potentially wreak havoc before they are even tested or approved as safe.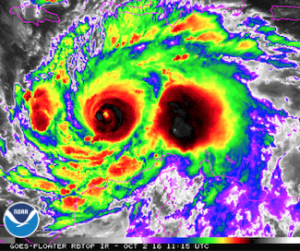 Friday, October 7, 2016 (10 comments)

Now, Every Storm Is a Climate Change Storm We can't stop every extreme storm event from happening, but we can demand that our politicians make our planet's climate crisis their top priority; we can put a price on carbon and start funding efforts to make our cities greener and more resilient; and, we can hold the fossil fuel industry accountable for lying to consumers and investors about the threat that their business model poses to humanity.

Tuesday, July 20, 2010 (10 comments)

The Racial Theory of "No Soul" is Once Again With Us.... The Washington-based Council on American-Islamic Relations(CAIR)is asking political candidates not to appear at racist Tea Party rally in Florida.

Wednesday, March 29, 2006 (2 comments)

Today's Immigration Battle - Corporatists vs. Racists (and Labor is Left Behind) The corporatist Republicans ("amnesty!") are fighting with the racist Republicans ("fence!"), and it provides an opportunity for progressives to step forward with a clear solution to the immigration problem facing America.
Wednesday, December 11, 2013 (9 comments)

Corporate Democrats in DC Already in Freakout Mode That Liz Warren Is a Threat to Their Power By allowing Baby Boomers to retire early, we would open their jobs to young people struggling to start their careers. At the same time, we would tighten the labor market so much that wages would actually rise, in turn stimulating the economy. The solution to our retirement crisis is clear: take Elizabeth Warren's proposal to expand Social Security and crank it up a few notches.
Sunday, June 5, 2016 (9 comments)

The Mainstream Media's Climate Malpractice The corporate media in this country need to stop kowtowing to vested fossil fuel advertisers that want to keep the US public in the dark, and they need to start telling people the truth about the connections between extreme weather events and climate change. We can't expect the US public to rally to aggressively address our climate crisis if the mainstream media refuses to talk about the realities of climate change.

Monday, March 8, 2010 (3 comments)

Why are we the only stupid industrialized country in the world? The postal service this week announced it would be cutting as many as 30,000 jobs through attrition - using hiring freezes as workers retire or quit. According to American Postal Workers Union president William Burrus, cutting the U.S. Postal Service delivery to five days a week would be the beginning of the demise of the Post office. Burrus says it's not true that the postal service has to initiate major changes to survive
Tuesday, March 3, 2015 (2 comments)

Would You Like Some Crushing Debt With That Degree? The for-profit college industry is less about teaching anybody anything than it is about creating debt -- debt that then be very profitably sold off in tranches -- and even aggregated into derivatives -- to banksters and wealthy investers. In no other country in the developed world are financiers and scam artists entrusted with managing the education commons.
Saturday, August 13, 2016 (16 comments)

I'm Sick of the So-Called "News" The corporate media drives viewership and profits by airing personal drama over public policy, and the end result is that viewers turn off the TV at the end of the day as ill-informed as they were when they tuned in. There's no silver bullet for this problem, because this crisis in our media is the result of more than 40 years of conservative policies that have radically altered our news media.

Monday, July 26, 2010 (6 comments)

The Importance of a Democrat in the White House... some are wondering when they're going to repeal the minimum wage and child labor laws, as the last uber-conservative court did about 100 years ago.
Friday, March 2, 2018 (6 comments)

How to Prevent More Billionaires from Happening The fate of American democracy, and the future of what's left of our middle class, now hangs in the balance. And as both FDR and Sanders/Warren/Pocan have repeatedly pointed out, only the power of organized people can restrain the power of organized money.
Friday, February 13, 2015 (2 comments)

Meet ISIS: Saudi Arabia's Newest Frankenstein Saudi Arabia, and the other Sunni countries in the Middle East, have been financially and morally supporting the growing and evolving Sunni insurgency against Shias in the region for years. They have intentionally bankrolled groups whose mission it is to wipe out the Shia minority in the region. First they started with al-Qaeda, and then they bankrolled what became ISIS.
Tuesday, December 29, 2015 (10 comments)

The Big Lie on the War Against Drugs Nixon wasn't the first to use drug enforcement as a way to oppress minorities in America, but he did step up the racist War on Drugs and sign it into law -- and every president since then has continued and even expanded it. According to the Justice Policy Institute, approximately 500,000 people were serving time for drug offenses in state and federal prisons and jails in 2008.
Wednesday, June 3, 2015 (5 comments)

America: Not the Home of the Brave, but of the Scared Shitless At the same time as Rand Paul was hamming it up for the cameras last night, the Senate voted to take up the so-called USA Freedom Act. Passed by the House earlier in May, this bill would extend the three parts of the Patriot Act that expired at midnight and make a few minor changes to the NSA's mass surveillance program. Despite its nice-sounding name, the USA Freedom Act is really just more of the same.
Monday, December 4, 2017 (1 comments)

Net Neutrality RIP: Essential Parts of America's DNA -- Independence and Privacy -- Are About to Be Destroyed Without network neutrality -- the ability of individual citizens to get and share the information they want with a modicum of privacy and anonymity -- the American Revolution wouldn't have happened. Maybe that's why the Trump administration wants to kill net neutrality now.
Thursday, March 17, 2016 (2 comments)

Go West, Young Man: Bernie Sanders' Path to Victory and Political Revolution The experts and pundits in the establishment media industrial complex have written Sanders off before, and they've been wrong about pretty much everything this election, so we should take what they say with a gigantic grain of salt. The political revolution wins regardless of whether or not its leader does.

Wednesday, July 5, 2006 (4 comments)

Thom Hartmann: Reclaiming the Issues: "It's an Illegal Employer Problem" Every time the media - or a Democrat - uses the phrase "Illegal Immigration" they are promoting one of Karl Rove's most potent Republican Party frames.

The reality is that we don't have an "Illegal Immigration" problem in America. We have an "Illegal Employer" problem.
Tuesday, January 14, 2014 (1 comments)

Is Congress Guilty of Torture? The real reason why Republicans are keeping Gitmo open is because they're still concerned about the legacy of George W. Bush, and they know that one of the biggest stains on his presidency are the atrocities and international war crimes that have been committed at Guantanamo Bay. So, Republicans are trying to pass on some of the blame for Gitmo to President Obama.
Sunday, June 26, 2016

Here's What's the Matter With Kansas If we genuinely want to help low-income Americans, if we want to promote small businesses, if we really want to see our states grow, we need lawmakers across the country to reject the failed ALEC-backed "red state model" and to follow the proven model of raising taxes on the billionaire class and investing in the state economy.
Saturday, August 2, 2014 (11 comments)

Doomsday Trigger for Megadrought? It's possible that all of the American southwest could soon be seeing the devastating drought conditions that Californians are facing. That's because the largest surge of heat ever recorded moving west to east in the Pacific Ocean, often referred to as a Kelvin Wave, which was supposed to start an El Niño and bring tropical-like rains to the West Coast and southwest, just dissipated.

Thursday, July 16, 2009 (8 comments)

Obama Drinks Friedman's Kool-Aid Thom Hartmann discusses Obama's interest in "free trade" solutions and why "free trade" is really a "ticket to the poorhouse."
Thursday, June 19, 2014 (14 comments)

Dick Cheney Should be Rotting in The Hague, Not Writing Editorials There is no one in recent history who has disgraced our country quite like Dick Cheney has. He lied his way into an illegal war, profited off that war, and shredded the Constitution. He's a war criminal and has the blood of hundreds of thousands of innocent people on his hands. Dick Cheney should be rotting in a prison cell at The Hague, not writing editorials for the Wall Street Journal.
Saturday, April 2, 2016 (12 comments)

These Corporations Have Pillaged the Land and Robbed the People It's time to put a stop to Big Coal's playbook of pillaging the land for short term profits and then robbing workers and retirees of their pensions to pay off Wall Street lenders. And if lawmakers want to be pro-worker, we need legislation that ACTUALLY protects workers' health care and pensions, without holding the environment for ransom.
Thursday, February 27, 2014 (4 comments)

Is It Time for a New Church Committee? The out-of-control nature of our national security agencies today is our new "national nightmare." And the only way to wake up from that nightmare is to create a new Church Commission, which will investigate the intelligence community, and put in place the reforms that are needed to protect our freedoms and way of life.
Thursday, February 5, 2015 (3 comments)

What the Corporate Media Aren't Telling You About the TPP The Trans-Pacific Partnership, or TPP as it's more commonly known, is a public health disaster waiting to happen. If if the TPP goes through, real live breathing people (Doctors Without Borders estimates about half a billion of them) will effectively lose affordable access to the medicine they need to survive. And that's just one small provision.
Thursday, September 3, 2015 (12 comments)

We're at a Dangerous Climate Crossroads -- Here's How We Can Save the Planet Even that two degree Celsius benchmark might be not be enough to hold off environmental devastation on a scale we haven't seen in millennia. Two degrees Celsius warming is what the world's climate negotiators have decided is "possible" and "acceptable," but according to former NASA scientist James Hansen, even that little warming is a recipe for disaster. Time really is running out to save the planet.
Tuesday, May 6, 2014 (6 comments)

The United States Military Junta Many believe that the NDAA gives dictatorial powers to the federal government and military, because it allows our military to arrest any American citizen without a warrant, on American soil, and to hold American citizens against their will for an indefinite amount of time without being criminally charged.
Tuesday, September 27, 2016 (5 comments)

We Have All Won an Oligarchy and Lost a Democracy Since Reagan killed the Fairness Doctrine and the passage of the Telecommunications Act of 1996, our media has completely shifted from "news" to infotainment. It's largely fact-free, and the only things discussed are personalities, gotchas and the horse-race claptrap. It's completely free of facts that would give us any information, context or understanding of the role that corporate power plays in our lives.

Thursday, March 22, 2012

Republican Chickenhawk's New Plan to send Prez Obama Packing So, guess what's the latest right-wing ploy to crash the economy before the election? War with Iran! On Tuesday - International Monetary Fund chief Christine Lagarde warned that a military strike on Iran could disrupt oil supplies around the world - causing the price of oil to spike 30%

Wednesday, November 25, 2009 (3 comments)

80 years ago today 80 years ago today, on October 29th, 1929, Wall Street saw the worst day in its history. The shock of "Black Tuesday" came to an end, but the misery of the Republican Great Depression was just beginning.
Tuesday, May 17, 2016 (16 comments)

The United States Needs to Realize FDR's Dream and Adopt the "Nordic Model" In Nordic countries basic services such as health care, child care and education are free. The economy is heavily regulated to keep corporate greed in check, and unions make up as much as 70 percent of the workforce, guaranteeing livable salaries and sensible working hours. It's time for us to follow their lead, to return to our roots and bring the Nordic model to the United States. It's time to make FDR's dream a reality.

Friday, October 12, 2007 (9 comments)

Ann Coulter and Justice Antonin Scalia to Synagogue - Jews Are Safer with Christians in Charge The National Jewish Democratic Council (NJDC) called on media to stop inviting Ann Coulter as a guest commentator and strongly condemned her comments that Jews should be "perfected" by accepting the New Testament and that America would be better off if Judaism were "thrown away" and all Americans were Christian. "While Ann Coulter has freedom of speech, news outlets should exercise their freedom to use better judgment,"
Tuesday, September 16, 2014 (8 comments)

How the Defense Industry Bankrolls Pro-War Pundits Townsend has positions with two investment firms that deal with defense contractor money, and also serves as an advisor for the defense contractor Decision Sciences. Again, is it really a surprise that, given her connections and work history, Ms. Townsend is on CNN saying that the US needs to use more military might against ISIS?

Monday, October 24, 2011 (1 comments)

Why OWS Is The Next Republican Boogeyman Barring another attack on America before November 2012, or the OWS movement turning violent, Republicans have lost their boogeyman. And so long as Tea Party control of the House of Representatives remains unbroken, Democrats have lost access to their Santa Claus.
Friday, July 8, 2016 (1 comments)

Climate Denier Marco Rubio Clueless on Florida Toxic Algae Since 2011, Senator Rubio's accepted more than $800,000 from Big Ag to help agribusinesses pollute Florida's waterways, and he's accepted another $800,000 from the fossil-fuel industry to deny climate science and to help the fossil-fuel industry warm our planet with greenhouse gases, leading to more rainfall and warmer coastal waters, which leads right to this algae bloom.
Wednesday, March 26, 2014 (3 comments)

Is Rick Scott Guilty of Murder? Republicans say that they're pro-life, but that's a bald-faced lie, because they refuse to let low-wage working Americans have access to life-saving Medicaid. If Rick Scott and his Republican buddies in the Florida legislature are really the Christians they claim they are, then they're going to burn in hell. Deservedly.

Monday, September 5, 2011 (1 comments)

The Sheriff of Nottingham would love the Republican Party Republican governors across the nation are selling out their constituents for transnational corporations.
Tuesday, July 8, 2014 (43 comments)

What West Virginia Can Learn From Sarah Palin It's time for every state to follow Sarah Palin's Alaska model, and put in place state carbon taxes that cycle money back to the people, reduce income inequality, and spur local economic growth. It will reduce poverty and help save us all from global warming -- a definite two-fer!
Thursday, June 12, 2014 (13 comments)

The Dark Money Machine That Beat Eric Cantor Once you've realized that David Brat wasn't just some random college professor but was actually the hand-picked candidate of the libertarian billionaire class and its army of talk radio hosts, it's easy to see another one of the major reasons Eric Cantor lost.

Thursday, July 28, 2011 (2 comments)

The Fingerprints of US Right-Wing Christian Terrorism on Norway Killings More details are emerging now about why Anders Behring-Breivik set off a car bomb next to a government building in downtown Oslo last Friday. It turns out Breivik was taking his orders from the very same right-wingers who are spewing hate here in America.
Saturday, March 11, 2017 (3 comments)

Right-Wing Billionaires Have a Project to Rewrite Our Constitution, and They Are Shockingly Close to Pulling It Off The billionaire right's behavior today eerily parallels the day in 1936 when Roosevelt said, "In vain they seek to hide behind the flag and the Constitution. In their blindness they forget what the flag and the Constitution stand for." It's critical that we call out these economic royalists for what they're doing, and not let them and their minions rewrite our Constitution.
Saturday, August 20, 2016 (2 comments)

TiSA" Big Brother and Big Business Together By far the most sweeping deal that's being negotiated in secret and largely overlooked by activists is the Trade in Services Agreement, also known as TiSA. TiSA will undermine citizens' privacy and governments' sovereignty, and negotiators are hoping to have a deal finalized by the end of this year. It will cripple our democratic republic by making it even easier for corporations to manage or strike down our public laws.
Wednesday, June 22, 2016 (3 comments)

How NRA Dark Money Impedes Gun Control Reform If we ever do want to see common-sense gun control legislation passed, we need to get money out of politics, we need to overturn Citizens United and we need to get the corrupting influence of corporate lobbyists out of our political system. Because as former President Jimmy Carter has pointed out, we're no longer living in a democracy where US politicians listen to the will of the American people.

Tuesday, February 9, 2010 (2 comments)

Globalization Is Killing The Globe: Return to Local Economies Globalization is the villain here, and one that needs to be taken in hand and brought under control quickly if we don't want to see virtually the nations of the world end up subservient to corporate control, a new form of an ancient economic system known as feudalism.

Friday, August 26, 2016 (1 comments)

The Tax Evasion Double Standard: How US CEOs Are Withholding Revenue We need to rein in companies that put their company's profits ahead of the well-being of the United States and act like paying taxes is a negotiation. Our tax code needs to be fixed to encourage companies to come home and pay their taxes, and to block companies from doing business in the US without paying their fair share.
Tuesday, June 10, 2014 (8 comments)

Fox News Has Finally Yelled Fire in a Crowded Theater Unfortunately, the media refuses to acknowledge right-wing extremism and domestic terrorism in our country, even though they pose a bigger threat to our national security than jihadists and Islamic extremists. The fact is, right-wing extremism is on the rise, it's dangerous, and it's now a major terrorist force in America.
Thursday, December 31, 2015 (7 comments)