From The National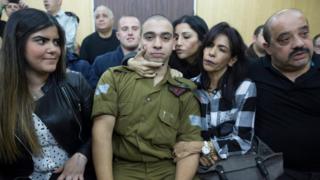 The United Kingdom has Brexit. The United States, an incoming president Trump. And Israel now has Elor Azaria. It may not have the same ring, but ultimately the turning point could prove as decisive.
Two fallacious narratives have greeted the army medic's manslaughter conviction last week, after he was filmed firing a bullet into the head of a wounded and helpless Palestinian, 21-year-old Abdel Fattah Al Sharif.
The first says Azaria is a rotten apple, a soldier who lost his moral bearings last March under the pressure of serving in Hebron. The second -- popular among liberals in Israel -- claims the conviction proves the strength of Israel's rule of law. Even a transgressing soldier will be held accountable by the world's "most moral army."
In truth, however, the popular reaction to the military court's decision was far more telling than the decision itself.
Only massed ranks of riot police saved the three judges from a lynching by crowds outside. The army top brass have been issued bodyguards. Demands to overrule the court and pardon Azaria are thunderous -- and they are being led by prime minister Benjamin Netanyahu.
Azaria is no rogue soldier. He is "everyone's child," according to much of the public. The unexceptional nature of his act is vouched for by the complete indifference of his colleagues as Azaria pulled the trigger. Polls show overwhelming support -- 84 percent -- for Azaria among 18- to 24-year-olds, the age of Israel's conscript army.
The trial, meanwhile, reflected not the law's sanctity -- it is 12 years since the last soldier, a Bedouin, was convicted of manslaughter. It revealed only the growing pressures on Israel. Cameras in phones are making it harder to cover up soldiers' crimes. By prosecuting Azaria in a case where the filmed evidence was unequivocal, Israel hopes to ward off war crimes investigations by the International Criminal Court.
As Israeli columnist Nahum Barnea noted, Azaria's defense team also erred. Riding a wave of populist indignation, they accused Azaria's superiors of lying and bullying. Prosecutors had already reduced a murder charge to manslaughter. The court would probably have settled for convicting a repentant Azaria of misusing a firearm. But given the defense's framing of the case, the judges had to choose: side with the soldier or the army.
Like Brexit and Trump, Azaria's trial exposed not only a deep social fissure, but also a moment of transition. Those who see a virtuous system punishing a rotten apple are now outnumbered by those who see a rotten system victimizing a hero.
(Note: You can view every article as one long page if you sign up as an Advocate Member, or higher).