Harry Mo and The Colorado Reggae Unit will offer chanting and drumming with acoustic guitar on Saturday.
(
Image
by
No Labels No Walls
)
Details
DMCA
The international No Labels No Walls + We Are One Festival, Sept. 14 - 19, is bringing people together from around the world to celebrate humanity and to create positive social change through the arts and creativity. It's all online, and it's free.
The program consists of over 100 different events including art, music, dance, magic, lectures, discussions, workshops, and other performances. Music includes reggae, rap, rock n' roll and more. Workshops and lectures span a variety of topics from autism to yoga which include: tools for social change, global citizenship, horror mystery theater, Morris dancing, samba, self-care in times of fear and uncertainty, as well as veterans, economic, trans and racial issues.
Ian Ruskin screens clips of his excellent film, To Begin the World Over Again: the Life of Thomas Paine on Thursday, Sept. 17th at 10 am Pacific time. Thomas Paine was the one truly radical Founding Father of America, and his words are even more important now. An OEN article about this film is here: How Thomas Paine Still Fights for the Soul of America .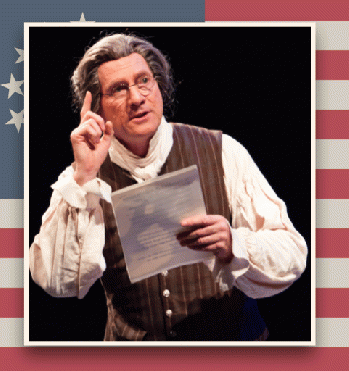 Ian Ruskin as Thomas Paine
(
Image
by
Photo of Ruskin by Tom Dempsey, copyrighted, used with permission
)
Details
DMCA
The No Labels No Walls + We Are One Festival is primarily created through volunteer action and will stream live and pre-recorded content for six days, the full schedule is here.
The Festival is produced by the central association of culture and wellbeing Kukunori from Finland, The Strindberg Laboratory from Los Angeles, USA and We Are One community from Glasgow, Scotland.
NLNW+ We Are One Virtual Festival! from The Strindberg Laboratory on Vimeo.