My guest today is Robert McChesney, college professor, former host of "Media Matters" and author of numerous books including, most recently, Blowing the Roof off the Twenty-First Century: Media, Politics, and the Struggle for Post-Capitalist Democracy. [New York: Monthly Review Press, 2014].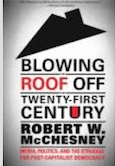 Blowing the Roof off the Twenty-First Century: Media, Politics, and the Struggle for Post-Capitalist Democracy
(
Image
by New York: Monthly Review Press, 2014)
Details
DMCA
JB: Welcome to OpEdNews, Robert. Speaking of politics, there's been a lot of buzz of late regarding the super-sized speaking fees Hillary Clinton's been collecting. Why is that a problem?
RM: Hillary made $11.8 million for giving 51 talks to mostly corporate audience in 2014 and the first three months of 2015. This was legal because she was not in public office, and had not formally announced her candidacy for president, though everyone, and I mean everyone, knew she was running. She was working fulltime at organizing her campaign.
So Hillary pocketed all this money, usually around $225,000 for a 30-45 minute talk, and put it into her personal bank account. She complained about being poor when Bill left the White House, but now she has parlayed her public service into making her one of the richest people in the nation, easily in the top 1 percent.
This is deeply offensive in two ways. First, the corporations--mostly banks, big pharma and tech companies, are not hiring a canned talk by Hillary because she is some mind-boggling public speaker. They are making her rich to guarantee she will give them access and attention if she is elected president.
Now Hillary may claim "Hey, that will have no effect on my conduct as president," but that does not matter. It is the appearance of impropriety that is key. She has an ethical obligation not to make it look like she is compromised. Otherwise, other citizens who cannot afford to pay her $225,000 to come to their house and give a 30-minute talk will feel like they cannot get a fair shake. And she looks compromised big time by getting all this money. And note well, no other politician has ever done anything like this at this scale before in US history. This is not a victory lap after she retires; this is a pit stop on Wall Street to fill her bank account before the main act of her political career.
Second, Hillary is a throwback to what we were taught was how politics worked in the Gilded Age or in some corrupt plutocracy. She has gotten very rich parlaying her political position to her personal advantage. That is indefensible in a democracy. If you want to become a multimillionaire, do not go into public service.
JB: No one would claim these days, especially after Citizens United and subsequent Supreme Court rulings, that money does not make the political world go round. The Senate is essentially an elite club. If they aren't millionaires before they get in, they are by the time they move out. So, is Hillary, in essence, being castigated for simply being better at The Game than anyone else?
RM: No, this is very different.
In traditional US politics today, candidates and officeholders are beholden to wealthy and corporations because of massive unlimited and often unaccountable campaign contributions that discipline candidates not to stray too far from the interests of big money, and also the perks that come with "playing ball" with moneyed interests once in office. These perks include moving from Congress to a high-six or seven figure income as a corporate lobbyist on K Street. Over 1/2 of members of Congress who leave office go to K Street and get a massive pay hike. (Less than 3 percent became lobbyists after serving in Congress in 1970, for comparison.) This definitely influences how a member of Congress acts. If you play your cards right, you are set for life. And this often means your children and grandchildren get set up, too. There are tremendous rewards for going with the corporate flow, and exceptional risks to bucking the tide. There are politicians who do buck the tide, but they are increasingly rare.
File:Hillary Clinton crop.jpg - Wikimedia Commons
(
Image
by
(From Wikimedia) United States Department of State
, Author:
United States Department of State
)
Details
Source
DMCA
But in all of the corruption described above, that produces a governing system that our scholars tell us is no longer democratic in any credible sense of the term, there has been one firewall to prevent corruption. That is the direct bribe or payment by a private interest to influence the conduct of a public servant or an elected office-holder. In none of the SuperPAC activity does the money go into the personal bank account of the politician. They are not paid off directly. Even the US Supreme Court that gave us Citizens United would be appalled at anything that permitted that to occur. That is illegal and steadfastly off-limits. That is understood as entirely antithetical to any known understanding of democratic or legitimate governance. It is fair to say that the more legitimate a governing system is, the more vigilant it is in preventing bribery or the appearance of bribery of public officials.
That is exactly what is going on with these $225,000 talks Hillary gave to Wall Street banks, big pharma and tech companies in 2014 and 2015. If she were still holding public office or a formal candidate for president, accepting these pay-offs for speeches would have been regarded as unethical and illegal. She may well have faced criminal prosecution. Because of a loophole, by not formally announcing her candidacy before March 2015, Hillary was legally allowed to rake in the $11.8 million without fear of prosecution. But that does not change the ethics one iota. The Wall Street banks and corporations that suddenly apparently found her to be the most exciting speaker in history took advantage of this loophole to buy access and influence. It was smart business on their part, and other versions of these pay-offs to prospective government officials are not uncommon in the crony capitalist nations we in the United States commonly deride.
There is a tradition of politicians in retirement doing a victory lap and making money cashing in on their fame. There is not much of a market for this, except possibly for former presidents. I mean, who wants to pay some retired Congressman $225,000 to tell you war stories from bygone days? No one, as far as I can see. Hillary's market value was largely, if not entirely, based on the fact that she stands a solid chance of being the next president, and this was a way to get on her very good side. And again, even if everyone denies this profusely--and they have to--it is the appearance of impropriety that is just as damning as the actual impropriety. That is a cornerstone principle of democratic governance and the rule of law.
(Note: You can view every article as one long page if you sign up as an Advocate Member, or higher).