(Article changed on August 6, 2013 at 18:57)
(Article changed on August 6, 2013 at 18:53)
(Article changed on August 6, 2013 at 18:46)
We live in uncertain and tumultuous times. All that was certain in our past including the stability and fundamental constitutionality of government, the certainty that pension obligations--both public and private--would be rigorously upheld, is now vanishing. Detroit's municipal bankruptcy places banks as secured creditors, ahead of pensioners. In fact the riskiest obligations--derivatives, usually based on so called "swaps", have been given "super priority" under the 2005 Bankruptcy Reform Act. (1) This maneuver seems likely to become the template for stripping tens of millions of Americans of their pensions.
We are all familiar with the endless NSA scandals, unconstitutional spying on all Americans--indeed upon the entire planet! Most of us realize, at some level at least, that America has ceased to exist as the imperfect, but fundamentally good nation that it was during our youths. Instead concentrated wealth has completely overwhelmed its political institutions at the national level. Similar decay is ongoing in Canada and across the planet.
My objective today, at least, is not to dwell on any of this. Rather, it is to demonstrate that all of the diverse phenomena related to our political, economic, and societal decay are intrinsically related. Consider the graph below. The amount of oil and other hydrocarbon liquids is shown by year, with respect to availability per capita.
Graphed like this, we see that the peak of oil production per person was reached in 1979. According to the graph, it has held steady for the past 44 years, more or less, as rising production has kept pace with rising population. Well as Mark Twain may have said: "There are lies, damn lies, and statistics." Here, oil production had essentially flat-lined since 2005. A small uptick has occurred mainly due to "fracking"-produced oil and natural gas in North America.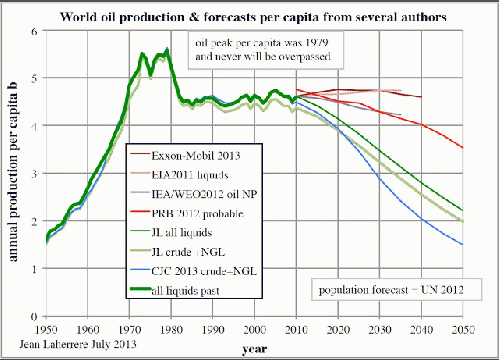 World Oil Production Per Capita.

(

Image

by

Jean Laherrere

)

Details DMCA

Source: http://cassandralegacy.blogspot.com/2013/07/peak-oil-what-peak-oil.html

The most essential data omitted from the above graph is EROEI, which is an acronym for Energy Returned on Energy Invested. Post World War II, the EROEI of oil from reservoirs such as Gahwar in Saudi Arabia, or Spindletop in Texas, was approximately 100:1. This means that it required the energy equivalent of one barrel of oil to produce the energy equivalent of one hundred barrels of oil. If this EROEI were to continue indefinitely, then the world could coast by for decades using fossil fuels--well except of course for the human-induced climate change. However, that is a subject for another time.

The EROEI of deepwater, polar, and other "unconventional" sources of oil is down to about 10:1. (2) Basically, all of the "low-hanging fruit" the easy-to-get, high net-energy oil, has already been gotten. All that remains is the hard-to-get, hard-to-produce, stuff. The average, net EROEI of the graph just below illustrates the effects of declining EROEI on actual net-energy availability. Note that if this were adjusted for population as in the first graph, the result would be declining net energy per capita globally.



Source: http://peakoil.com/generalideas/energy-part-ii-eroei

The chart just below shows the net EROEI for a number of common energy sources.

EROEI and Cents per kilowatt-hour

Energy mechanism

EROEI

(Note: You can view every article as one long page if you sign up as an Advocate Member, or higher).