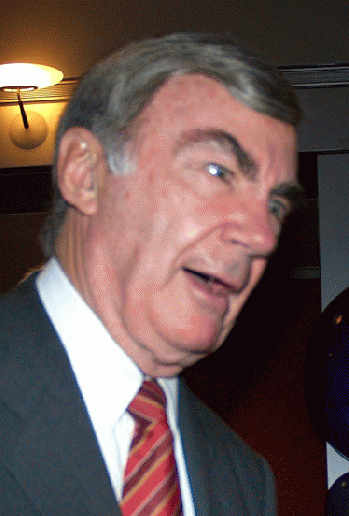 Donaldson Sam
(
Image
by
(From Wikimedia) Sam_Donaldson_Talking.jpg: James Jeffrey derivative work: Daffy123 (talk) / Sam_Donaldson_Talking.jpg
, Author: See Source)
Details
Source
DMCA
Duluth, Minnesota (OpEdNews) June 18, 2017: In the wee hours of the morning of June 17, 1972, there was a break in at the then-new Watergate office and hotel complex in Washington, D.C. The five well-dressed burglars were apprehended by plainclothes D.C. cops at the offices of the Democratic National Committee (DNC). The suspects broke into the DNC offices to replace the faulty bugging equipment installed in the offices about two weeks earlier. It was an election year.
Now, President Richard M. Nixon handily won re-election in 1972 by defeating Senator George McGovern in a landslide. In light of Nixon's landslide re-election, we might wonder just how much more of an advantage his campaign could have possibly gained from bugging the DNC. But Nixon was an extremely competitive politician, and he had imbued his campaign with the spirit of "dirty tricks" to win. So bugging the DNC was just a "dirty trick."
Now, Nixon won his landslide re-election by appealing to voter resentments. In the 2016, Donald J. Trump, the Republican Party's presidential candidate, won his decisive electoral victory by appealing to voter resentments. Therefore, we should see the continuity in the Republican Party's presidential candidates in 1972 and 2016.
Your guess is as good as mine as to how many older white Christians who voted for Trump in 2016 also voted for Nixon in 1972. But my guess is that most of Trump's older white Christian voters also voted for Nixon in 1972.
Now, on the evening of Friday, June 16, 2017, ABC News broadcast 20/20 hosted by journalist Sam Donaldson to commemorate the Watergate break in and the series of events that eventually led President Nixon to resign as president on August 8, 1974.
The ABC broadcast highlighted the improbable series of events. Two new reporters at the Washington Post, Bob Woodward and Carl Bernstein, were assigned to cover the Watergate break in. The two reporters, with the assistance of an anonymous FBI whistle-blower (later revealed to be W. Mark Felt), eventually pieced together that trail of material that ultimately led to Nixon's resignation. Their book All the President's Men (1974) became a bestseller. It was then turned into the 1976 Oscar-winning movie of the same name, starring Robert Redford as Woodward and Dustin Hoffman as Bernstein.
In 1972, the five men who broke into the DNC offices were not on anybody's radar. At first, there was no reason to suspect that they were connected with the Nixon White House. But in two of the men's address books, there was an entry for H. Hunt -- W. House. E. Howard Hunt was a former CIA operative and Nixon assistant.
To make a long story short, the series of improbable events eventually led to the nationally televised Senate Watergate hearings, beginning in May 1973. In the hearings, the Senators and the nation learned that Nixon had secretly tape-recorded a lot of conversations in the Oval Office. At first, Nixon tried to keep the tapes private. But he lost that battle and eventually turned them over to the special investigators. The tapes provided evidence that Nixon had obstructed justice.
Next, Nixon moved to fire the special Watergate investigator, Archibald Cox. Then Attorney General Elliot Richardson and Deputy Attorney General William Ruckelshaus refused to fire Cox and resigned instead. But Nixon got Solicitor General Robert Bork to fire Cox.
In July 1974, a tape revealed that Nixon had attempted to shut down the FBI's Watergate investigation. But thanks to the then anonymous FBI whistleblower, Woodward and Bernstein were able to follow the money and report their findings in the Washington Post.
Today we Americans find ourselves with another extremely competitive president who is being investigated by a special counsel. Recently we had nationally televised Senate hearings featuring the former FBI director James Comey, who was fired by President Trump, and then Attorney General Jeff Sessions.
Perhaps in due time, we will see President Trump resign as president of the United States.