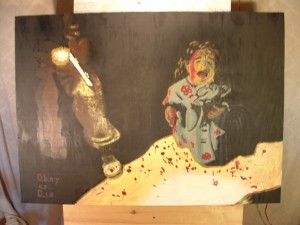 'Obey or Die' by Christopher Brown
more at Peace Vigil Paintings
I'm listening to an MLK speech from 1967, where King says that the United States, at that point, had committed "more war crimes than almost any other nation."

Add 44 years of invasions, CIA-engineered coups, and occupations, from Vietnam through Afghanistan. Add the development of weapons and training for modern counter-insurgency -- night vision, drones, depleted uranium, cluster bombs -- means that an even higher percentage of civilians are dying and suffering in these aggressive wars the U.S. pursues.
People, it's time to put political opposition to these wars back on the map, in a mass, visible, and determined way.
Veterans for Peace kicked off something very significant last December 16, with mass civil resistance at the White House, as Barack Obama gave his report on the war in Afghanistan. Leah Bolger, Vice President of Veterans for Peace, captured the mood in Failure to Obey a Lawful Order:

Although it is we who were treated like criminals--handcuffed, arrested and charged, we are not the ones ordering drone strikes or sending in troops. We are not the ones using illegal weapons and poisoning the earth. We are not the ones with blood on our hands. The real criminals continue unabated, shamelessly claiming that they are "making progress," and unabashedly announcing that they plan to continue their crimes for many years to come.

The next nodal point for our efforts to STOP these wars is the anniversary of the Shock & Awe on Baghdad, March 19, 2003. A war begun on the basis of monstrous lies against a country weakened already by 15 years of sanctions, brought tremendous loss of civilian life.

...Stepping out boldly in protest this March against this legacy is more important than ever. We know from our work that many people living in this country think the Iraq war is "over" because some troops were moved to Afghanistan, and the trail of dead U.S. military has slowed. The occupation, still 50,000 U.S. troops strong, with added combat capability of U.S. State Department troops, and tens of thousands of private contractors in 17 U.S. bases, is huge and permanent. Unless it is exposed and stopped by U.S. public opinion and action.

On the 8th anniversary of U.S. war on Iraq, we strengthen our demand to end the U.S. occupation of Afghanistan, and the secret bombing and black operations of Pakistan and Yemen.
Read more about what YOU can do now and the next two months before protests March 17-19
Closing Guantanamo Requires Us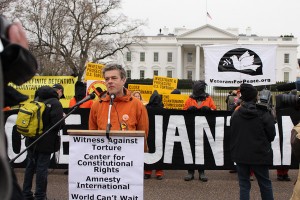 January 11, 2011 Andy Worthington speaking to protesters & media in front of the White House

Over an intense week protesting the beginning of the 10th year of the U.S. prison at Guantanamo, I continued to learn more. The situation for the 173 men there is changing, though not towards a just resolution.

After nine years, it got through to me that use of the word "detainees" indicates something impermanent, as if one is "detained" doing an errand. The men have been imprisoned; they are prisoners. So we shall call them prisoners and released prisoners.

Many thanks to Andy Worthington for coming to the U.S. last week, speaking and talking with all us involved in trying to end the U.S. regime of indefinite detention, based on torture begun by the Bush regime. His attention to the cases of 774 men, and grasp of the prison's history is remarkable.

Read more and watch press coverage of the protests last week against the continuing blight on justice that is Guantanamo.

Call to Action: Stand Up for Dr. Carhart and Women's Right to Abortion!

Dr. LeRoy Carhart, long-time colleague and friend of Dr. George Tiller (assassinated by an anti-abortion activist in May 2008) has remained undeterred in his life's mission to provide women with safe, caring abortion services when they need them. YOU are needed in Germantown, MD and the DC area this coming weekend to stand up for Dr. Carhart and women's right to abortion and reproductive control.

Anti-abortion groups from around the country will be converging on Washington, DC on January 24 for their annual "March for Life" in opposition to the anniversary of Roe v. Wade. Along with the larger mobilization, there are plans to directly target Dr. Carhart at the clinic he newly works at in Germantown, MD. They must not go unopposed - people who respect the humanity of women and recognize their right to control their own reproduction must stand up to these bullies.

Details