Burning of an ideology
(
Image
by
Rev. Dan Vojir
)
Details
DMCA
In every country and in every age, the priest has been hostile to liberty. He is always in alliance with the despot, abetting his abuses in return for protection to his own. [Jefferson, in letter to Horatio G. Spafford, March 17, 1814]
America is definitely a Christian Nation." So says the Christian Right's Official Pseudo-Historian, David Barton. Many people believe it, and most of today's GOP Presidential hopefuls are depending on that belief.
But what if that statement is based on a 50-year-old assumption and not today's reality? Candidates like Rick Santorum and Mike Huckabee might be counting on a force that really isn't there - with a meme that is not quite true.
The Christian share of the U.S. population is declining, while the number of U.S. adults who do not identify with any organized religion is growing, according to an extensive new survey by the Pew Research Center.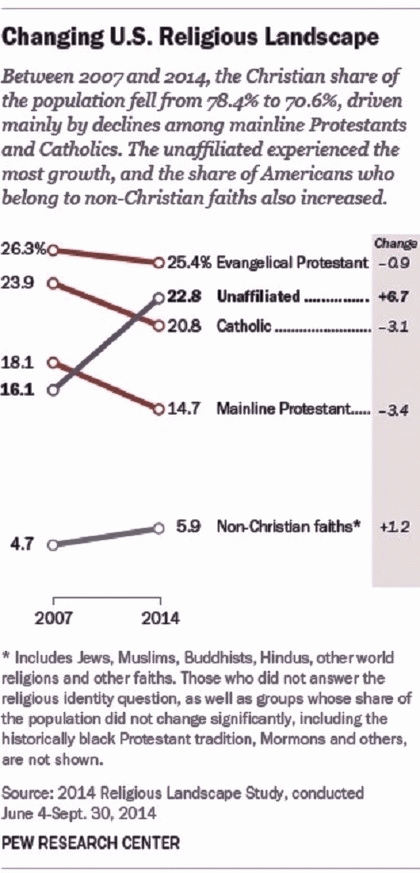 Pew study
(
Image
by
Pew Research Center
)
Details
DMCA
So America is not as Christian as it used to be which, according to previous studies, was not as Christian as David Barton thought it was in the first place. The decline in Christian numbers is disturbing to many evangelicals such as Franklin Graham, Pat Robertson and Tony Perkins, but it is disastrous to politicians like Mike Huckabee, Rick Santorum, Rick Perry, Rand Paul, Bobby Jindal and Ted Cruz.
Over time, the group of Americans who are dissatisfied and want religion to have less influence has consistently been larger than the group who are dissatisfied and want it to have more influence. The gap between these groups grew bigger as overall satisfaction with the influence of organized religion dropped in 2005.
In its State of the States report, Gallup also divulged that the highest level of people who attend church regularly is a rather meager 51% (Utah) and goes down to 17% (Vermont, which will burn in hellfire). This does not bode well for Presidential hopefuls like Huckabee and Jindal who are putting all their eggs into one Evangelical Christian basket.
(Note: You can view every article as one long page if you sign up as an Advocate Member, or higher).