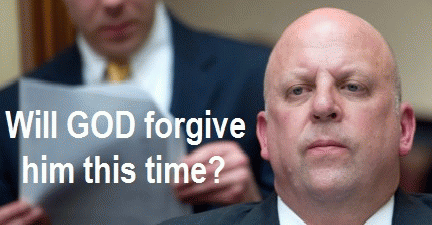 Who cares?
(
Image
by
Google Images w/caption by Rev Dan
)
Details
DMCA
Teabaggers Cheer When GOP Rep Tells Child That Her Father Will Be Deported
Rep. Scott DesJarlais (R-Tenn.) told an 11-year-old girl who spoke out at a town hall meeting last week that her undocumented father should be deported, saying "we need to follow" current immigration laws.

"Josie [Molina] took the mic and, with a trembling voice, said to DesJarlais, "Mr. DesJarlais, I have papers but my daddy doesn't, what can you do to make sure he can stay?"
Desjarlais: "the answer still kind of remains the same, that we have laws and we need to follow those laws and that's where we're at."
It seems that "compassionate conservatism" is truly dead: Texas Republicans cheer when Rick Perry sites his record number of executions and now Tennesseans cheer when a little girl's pleas for help in keeping her father are rebuffed by an adulterous doctor-politician.

"God Has Forgiven Me" - The New Mantra Of Compassionate Conservatism?

The district Desjarlais represents is often described as "deeply conservative." So conservative, in fact, that rather than have a Democrat Representative, they voted overwhelmingly for Desjarlais in the past election.

DesJarlais, who practiced medicine before going to Congress, easily won a second term in Tennessee's conservative 4th District despite previous revelations that he once urged a patient with whom he was having an affair to get an abortion.

So conservative, the "family values" crowd voted for possibly the country's biggest hypocrite: he ran on an anti-abortion platform among other things. So conservative that he was given a virtual pass from his fellow Republican Tennesseans concerning his unethical practices: this year he was fined a monumental $500 by Tennessee medical authorities (for two doctor-patient indiscretions out of the eight which were revealed in court testimony). Compassionate Conservatism was at an all-time high in Tennessee - especially when Desjarlais said that God had absolved him of all his sins.

Even of the allegations of spousal abuse. Even of the allegations of mental instability.
After All, It's Tennessee
The Tennessee Immigrant and Refugee Rights Coalition posted almost immediately about Desjarlais' cavalier (read: heartless) response to Josie Molina:
"Josie Molina is one brave 11-year-old. She stood in front of over 200 people and asked Representative Scott DesJarlais what could be done to prevent her father from being deported. As Josie fights to keep her family together, Desjarlais and other obstructionist politicians refuse to fix an immigration system that separates over 1,000 families a day."
Josie Molina may have become a "poster child" for the immigration reform movement, but living in Tennessee may pose problems for her: while groups like the TIRRC exist, they aid all sorts of immigrants - including Muslims, and Islamophobia is rampant in the "Volunteer" state. Josie is Hispanic: same difference to Teabagger Tennesseans. The whoops and cheers of the town hall meeting underscored the hostility Josie faces: she is already undergoing therapy because of the trauma of her family situation, but she may undergo further alienation from neighbors and other school children.

No father, no life. And that's the way some people would have it for Josie.

"Compassionate Conservatism." Did it ever really exist at all?

While liberals laughed at George Bush's seeming oxymoron, some people took the phrase to heart: FreeRepublic.com scornfully lists the Republicans voting for immigration reform (Marco Rubio is called a "weak-minded fool."). And with a party struggling to "reach out to minorities", a show of compassion might be just the ticket. Hard Right critics of immigration reform, however, portray adherents as anti-conservative, un-American bleeding heart liberals in disguise.

All the things that Scott Desjarlais certainly are not: not to Teabagger Tennesseans, not to Josie Molina.
(Note: You can view every article as one long page if you sign up as an Advocate Member, or higher).