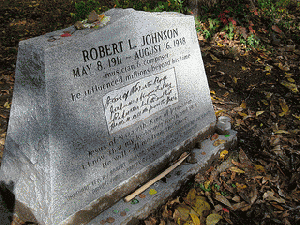 Robert Johnson grave marker

(

Image

by

TheSeafarer

)

Details DMCA


Robert Johnson grave marker by TheSeafarer


On July 9, 2013, WND Education ran a story titled, NEA Teachers Dance to 'N'-Word, Sex Lyrics, which reported on a dance party that took place during the 2013 National Education Association's national conference in Atlanta. Apparently this story has been largely overlooked given the events that transpired. You can read the full story for yourself at

click here

. But in short order, the main points brought to bear were the that the organizers featured a DJ who played rap music rife with bald lyrics about having sex, which included heavy misogynistic references while the teachers in attendance danced onward until the NEA President, Dennis Van Roekel, eventually addressed them. Some party to say the least and at dues payer's expense.

It's hard to pick a place to start with all that's wrong with this. Here in the Los Angeles area, a teacher could literally be dismissed or rehoused in a district-detention center for attending and participating in such a function and there were plenty in attendance who are from here. But that doesn't explain why teachers would debase themselves and their profession by behaving in this manner. And as the accompanying video to the story reveals, there were no racial boundaries among participants. It would be minimalist to say that this was a dark day for teachers and the field of education and an even darker day for teachers' unions. But let's take a moment to look a this from historical perspective.


I suppose there's an argument that the "rap" that was played at the conference was merely a subspecies of rap itself. But that's hard to sell when one hears lyrics like women "shakin their boobies like congos" or "you ain't gon' need ya vibrator" which is only made worse by the use of that most common rap lyric, "nigga." Aside from the profuse contempt for women, it's difficult to overlook the level of self-loathing apparent. However, this has seemingly always followed behind black music. Going back to George W. Johnson, the first popular black singer, his rendition of a vaudeville song, The Whistling Coon, sold between 25,000 and 50,000 wax-phonograph cylinders along with a companion number, The Whistling Song. The name alone of the first selection says all you need to know about the racist content of the lyrics. This tradition was picked up by Ku Klux Klan which saw to the underground production and recording of similar music made worse by lyrics which directly threatened Black Americans. The flagship of this format was The Kajun Ku Klux Klan which amazingly was revived with a cover version of the original recording.
You might think to yourself that it's bad enough that this kind of music was allowed to be played at an NEA national conference. But nothing could have made that worse than teachers themselves participating enthusiastically. However, it does go along with the descent of such union-sponsored events into nothing more than wasteful extravaganzas at the expense of union membership. Recruiting for attendance starts early on here in Los Angeles. Apparently it's not that difficult to be chosen as "party boy" or "party girl" delegate. Even substitute teachers find little difficulty in being among the chosen.

So how did it come to sink to this level? If you're philosophically minded, I guess you could agree with Virgil. Facilis descensus averni. The descent into hell is easy. But aren't teachers supposed to be above this? If you want answers to that question, go the WND Education web page and see the comments as their writers slam teachers and teacher unions rightfully one after another. It's hard to defend either. But perhaps we can at least stop sending the worst among us to represent us. And maybe we can even face up to our unions being nothing more than dues-collecting, irresponsible, insensitive social clubs that exist at the expense of the membership rather than in service to it.