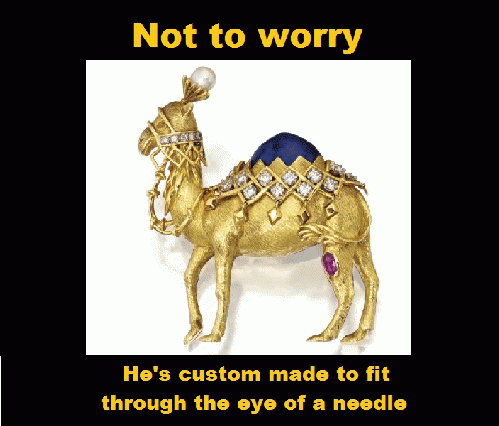 From the Gospel of Koch

(

Image

by

Google Images w/caption by Rev Dan

)

Details DMCA


(Author's Note: This started out to be "The Gospel According To The Koch Brothers" but the subject matter nearly exploded my laptop - it was too much for one article.)


There is no doubt that greed drives America. It has always driven America: as early settlements grew, more land was needed to sustain them. An expanding America needed more of everything. And with expansion came greed ... and religion. In some cases, religion led the pack: "heathen" Native Americans were driven out, or, in the interest of "civilization" assimilated. "Bootstrap" Puritans expanded and plundered. Afterwards, Catholic Spaniards dotted native slave-holding missions up the California coast.*

The sage Lao Tzu once said that "The man who knows he has enough is rich." If that is true, then America has never been rich, because it has never had "enough." Physical expansion wasn't enough, because the American Dream was limitless: more of everything was the norm. From the Colonial era to the Fabulous Fifties, America was not only the Land of Opportunity but the Land of Acquisition.

Acquiring Souls



One might posit that the first order of business with America's Christianity was the acquisition of souls, but that would only be partly true: in order to have access to the souls, churches had to have buildings of worship and ministers, diocese and large populations had to have cathedrals and bishops and schools. Property - that thing which Christ and His apostles eschewed - had to be built upon and justified.

All for inspiration, of course. And all to the glory of Who was to come: Billionaire Jesus.



The Birth of Billionaire Jesus

Some people attribute the birth of Billionaire Jesus to the Koch Brothers, but BJ has been with us more than a decade.

Billionaire Jesus was foretold by the great prophet Norman Vincent Peale:

"Put God to work for you and maximize your potential in our divinely ordained capitalist system."

How did Billionaire Jesus come to be? His was a multiple conception: male and female televangelists whose lineage went back to Jim and Tammy Faye Bakker and Jerry Falwell theologically copulated with each other (with the inspiration of God and His Bible, of course). Billionaire Jesus was not, of course, born in a lowly stable. His surroundings were much glitzier: lights, cameras and a bit of bling surrounded his manger: the stage of the prosperity gospel megachurch (looking like a combination FOX News studio/Joel Osteen stadium). His Magi were really one "bishop", a televangelist and a governor/news commentator: "bishop" Eddie Long, Pat Robertson and Mike Huckabee bringing gifts from other billionaires like Rupert Murdoch. (For the complete list of Billionaire Jesus' beneficiaries see Forbes' List of Christian Billionaire Entrepreneurs)

The Virtue of Greed

The First Commandment of Billionaire Jesus is: Greed Is Good - Do Not Let It Fall Idle. If you view John Stossel's massive and "insightful" series on greed, you will see how greed is portrayed as an American virtue because capitalism (unfettered, of course, by stupid government regulations) is the best thing (besides Billionaire Jesus) to happen to humanity. Capitalism brings only prosperity, peace and composure: if the market rules, then all's right with the world.

And greed fuels capitalism. Since all men have some amount of greed in them, why not use it to better ourselves?



(Note: You can view every article as one long page if you sign up as an Advocate Member, or higher).