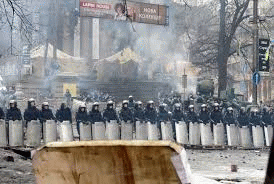 Euromaidan in Kiev, Police in Hrushevsky street 2014
(
Image
by
(From Wikimedia) Аимаина хикари
, Author:
Аимаина хикари
)
Details
Source
DMCA
-- A Shabby Deck of Political Cards
For those folks who haven't seen Ukraine on Fire(UOF), the Oliver Stone-produced documentary on the on-going Ukrainian crisis, it is not overstating the case to say it's an essential historical document and one of the most important, insightful political documentaries of recent times. It may also be one of the most portentous.
Quite apart from the illuminating history lesson the film delivers as a backdrop to the current situation in one of Europe's most pivotal of battlegrounds, there are many takeaways from the film. To begin, it stands as a vital corrective of the disinformation, misinformation, evangelistic doublespeak, unadulterated agitprop, faux analysis, and plain old garden-variety groupthink that attended the public discourse on the events and developments in the country, and which ultimately framed most people's views of the situation. Needless to say, the messages and impressions conveyed by this ongoing, relentless 'psy-op' cum fake news onslaught still 'rules the roost' in most people's minds.
Further, the film's narrative is highly revealing in the manner in which the Western mainstream media (MSM) reported on the events surrounding the turmoil and conflict. In the process it showcases how much the perfidious thought contagion spread by the ever-nefarious neoconservatives and their fellow travelers the liberal interventionists infects U.S. foreign policy, along with the foreign policies of America's assorted vassal states.
It underscores moreover Russia's seemingly inexhaustible forbearance with the U.S., which, sans any rational, coherent geopolitical basis for doing so, has been tested beyond reasonable endurance or expectation. This point is rendered especially palpable during the interviews Stone conducts with Russian president Vladimir Putin for UOF. (This is not to mention the actual The Putin Interviews).
At the same time UOF reveals again for those looking America's recidivistic predisposition for interfering in the affairs of other countries; this is an observation that's always been evident save for the most preternaturally ignorant, ideologically myopic, or imperially inclined. Given the present zeitgeist as reflected by the headline-hogging "soap-saga" of "Russia-gate" -- buttressed by former CIA chief James Woolsey's whimsically smug concession recently that America interferes in other countries' affairs "only for a very good cause [and] in the interests of democracy" -- this is a reality that cannot be overstated. This is especially so when there are all too few examples where anyone might point to America's interference actually serving the democratic interests (by any way that might be objectively measured) of any given country one might care to name.
The narrative encompassed by UOF is by extension a serious indictment on President Barack Obama's handling of the Ukraine situation and his role in the creation of this singularly unholy mess -- a prime exemplar of just how chaotic, dysfunctional, indeed war-like, were in large part the 2009 Nobel Peace Prize winner's foreign policies. Ukraine on Fire attests unequivocally just how far removed the reality of Obama's tenure was from his campaign rhetoric.
More broadly, the disaster in Ukraine -- as we'll see still a work in progress even now under his successor, someone who pledged to curtail this direction in U.S. policy making, a promise which in no small measure propelled the Orange One into the Oval Office -- is one of many that will forever inform people's views of Number 44's shop-soiled legacy. As Eric Zuesse noted a year after the coup, Obama employed a tactic of,
'...attacking Russia by using fundamentalist and other conservative extremists in a given Russia-allied nation, so as to turn that"nation away from Russia, and toward America, and then of trying to crush these same right-wing extremists who've been so effective in defeating (or at least weakening) the pro-Russian leader in that Russia-allied country. This tactic leaves civil war and enormous bloodshed in the given formerly (or still) Russia-allied nation.'

Three years after Zuesse made this comment, and over one year after the Great Black Hope left office, that situation to all intents prevails, with few harboring any optimism things are going to get better anytime soon. In fact ominously, quite the opposite scenario is unfolding. Earlier this year, Gilbert Doctorow reported that a new draft law adopted by the Ukrainian Parliament and awaiting president Petro Poroshenko's signature, threatens to escalate the Ukrainian conflict into a full-blown war, pitting nuclear-armed Russia against the United States and NATO. 'Due to dire economic conditions,' Doctorow says,
'... [Ukrainian president] Poroshenko and other government officials in Kiev have become deeply unpopular, and with diminished chances for electoral success may see war as politically advantageous.'

As history indelibly reminds us, this is an all too frequently recurring scenario in the conduct of international affairs. In a statement that undercuts much of the furor over the Russia-gate imbroglio, Doctorow observes that in contrast to the image of Trump administration policies being dictated by Moscow as portrayed by proponents of Russia-gate conspiracy theories, 'the United States is moving towards deeper confrontation with the Kremlin in the geopolitical hotspot of Ukraine. For its part, the Kremlin has very little to gain and a great deal to lose economically and diplomatically from a campaign now against Kiev. If successful, as likely would be the case given the vast disparity in military potential of the two sides, it could easily become a Pyrrhic victory'. [My emphasis]
Next Page 1 | 2 | 3 | 4 | 5 | 6 | 7
(Note: You can view every article as one long page if you sign up as an Advocate Member, or higher).