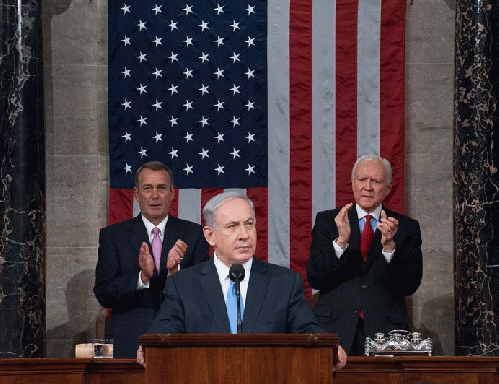 Israeli PM - Speaking before the US Congress - 2015
(
Image
by
(From Wikimedia) US Congress
, Author: US Congress)
Details
Source
DMCA
-- The Trout in the Milk --
Although not in the manner of its original intent, Winston Churchill's axiom 'Truth is so precious that she should always be attended by a bodyguard of lies', seems purpose built for framing a debate involving one of the most contentious issues of the day -- this being the realities of the relationship between Israel and the United States.
Indeed, whether related to the historical hard truths behind the affiliation or the contemporary bonds that underpin and define it, we come close to inverting the original intent of Churchill's observation.
Moreover, in deliberating on the always-contentious measure of influence Israel exerts on America and the concomitant state of play within and across the Greater Middle East deriving from that influence, we might also invoke Henry David Thoreau's droll maxim, 'Some circumstantial evidence does exist, such as when we find a trout in the milk'. As we'll see, both aphorisms have singular relevance to our discussion going forward.
Some preliminary background though is necessary to prepare readers for the road ahead.
The assassination in 1995 of then Israeli Prime Minister Yitzhak Rabin by a right-wing Jewish extremist hastened an early election in 1996 after which the uber-hawkish Likud Party assumed office. This elevated estimable hardliner -- and Zionist poster-boy of the U.S. neoconservative cabal -- Benjamin (Bibi) Netanyahu, to the premiership.
Although not unexpected, the occasion of Bibi's rise to power was a game changer, but possibly not in ways many might've imagined, regardless of whether they were Likud supporters or not. By availing ourselves of the benefits of hindsight and from there reflecting on how much that "game" has changed, we can say there were indications of what was to come in the wake of Netanyahu's ascension to power.
Shortly thereafter, an elite group of U.S. foreign-policy wonks concocted a manifesto for the new administration in Tel Aviv -- expounded on herein briefly by Ray McGovern. It was called "A Clean Break: A New Strategy for Securing the Realm". The membership of the "Clean Breaker" 'club' is notable. It included certain neoconservative luminaries who would later take up important positions within the George W Bush administration. After the events of 9/11, they went on to play forceful roles in the development and roll-out of its Greater Middle East policy, one whose disastrous legacy is still very much a work in progress.
According to Anti-War's Dan Sanchez, the "Clean Breakers" -- including leader Richard Perle, David Wurmser, along with Douglas Feith and John Bolton and others -- nominated Iraq first as a candidate for regime change. After Iraq, Libya and Yemen would then become 'stepping-stones' to overthrowing Bashar al-Assad in Syria, with next on the list being the regional biggie of them all, Iran.
As Sanchez says, the essence of the Clean Break manifesto went like this:
Next Page 1 | 2 | 3 | 4 | 5 | 6 | 7 | 8
(Note: You can view every article as one long page if you sign up as an Advocate Member, or higher).