JK: I would like to expand my skills further with other mediums because I think it would be nice to be as skilled in things other than drawing with pencils. To add on to new mediums, I think 3D art, things such as sculpting using clay, etc" would be cool to do. So just opening up to more things in the art world is something I hope to do and look forward to doing sometime.
JB: I look forward to watching you grow and expand your talent. Anything you'd like to add before we wrap this up?
JK: I also look forward to continuing this passion of mine and once again thank you for giving me the chance to talk about my work, this was a really fun experience.
JB: I'm so glad you enjoyed yourself. Thanks so much for talking with me. !t was lovely getting to know you and seeing some of the beautiful art you bring to life.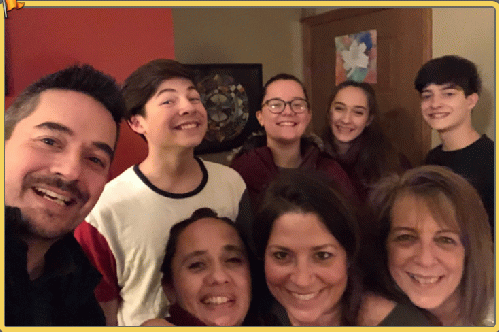 with dad, brother, aunt, cousins, mom and grandma last Thanksgiving; note Jaxon's Mandala on wall behind group
(
Image
by courtesy of Jaxon Kawecki)
Details
DMCA