Few on this planet have walked through the doorway to the beyond with the consciousness and grace that Aaron exhibited in his letter, and in his life.
The name, Aaron, has been associated with communication since Biblical times. Moses, who had a speech impediment, depended on his elder brother, Aaron, to communicate for him.
And Winborn's initials are another reference to communication: J.A.W.
Aaron used to joke about his last name meaning "Born to win." And he certainly won this round. Few people have been so successful in their dance with the core essentials of life, no matter how many years they had in which to do it. The ripple effects of Aaron's generosity and creativity are destined to encircle the globe forever.
And if there is any possible way to communicate from where he is now, I suspect we'll be hearing from him.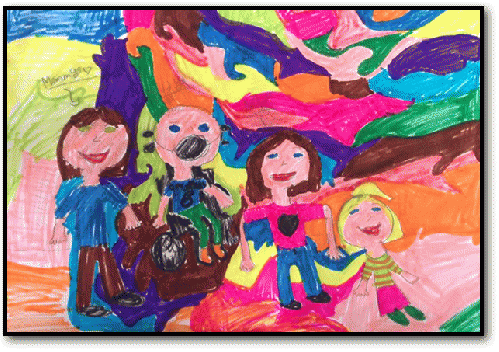 Ashlin's drawing of her family
(
Image
by
Gwen Pfeifer, used with permission
)
Details
DMCA
How you can help:
Aaron's sister, Diana, posted a link to ALS patient Anthony Carbajal's petition to the FDA to accelerate approval for a new drug. The drug has no side effects, and "differences in outcomes between the group of trial patients given the placebo and those given GM6 were 'statistically significant.'" The FDA will make a decision by mid-April. Anthony notes, "Thousands of ALS patients and myself want to be able to try this drug. I do not have any other options to fight."

http://www.change.org/p/fda-grant-accelerated-approval-for-gm604