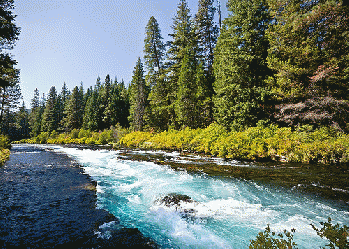 WIZARD FALLS ON THE METOLIUS_DESCHUTES
(
Image
by
Forest Service Pacific Northwest Region
)
Details
DMCA
2017 will go down in history as the year that America faced another watershed moment and hesitated. It is not too late, but it soon will be.
This is not the first watershed moment we have faced as a nation. The book, Saving Democracy points out there were earlier watershed moments. "The first was the traumatic and revolutionary break from England, choosing to be an independent nation rather than a colony any longer.... The second national trauma was the American Civil War.... The third national trauma was the stock market crash of 1929, plunging the nation, and the world, into a long depression." All of these watershed moment were when the ideas of democracy was threatened by the forces of an economic elite; and in all of those moments we chose democracy. This is the fourth watershed moment that threatens the existence of our nation as a democracy.
After the dysfunctional elections of 2018, we realized, in shock and awe, that the nation had been turned over to our worst angels. Not only that, but it was due to total mismanagement by those who should have been watching the store. Instead, they were too busy in the back room counting their wealth and basking in their power to notice there were enemies at the gates. They slowly realized that the protective walls they had counted on for years were no longer manned by the ordinary citizens. Those citizens had realized that they were being used to protect the citadel of wealth and power for their leaders while the rest of the ordinary citizens were left out in the cold.
While that leadership was angrily shouting at their followers who were now seeing there were better options and that, as citizens, they no longer had to choose the lesser of two evils (which was still evil); they found they could actually choose the option of finding real solutions.
And while the leadership was arguing with their erstwhile followers, another of the palace's princes had opened the back gates to another, angrier group of victims of the system who were feeling left out and were out for vengeance, however it might come. And so that prince, an effective demagogue, won and brought with him a win for the most conservative factions of a party that had nearly been pronounced dead on arrival.
So at the beginning of 2017, with his induction into office along with a salivating Congress, willing states, a compliant judiciary and a complicit and able media, he began the final dismantling of democracy. It was vengeance at its most brutal as we seemed to stand in shock and awe at the quick and immediate beginning of the destruction of the foundations and structures we thought were eternal.
All we seemed to be able to muster was righteous indignation and frustration. We heard the yelps of, "It's just not right" and "He can't do that", as the destruction continued before our eyes. He was now using a system that had been carefully developed over many years and now he used it in all its most destructive glory. It had been there before our eyes for years but always with a much more subtle and pleasing face.
So we spent our time not changing direction or tactics, but trying to rebuild the very structures that had cause the downfall. We are still talking about the Russians as though anything will really be resolved with any clarity in that investigation. We continue to revisit the election itself, continuing to give reasons that Hillary should have won.
And we have developed a whole machinery of anger and resistance to the Trump presidency, not to change from the domination by an economic elite but to change the face of the person who will oversee the destruction of the American Dream.
We have spent the year agreeing to be distracted, to the delight of our oligarchic masters, so we will not have to actually talk about a real change of direction away from neoliberal economics and back to a sustainable and human democracy.
The media will not talk about Bernie Sanders and the popularity of his solutions, nor will they talk about reforming a moribund Democratic Party. We are led away from discussion of any real problems like infrastructure, or global warming, or income inequality, or the loss of democracy, and we seem to be willing to docilely follow that lead.
We have become spectators of our own lives, seemingly disconnected from any responsibility for our futures or the future of this nation or the world.
One can only hope that 2018 will find us ready to recover our courage and commitment that still exists in the American Spirit.
It is time to see that this current system will not allow change and that we must rebuild a democratic system to draw the populace back to the responsibility and sanity of a participatory democracy and the American Dream.
There is still time to choose the right side of this American watershed moment before they have diverted all the rivers to the side that finally will complete the reinstatement of rule by an economic elite. This has been the battle we have fought throughout our history. And, unless we act quickly and decisively, we will lose our independence, not to England as in the original watershed moment, but to the idea that England represented then, domination by an economic elite.
(Note: You can view every article as one long page if you sign up as an Advocate Member, or higher).