So he is obliged to jump in if:
1. Trump surges ahead or threatens to do so. If Clinton can't beat Trump "badly," as Bernie said, he would have to jump in to defeat him.
2. If Trump loses, he has stated many times he would drop out. This scenarios leaves us somewhat blind to the consequences which might help Clinton but might hurt her if a less despicable candidate were picked to trump (!) her despicability. This would benefit Sanders.
3. With Johnson, the coalition could smash both candidates; without, Bernie could still get in the 30's and with Stein's 3 or 4%, he would reach 35% on his own, enough to win with the right states.
And I am sure he has a graphic that show him where he would have to win, since no one so out of the mainstream has achieved such success in a rigged system . He has done this with honesty, consistency, and a brilliant strategic mind.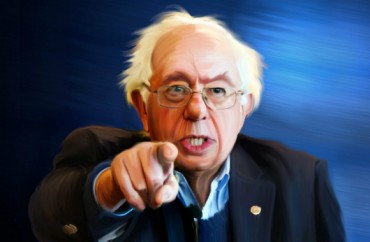 .MAKE ME DO IT!.
(
Image
by
thecollegefix.com
)
Details
DMCA
So don't give up.....if Trump surges (he is up 50% and closing in Clinton in the past 3 weeks) or falters, Sanders is prepped by his previous comments and the urgency of the need to beat Trump, to jump in.....and there will be tens of millions cheering our most popular political leader! The times they are a changin.........