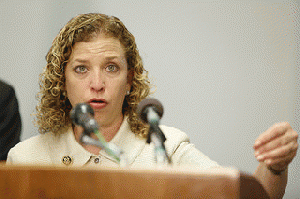 Debbie Wasserman-Schultz
(
Image
by
PoolSafely
)
Details
DMCA
R.T. Rybak, the former mayor of Minneapolis and a vice chairman of the Democratic National Committee, on Thursday accused the party's leader, Representative Debbie Wasserman Schultz, of making "flat-out not true" statements about another top party officer, questioned her political skills and said he had "serious questions" about her suitability for the job.
The broadside from Mr. Rybak, which came in an interview late Thursday afternoon, followed weeks of internal party dissension over the number and timing of the presidential debates it has scheduled, capped by an acrimonious public dispute over whether Ms. Wasserman Schultz had punitively barred a Democratic vice chairwoman, Tulsi Gabbard, from the first debate, held on Tuesday in Las Vegas.
The comments from Mr. Rybak were notable in part because he is not known as a public complainer.