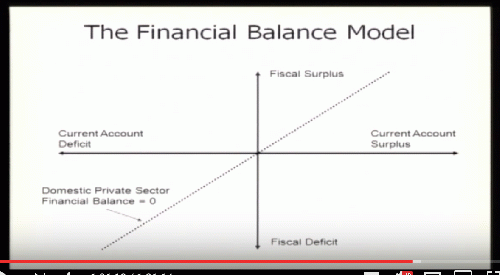 You won't see this discussed in Chicago or Austrian school economics texts.

(

Image

by Stephanie Kelton)

Details DMCA

I want to recommend to OEN participants a website/blog that is dedicated to explaining Modern Money Theory (MMT) and how it works. click here. MMT is the only theory of money that embraces and justifies egalitarianism and the elimination of inequality of wealth distribution. The question, "Where is the best economics now being done?" was answered by Economist James K. Galbraith in one word "UMKC". That's the initials of University of Missouri at Kansas City. The faculty there includes Michael Hudson, L. Randall Wray, Stephanie Kelton, Bill Black, and many other MMT advocates.

I have studied macroeconomic monetary theory since the 1960s. I have studied on my own, not in a formal academic setting, because I saw early on that formal study was being approached as an indoctrination into received wisdom, not as a discipline that begins with a definition of how the structure of a monetary system can be made to support different kinds of governments--democracies, oligarchies, etc. What we have in the US and the world at large now is a system that is structured to build and maintain oligarchy, and we are told (as famously declared by a former Btitish PM Margaret Thatcher) that "There is no alternative."

MMT is a theory that supports a goal of egalitarianism, the elimination of unemployment, and guards against the development of inequality and oligarchy.

It explains why the national economies of today are prosperous or saddled with unpayable debt. MMT has exposed today's accepted economic model as a blueprint for an international oligarchy and has provided an alternative that would prevent it.

For example, click here to get an explanation of the graph in the image above, and how it shows why the EU does not, and cannot, produce a uniform degree of prosperity among the member states.