Evidently the country would have profited far more if all these resources could have been exploited by their own people. Tanzania is, in spite of its increasing resources, a poor nation, and like in most other third-world countries their resources are being exploited by foreign corporations and not nearly enough paid back to the country that owns the earth that is being mined. It is, as in so many other cases, a matter of cold theft.

However, the people do not look as poverty-stricken as the poor people in India, just to name one country where we have traveled quite extensively. Of course you see men pulling and pushing very heavy loads on handcarts and women carrying huge burdens on their heads. However, it is their way of life and it is not necessarily a sign of dire life after colonialism. Or under neocolonialism for that matter. It's not like seeing a Dalit woman in India carrying 14 heavy bricks on her head. That breaks your heart. Of course you see people living in one-room huts in Tanzania too, but they have at least one window and a proper door and they look far cleaner than the hovels in India that often give the impression that a heavy puff of wind could blow them over.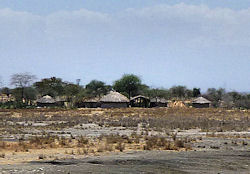 There are still Maasai people in northern Tanzania living in the traditional kind of round huts, but those are increasingly being replaced by more modern-looking houses, as their standard of living improves, mainly from cattle breeding. This tribe who has been hounded from fertile lands, just like Native Americans in fact, to desert-like areas, have managed to make a living even out of this arid land where they have ended up. They were also fierce warriors and the Arab slave traders over the past centuries didn't dare attack them.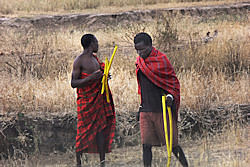 We saw their cattle herds all along the roads we were traveling on before entering the National Parks where they are not allowed to let their cattle roam. Goat herds have also been added more recently to their traditional cattle herds. Their cattle eat off the scanty, dry grass on the plains, and since there is nothing left for the wild animals to eat, that becomes a natural way to make them stay inside the reserves where they have the savanna and the forests to themselves.

We visited a Maasai-descended village where the people had taken up agriculture as well, especially banana and coffee plantations and corn, wheat, etc. to feed themselves. Most of the houses here seemed to be of a more comfortable kind. We were welcomed into an old woman's house that was nothing but a hut and we got a very friendly reception. However, her sons had houses that were far more modern-looking with windows and proper entrance doors.

We were lucky to get in touch with two very well-informed Tanzanians with whom we discussed neocolonialism on my raising the subject. We clearly got what is a reasonable picture of the political situation in Tanzania. Understandably, our safari guide who also was a very well-educated person, had quite a bit embellished the political situation of his country, very likely in good faith. Tourism is one of Tanzania's principal sources of income and it is important for the agencies and for the country that tourists not be scared off.

We were now made to understand that even though Tanzania is a democracy in the same way as most other countries today, that does not mean that there is no corruption or multinational exploitation of the country's resources. That does not mean that the well-being of the people is the priority for the politicians. The two men we talked to at some length, openly declared that those in power were in fact puppets of the Corporate World, just like in most other African countries -- now that Qaddafi, who tried to go his own way, is gone. And, for that matter, just like EU governments are also puppets of the Corporatocracy.

Agriculture is by far the most important source of income in Tanzania, and gem stones and precious minerals account for a fair percentage as well. Tourism is also becoming increasingly important for the economy of the country, which still remains weak.

As an example of the way the country is on a leash to the Corporations, we learned to our great disappointment that the corn we saw growing all over was GM corn.

There is not only gold and diamonds, but a vast array of other minerals and gem stones eagerly exploited by Western companies. Recently, in a collapsed volcano (the Ngualla) in the southwest, deposits of rare earth elements have been discovered -- the world's fifth largest rare earth deposit outside of China.

There are also recent finds of uranium and the sad truth is that the mining of uranium will most certainly go ahead in the UN World Heritage site, the Selous Game Reserve. The project is the Mkuju River uranium mine in southern Tanzania.[3] This would be a disaster for the wildlife living, until now, very peacefully in that reservation area, which is one of the largest wildlife reserves in the world. International companies are now fighting over who is going to get the profit from this disastrous project.

Our safari

We started out and ended up in the northern city of Arusha, right next to Kilimanjaro which we never saw since the "little rain season' had started and Kilimanjaro was covered in clouds when we were hoping to see it. It's quite close to the road from Arusha to the airport, which is named the Kilimanjaro International Airport.

We were being driven around in a safari vehicle, a tough, but comfortable 4x4 with a "pop-up' roof that enables you to take photos from inside the vehicle. This is essential since you are not allowed to set foot on the ground in the wildlife reserves and anyway you wouldn't dare do such a thing with an elephant coming towards you with his ears fiercely flapped out or a lion roaming around right next to the car. We know well that an elephant can overturn even a heavy vehicle and a lion can wound you seriously even if you so much as lean too far out from the opening in the car.

The exception to this rule is the areas that are prepared for your picnics which are daily since you have either breakfast or lunch out, depending on your hour of departure. Those are well taken care of with tables and chairs and western-style restrooms. If you see lots of mice running around under the tables, not to worry. It's the custom of the country. To make up for those, there are also, at the same time, gorgeous colorful birds to watch, if you don't care for mice. One time I will never forget we were befriended by a laughing starling. That's not the name of it, as our guide said offhandedly that it was just a common starling. To me it wasn't common at all. The bird was definitely laughing at us. Ha ha ha, sounded exactly like a human being making fun of you. I chimed in with him. He was hilarious.

Our plans were to see the wildlife in the National Parks in northern Tanzania. We had a superb guide and driver who was an official guide and as such had studied zoology and botany and he never missed the answer to a question we asked him. And there was no end to those. Nobody is actually allowed inside the national parks or conservation areas without an official guide. There were lots of 4x4s to be seen on the incredibly bumpy trails we were driving on, but they were all from one or another of the official agencies that organize these safaris.