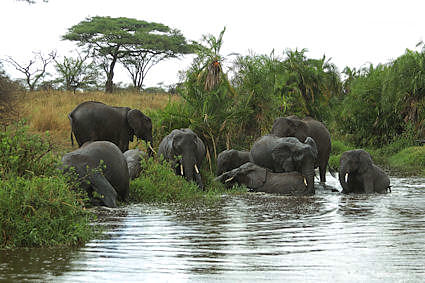 It was raining pretty heavily but I still managed to take a video where you can even clearly see the streaks of the rain. Magnificent animals. And awe-inspiring indeed. [7]

But the prize for stately elegance must go the giraffes. We went wild on the first day when we saw our first giraffe, but we were going to see them every day, in singles, twos or threes or bigger groups. Amazing. What a sight seeing a herd of giraffes running or walking in a stately fashion across the savanna.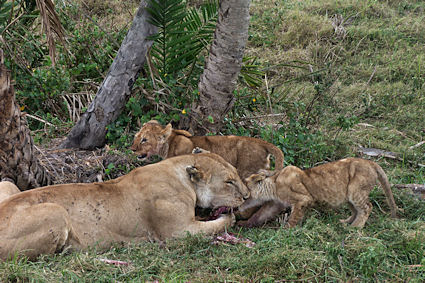 On our way up to northern Serengeti we witnessed a dramatic show of a lioness with two cubs who were tearing at a killed wildebeest, according to what our guide told us. It was gruesome but you just have to accept that kind of sight in the wilderness. Gruesome or not, you get so fascinated by these scenes that you just watch forever. In the scene below most of the big carcass is gone and they are eagerly devouring the leftovers. [8]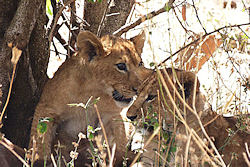 Here are two young cubs from a more peaceful scene, a lioness with her two cubs which we watched for the longest time on our last drive in Tarangire NP. Mom isn't in the picture, but she was right next to the kitties.

We would never have dreamed of seeing masses of lions. On the day we were on the road to Ngorongoro from the northern Serengeti NP, we saw a pride of 15 lions, one extremely handsome male, a few adult females and several young ones of varying ages. We were really lucky to get to see lions every second day or so and one day even twice. Or we simply had an excellent guide who knew where to find them and was amazingly adept at spotting them.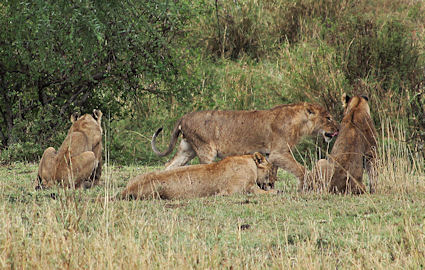 It had been difficult to take good pictures of the pride of 15 lions since it was raining and they were also a bit far off, but it still took our breath away.

What they call "the little rain season' had started the day before. I will never forget how on the first rainy day we had just come back from an early morning safari, starting out at 6 in the morning and we had our lunch in the almost abandoned big dining room. The waiters placed us by an open window so we could look at the scenery and see animals wandering by. Suddenly there was a huge bang. A black faced monkey landed on our table out of nowhere, crashed some china and grabbed a roll before running off. Those monkeys are relatively small but it was quite a surprise to be in the company of a monkey at our table. The waiters hurried to put everything back in order and we all had a good laugh. At least the monkey didn't grab our camera, which is a thing monkeys are well known to enjoy doing, in India as well as in Africa. The windows were hurriedly closed -- and then came the rain.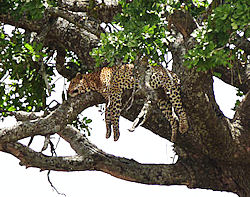 One day in central Serengeti NP we had one of the funniest encounters of the entire safari. Our guide, once again superb for finding animals where we saw nothing, thought he discovered a leopard in a tree. We drove as close as possible to the tree and found to our great surprise that there were no less than three different leopards hanging or lying on various branches of the same tree. We didn't even know that leopards took their naps in trees, but that seemed to be the case.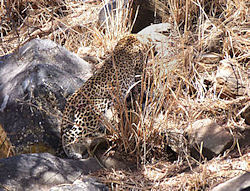 Another picture of a gorgeous leopard we saw very close up on our drive to Lake Manyara, which was our third day out. We had just spent the longest time watching the lioness and her two cubs who were tearing at the kill Mom had made and we didn't expect another great encounter that day. There was just no end to the surprises of this tour.

We saw the huge pride of lions on our way to Ngorongoro, the extinct volcano. We were staying at a lodge on the rim of the volcano at the altitude of 2,400 meters and it was quite chilly. The next day we descended into the crater which is at about 1800 meters and measures almost two kilometers across. The volcano which formed it became extinct 3.6 million years ago. It looks extremely dry and there is a big area that is an almost dried out lake which has left behind enormous masses of salt. This strip shimmers in the sunlight or even in cloudy weather. We saw the crater in both kinds of weather. We were lucky.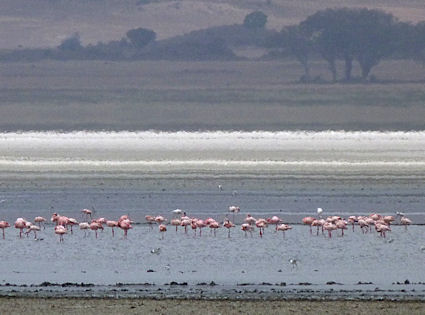 We also saw the funniest ostriches in the Ngorongoro crater. The male, black and white, was clearly in mating mood and started running towards the female, grey, who was first running desperately away from him. A trick?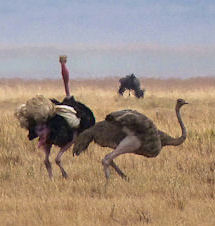 The male did a spectacular mating dance, fluffing up all his feathers and flopping his head and neck from one side to the other to show them off. Then after she too had had her mating dance, he walked up to her and then passed by without even paying any attention to her. These mating games are not for us humans to understand.[9]