We wanted to see as much as possible, being the animal lovers that we are, as well as lovers of exotic life styles and lands. Well, we got to see all we could possibly have wished for -- and more.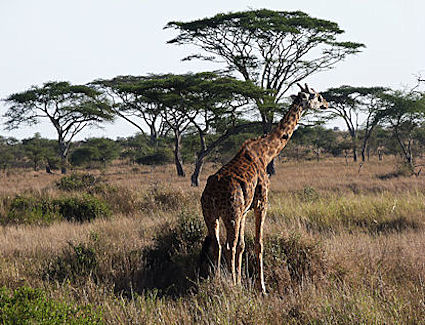 We first drove through an extremely arid region where we saw many old-fashioned Maasai huts in tiny villages a bit away from the road and quite a few Maasai men walking along the road. This was not even the savanna -- it was just an arid plain.

It was basically when we got to the parks that the savanna took over, higher grass and lots of acacias of the innumerable kinds that exist, from the elegant umbrella acacias to the thorny small-leaved acacia bushes and trees that the giraffes like to eat from.[4]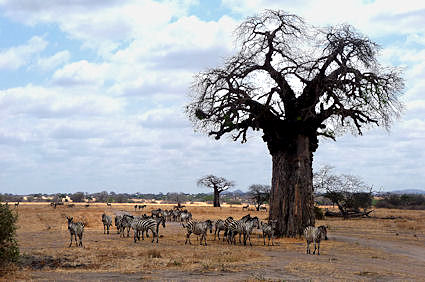 Acacia trees and huge baobab made up the impressive scenery we were driving through and impalas and zebras were everywhere. Zebras seemed to mix in with all kinds of other animals, antelopes, giraffes, elephants or warthogs -- relatives of wild boars, but funnier and uglier.[5]

There were multiple black faced monkeys, blue monkeys, also small, and a huge number of baboons, somewhat bigger and always with babies that were sometimes carried on the backs, sometimes below the bellies of the mother. They could be wandering around in huge groups or be quite isolated. Or they might be sitting or walking all over the road that we were traveling on. In that case, diplomacy was called for.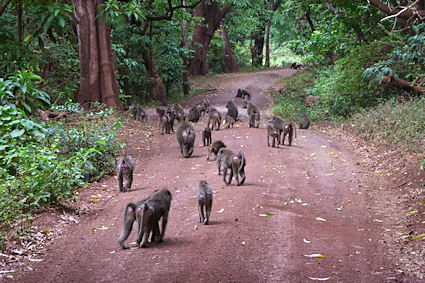 On our very first day in the Tarangire National Park, we had one of the experiences of our lives. Our guide sighted a cheetah not far from our trail, a cheetah with a young cub.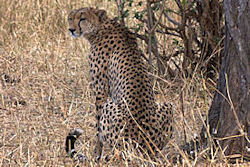 We were fascinated because it was so close to us and it's relatively rare to see a cheetah -- not at all like lions or even leopards. It's amazing how all these wild animals were not the least wary of the cars that were driving so close to them. As long as you don't put a foot on the ground, all is peace and calm. There must be no loud voices though.

From the moment we spotted her with her young one we were completely fascinated and couldn't stop watching. The cub left his mother and settled on a little mound close by. Mom first kept sitting by the tree, her head pointed towards us, perfectly aware of our presence, the way the animals always are. After a while she joined her cub and sat down next to him on the mound.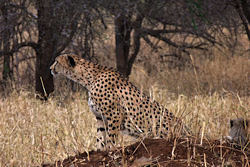 But all this time she seemed to have scented game. She was extremely alert to something she flared or saw far away and that we couldn't possible see. Then all of a sudden, like lightning, she took off and was gone. It was quite a drama and I was thrilled by having seen her taking off.

Another fabulous event was also on our first day out when we suddenly saw a great herd of impalas, first spread out in among the trees with a giraffe as company. They then started walking towards a waterhole and after a while they got mixed in with a herd of wildebeest. These are one of the largest kinds of antelope, even though they don't really look like antelope. They can be amazingly agile though and hilariously funny when they start hopping. Their antics have earned them the name of "the clowns of the savanna'.[6]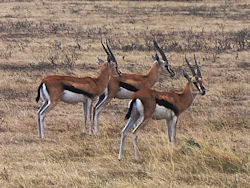 We saw antelope of varying sizes every day, from the little dik-diks to the impalas and gazelles, to the wildebeests that seemed ubiquitous, usually in impressively large herds. The largest antelope is the eland, which we never saw. They are huge and they definitely don't give you the impression of being a kind of antelope, but more like a moose.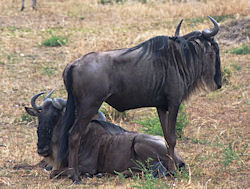 The wildebeests (Afrikaans = wild cattle) are the most abundant big-game species in east Africa.

We saw huge herds of buffaloes almost every day, but on our second day of the safari we had a breathtaking experience. As usual, it was our guide who first spotted the masses of buffaloes that were moving in a seemingly endless stream towards a river. Here is the frontal section of what looked almost like a migration of animals. These have already gotten to the river while there are still hundreds behind them, and the huge beasts are busy drinking. The migrations were in fact taking place when we were there but we were unfortunately not in the right place.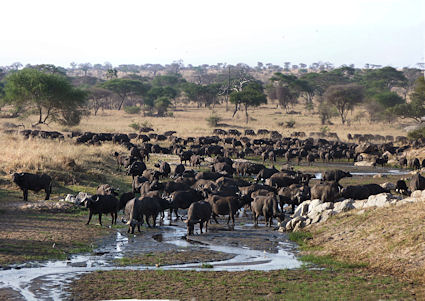 Elephants were with us daily, usually in groups, small or large. They were always impressive as they walked in single file on the side of the road to finally cross it, totally ignoring the little bug that was our Land Cruiser. But the winner was the day we saw the bathing elephants, a group of about ten who were all more or less in a river, playing and showering and even immersing themselves in the water.