Hands Up Don't Shoot (collage using public domain image by Meryl Ann Butler)

(

Image

by

opednews.com

)

Details DMCA


On August 9, 2014 Ferguson, MO, police officer Darren Wilson racially profiled and fatally shot unarmed, 18-year-old, Michael Brown as he walked to his grandmother's residence with a friend.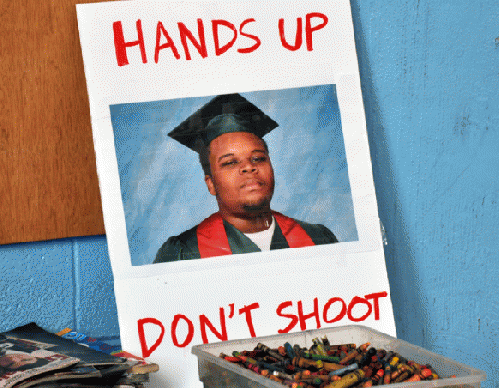 Hands Up Don't Shoot: Ferguson Day 6

(

Image

by

(From Wikimedia) Loavesofbread

, Author:

Loavesofbread

)

Details Source DMCA

Eyewitnesses reported seeing Michael standing in the street with his hands in the air as Wilson fired several shots at him. The family and local community members have called his death an execution.

In addition, justice does not seem to be happening quickly - the Darren Wilson grand jury received a 60-day extension and now has until early January to decide whether or not to bring charges.

Shortly after Wilson killed Brown, two GoFundMe campaigns sprang up and in less than a month after killing the teenager, over $400,000 was raised for Wilson--more than the President makes in a year. In addition, comments were considered highly racist and inflammatory.

And GoFundMe got their "fair" share. They automatically deduct a 5% transaction fee from each donation a user receives. According to calculations, GoFundMe would have collected over $20,000 on Darren Wilson's campaign.



It sure sounds like blood money, and aspects of this feel uncomfortably reminiscent of Nazi Germany.
Black LIves Matter. Ferguson MO, Aug. 14, 2014.

(

Image

by

Elvert Barnes via Flickr, cc 2.0 Generic license

)

Details DMCA



Both campaigns in support of Wilson were suspended in late August with little explanation. The LA Times notes that Missouri state Rep. Jeffrey Roorda "said tax attorneys for the police union were trying to figure out how best to handle the hundreds of thousands of dollars in contributions, since donations for legal defenses are apparently not tax-deductible."

Founded by Brad Damphousse and Andrew Ballester, San Diego-based GoFundMe was launched on May 10, 2010 and has quickly become the world's largest fundraising site for personal causes and life-events. The GFM site notes that hundreds of thousands of people have raised over $470M from 6M donors, and as of April 2014 GoFundMe users are raising well over $1M per day.

Two other crowdfunding sites, Kickstarter and Indiegogo, are used primarily by startups and Cultural Creatives to raise money to fund projects or businesses. GFM focuses more on personal causes and life events, and examples include: the funding for people faced with loss of their homes through eviction or weather disasters, to help a member of the 2014 Olympic Women's Speed Skating team to get to Sochi, and for a variety of health issues and emergencies such as medical needs for people who lost limbs in the Boston Marathon Bombing, patients with cancer and other health complications.

All of these sound lofty and high-minded. However, GoFundMe specifically excludes abortions, according to their recently changed Terms of Service.

Nevertheless, anti-abortion campaigns are allowed.

As are, apparently, campaigns supporting people accused of or convicted of murder, as also evidenced by the longrunning campaign for Raffaele Sollecito, convicted along with Amanda Knox, in 2007, of the infamous murder of British student Meredith Kercher. Caitlin Dewey said in her WaPo blog that the fundraiser for Sollecito, "had been active since June 2013 and raised over $44,000." Dewey has since noted that after her post about it first appeared on Sept 9, GoFundMe had "quietly deleted" the campaign.

Dewey also reported that while GFM has also raised money for drug users, it "has finally found a moral line it won't cross: abortion," as it removed an Illinois woman, Bailey's, campaign. She "had raised $2,100 to terminate a 'rough, unplanned and unexpected pregnancy.' Per Bailey's' fundraising page, which is no longer online, complications from the pregnancy had prevented her from keeping a job. Without any money, and without adequate medical insurance, "Bailey had mounted a campaign at GFM."



(Note: You can view every article as one long page if you sign up as an Advocate Member, or higher).