Reprinted from Paul Craig Roberts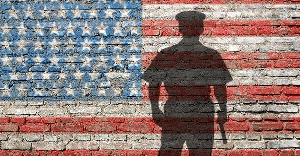 Protecting civil liberties by destroying them...
(
Image
by
Twitter User bzdt3
)
Details
DMCA
>
John W. Whitehead is a constitutional attorney. As head of the Rutherford Institute he is actively involved in defending our civil liberties. Being actively involved in legal cases, he experiences first hand the transformation of law from a shield of the American people into a weapon in the hands of the government.
American civil liberty was seriously eroded prior to 9/11 and the rise of the police/warfare state, a story I tell in How America Was Lost. Lawrence Stratton and I documented the loss of law as a shield of the American people in our book, The Tyranny of Good Intentions (2000, 2008). Whitehead in his book, A Government of Wolves (2013) and in his just released Battlefield America (2015) shows how quickly and thoroughly the police state has taken root.
We live in an electronic concentration camp. We are addicted to images on screens that disinform and propagandize us to accept and even welcome the police-state activities that have destroyed our autonomy, privacy, and independence.
I write many columns on this subject. The advantage of a book is that it all comes together under one cover, and that is what Whitehead has done in Battlefield America...
"The outlook for civil liberties grows bleaker by the day, from the government's embrace of indefinite detention for US citizens and armed surveillance drones flying overhead to warrantless surveillance of phone, email and Internet communications, and prosecutions of government whistle-blowers. The homeland is ruled by a police-industrial complex, an extension of the American military empire. Everything that our founding fathers warned against is now the new norm. The government has trained its sights on the American people. We have become the enemy. All the while, the American people remain largely oblivious."
Whitehead gives it to us straight. We are continually abused in the name of protecting us. Ordinary Americans are subject to far worse abuse from government than they ever could be from criminals and terrorists, both of which are bogeymen used to justify the government's terrorism of the citizenry.
Four-year-old children are handcuffed by police. Ninety-five-year old citizens with walkers are body-slammed with their necks broken by police. War veterans without legs and wheelchair-bound are shot and murdered by police. The police always justify their abuse and criminal acts by claiming they felt threatened. What kind of heavily armed police, usually together in gangs, is threatened by a four-year-old, a 95-year-old, a double amputee? The fact that police get away with this brutality shows their total lack of humanity and the total transformation of the purpose of police. Today a paranoid police protect not the public but the police state and themselves from an imaginary threatening public. We pay them to abuse and murder us.
On September 6, 7, and 8, 2014, the Washington Post reported that state and local police had become bandits, as in Mexico, who stop drivers in order to rob them. In "Stop and Seize," the Washington Post reported that "aggressive police take hundreds of millions of dollars from motorists not charged with crimes."
There are now training courses in which police are trained in the art of highway robbery. September 11, 2001, was used to create an industry that trains police in the aggressive techniques of highway interdiction. It is now routine for a traffic stop, whether justified or not, to result in the confiscation of your cash, other possessions, and your car itself. You can be robbed by police on the basis of their assumptions without being ticketed or charged with a crime.
Whitehead reports that in fiscal year 2012 the federal government alone seized $4.2 billion in assets, despite the fact that in 80 percent of the cases no charge was issued.
Did you know that the school-security industry is a $4.9 billion annual business that instills in youth acceptance of tyranny and punishments for infractions that are simply the normal behavior of youth?
Did you know that in 2006 a Halliburton subsidiary, Dick Cheney's firm, was awarded a $385 million federal contract to build concentration camps in the US?
Did you know that Republicans have privatized the prison system and turned it into a $70 billion-per-year industry that demands ever more incarceration of citizens in order to drive profits. Consequently, 2.7 million American children now have at least one parent in prison, often on charges that would not constitute crimes in a civilized country.
US prison labor is now the cheapest form of labor available with prisoners paid between 93 cents and $4.73 per day. Prisoners make office furniture, work in call centers, fabricate body armor, take hotel reservations, work in slaughterhouses, manufacture textiles, shoes, and clothing, process agricultural products like milk and beef, package Starbucks coffee, shrink-wrap software for Microsoft, sew lingerie for Victoria's Secret, produce the military's helmets, shirts, pants, tents, bags, canteens, and a variety of other equipment, make circuit boards for IBM, Texas Instruments, and Dell. They sew McDonald's uniforms, and perform labor services for Boeing, Motorola, Compaq, Revlon, and Kmart.
Even the "mainstream" presstitute media has reported the US military drills in South Florida where military teams working with local police practiced rounding up American citizens for detention. The media has also reported the upcoming military occupations in Texas and Utah. There are protests but not on the level that a people conscious of the threat to their liberty would mount.
It seems clear that these are federal troops practicing control of the population that is being stripped of the constitutional right to hold government accountable. The pointless lockdown of Boston and its suburbs and the gratuitous house-to-house searches, a martial-law exercise clearly prepared prior to the Boston Marathon bombing, used fear created by the bombing, possibly a false-flag operation, to teach the population compliance with, and acceptance of, martial law. The insouciant American population went along with it. If someone points out how they were manipulated, the fools scream "conspiracy theorist!"
(Note: You can view every article as one long page if you sign up as an Advocate Member, or higher).