Scrooge (Peter Moore) and Bob Cratchit (Andy Paterson) det.
(
Image
by
Samuel W. Flint
)
Details
DMCA
Charles Dickens' A Christmas Carol has never gone out of print since it was published in 1843, and quickly became a hallmark of the holiday season.
From Arab Spring to Zuccotti Park, the story has particular relevance in 2011.
Scrooge with The Ghost of Christmas Yet-to-Come (det.)
(
Image
by
Samuel W. Flint
)
Details
DMCA
Dickens' himself experienced both ends of the financial spectrum in his lifetime. His family fell into hard times when he was 12, and he abruptly went from leisurely days of reading and attending a private school, to an experience of cruel child labor that he never forgot, nor seemed to fully recover from. While not a long lasting situation, it inspired his stories for the rest of his life. And later in life when Dickens was a financial success, he generously funded services for the poor.
The wiki notes:
"Inspired by the February 1843 parliamentary report exposing the effects of the Industrial Revolution upon poor children, called Second Report of the Children's Employment Commission , Dickens planned in May 1843 to publish an inexpensive political pamphlet tentatively titled, "An Appeal to the People of England, on behalf of the Poor Man's Child,' but changed his mind, deferring the pamphlet's production until the end of the year."

"In a fund-raising speech on 5 October 1843 " Dickens urged workers and employers to join together to combat ignorance with educational reform. (He) realized in the days following that the most effective way to reach the broadest segment of the population with his social concerns about poverty and injustice was to write a deeply-felt Christmas narrative, rather than polemical pamphlets and essays."
Once inspired, Dickens finished the narrative in 6 weeks. His originally planned political pamphlet -- which likely would have been quickly forgotten -- had evolved into the unforgettable classic, A Christmas Carol.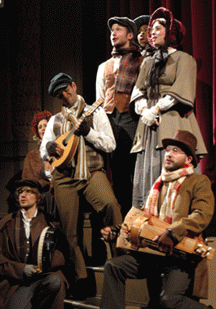 Carolers performed Victorian carols, accompanied by antique instruments.
(
Image
by
Samuel W. Flint
)
Details
DMCA