Articles Listed By Date List By Popularity
Page 1 of 3 First Back Next 2 3 View All
Saturday, March 10, 2018

Campaign Rally in Brooklyn Showcases IDC Resistance New York grassroots progressives are pushing back against the IDC caucus -- which is a group of rogue Democrats who caucus with the Republicans.
Monday, January 15, 2018

Dr. Martin Luther King: Healing Words in Troubled Times Dr. King understood that everything was connected. He was aware of the issue of Environmental Justice before it had a name.
Thursday, December 21, 2017 (3 comments)

"The UnAmerican Struggle" New Documentary Looks at Bigotry in Trumpland Hate has always been part of the American psyche. Trump and his administration have reacted this.

Tuesday, November 21, 2017

"Trumping Democracy" -- New Documentary Traces Trump's Election Win A look at the new documentary by Thomas Huchon about how Trump captured the presidency with digital tools, dark money, and a network of players with common ideological goals.
Wednesday, July 12, 2017

Trump Gets Challenged on Climate Change Censorship Trump and Scott Pruitt are trying to gag EPA workers, telling them not to use phrases like "climate change."
Friday, May 26, 2017 (3 comments)

State Senator Jeff Klein: Hero or Goat? While the rest of the country is dealing with the daily breaking news of "Trumpland," New York State has its own political drama which is picking up steam. It's all about Albany politics, specifically the State Senate. Eight elected Democrats have joined a group called the Independent Democratic Conference (IDC). Under the tutelage of State Senator Jeffrey Klein, they have formed a coalition with Republicans.
Friday, May 19, 2017

Peggy Shepard of WE ACT on Air Pollution, Asthma, and Environmental Justice An interview with Peggy Shepard of WE ACT for Environmental Justice on what the Trump administration means for communities of color.
Thursday, May 18, 2017 (3 comments)

"Climate of Hope" Offers Cities, Businesses and Citizens as Drivers of Climate Action A look at the new book by Michael Bloomberg and Carl Pope stating that cities will be the impetus for environmental action.
Thursday, April 27, 2017

mark! Lopez Fights for East Los Angeles, Wins Goldman Environmental Prize mark! Lopez is a winner of the 2017 Goldman Environmental Award. He was chosen for his on-the-ground work to get justice for his community, poisoned by lead.
Friday, April 21, 2017 (1 comments)

March for Science Scientists and supporters of science will March for Science on April 22, Earth Day. America is lagging behind in graduating science majors and is too far ahead on climate deniers!
Tuesday, April 18, 2017

Abortion: Stories Women Tell A look at abortion in Missouri, from both sides of the issues.
Tuesday, April 18, 2017

Love Thy Nature: From Film to Movement The documentary "Love Thy Nature" has had nearly 300 screenings in theaters, universities, libraries, non-profit venues, and community centers around the world. It's building an educational movement to get people more in touch with nature.
Wednesday, March 22, 2017

Chinese Dissident Wei JingSheng Featured at International Human Rights Art Festival in NYC At The International Human Rights Art Festival in NYC, activist Wei Jingsheng, who spent 18 years in Chinese, spoke about the connection between art and human rights.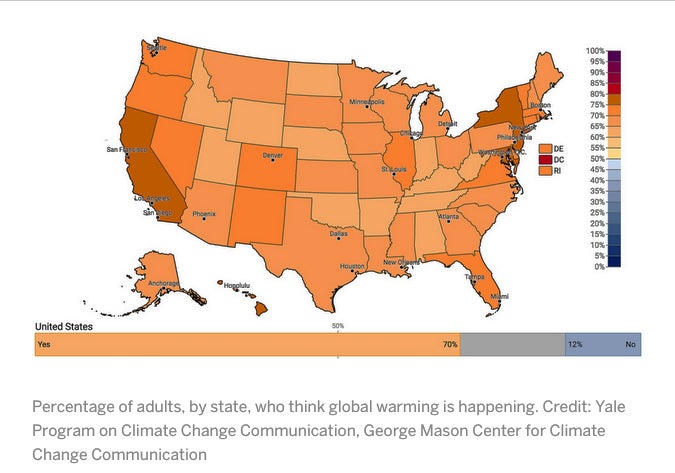 Monday, March 20, 2017

Scott Pruitt's Denial of Climate Change is Out of Touch Currently, 70 percent of Americans believe that global warming is happening. The Yale Program on Climate Change Communication Opinion Map proves it.
Friday, March 17, 2017

Maya Angelou: And Still I Rise A documentary looking at the life and art of Maya Angelou.
Tuesday, March 14, 2017

Koch Bros. "Fueling U.S. Forward" Takes Communities of Color Backwards The Koch Brothers are back with a new scheme. Pitching fossil fuels to minority communities via the slick website Fueling U.S. Forward.
Sunday, March 12, 2017

P.S. Jerusalem: Danae Elon Returns Home A look at the documentary "P.S. Jerusalem" by documentary filmmaker Danae Elon. Her three years in Jerusalem, her childhood home, with her family.

Friday, February 24, 2017

Bill de Blasio Holds Town Hall in Northwest Bronx A Town Hall in the Bronx with Mayor Bill de Blasio.
Friday, January 27, 2017

Trump Puts Big Oil Over the American People Trump is reversing the Obama decisions on the Keystone and Dakota Access Pipelines. There are plenty of conflicts going on. Follow the money.
Thursday, December 29, 2016 (2 comments)

Rep. Bettyann Sheats, Military Mom: Fighting Toxic Chemicals and Climate Change Rep. Bettyann Sheats from Maine shows how getting involved in hyperlocal issues can make a difference.
Monday, December 26, 2016 (1 comments)

Moving Forward with Grassroots Activism A look at how grassroots activism can make a difference during the Trump era.
Friday, December 23, 2016

We Need the Environmental Protection Agency Now More Than Ever The reasons why we need the EPA and Scott Pruitt should not be confirmed as the EPA administrator.
Tuesday, December 6, 2016 (1 comments)

"After Fire" -- The Challenges Facing Women Veterans After Fire takes an on-the-ground look at how three female veterans are struggling to cope and move forward in the aftermath of their service.
Tuesday, November 1, 2016

Women Fight for Climate Justice Around the World Women uniting across the globe for climate justice.
Wednesday, October 26, 2016 (2 comments)

Election 2016 Endgame: Vote! Election 2016 is of utmost importance to the environment. Your vote is essential!
Sunday, August 14, 2016 (3 comments)

Unmarried Women Have the Power to Decide the 2016 Election 2012 exit polls confirmed that women were 53 percent of all voters. Now unmarried women voters are poised to influence the election.

Sunday, August 7, 2016

Is Your State Attorney General Undermining America's Clean Power Plan? Individual Attorneys General have been the recipients of a combined $2.8 million. There is an evident link between their actions and campaign donations from fossil fuel entities.
Saturday, August 6, 2016

Mike Pence: No Friend to Women (And Lots of Others Folks!) Mike Pence has been a disaster for women, The LGBTQ community, immigrants, Planned Parenthood, and a host of others!

Friday, August 5, 2016

Khizr Khan: America's 2016 Will Kane Why has Republican leadership refused to call out Trump for the demagogue that he is?
Wednesday, July 27, 2016 (4 comments)

Hillary Clinton and The F-Word The relationship between Hillary Clinton, feminism, and the women's vote.
Wednesday, July 27, 2016 (3 comments)

Climate Change and the Media The media is not doing a great job on covering the issue of climate change. Media Matters for America recently released a report with the stats.
Sunday, July 10, 2016

Beat the Pollution with the Plume Air App The Plume Air App helps you track air pollution on a hyperlocal level. The brainchild of Romain Lacombe, Open Data is of key concern to him.
Wednesday, June 29, 2016

"Time To Choose" A review of the new documentary "Time To Choose" which presents our options to prevent total climate change by getting off of fossil fuels.
Monday, June 13, 2016

Divest to Invest: The New Global Movement The new movement toward divesting from fossil fuels, from the Rockefeller Brothers Fund to ordinary people.
Sunday, June 12, 2016 (2 comments)

NARAL Pro-Choice Leadership Plays the Gender Card NARAL leaders Ilyse Hogue talks about the 2016 election, abortion, and the Gender Card.
Saturday, June 11, 2016 (8 comments)

The Grand Canyon Meets the Koch Brothers How the Koch Brothers have expanded their influence to the Grand Canyon, in an effort to promote uranium mining.
Tuesday, May 31, 2016 (2 comments)

Love Thy Nature: Rethinking Our Connections In documentary "Love Thy Nature,"director Sylvie Rokab shows why we need to reconnect to and work with nature.
Monday, May 30, 2016

Filmmaker Gayle Kirschenbaum: Reconciling with Mother Filmmaker Gayle Kirschenbaum examines her difficult relationship with her mother, and finds healing and forgiveness.
Sunday, May 29, 2016 (2 comments)

Sexual Assault On Campus: "We Believe You" A look at the epidemic of rape on campus, and the two women who started a movement to change the system.
Wednesday, May 11, 2016 (1 comments)

Destiny Watford: Goldman Prize Winner from Baltimore Goldman Prize winner Destiny Watford shows that change can be made from the ground up.
Saturday, May 7, 2016

Equal Means Equal: Why the ERA Must Be Passed A look at why the Equal Rights Amendment must be passed. It is an important legal tool. The rights women have gained over the past few decades have been through laws and legislation, which can easily be overturned.
Monday, April 18, 2016

A Talk with Tom Steyer about "Spotlight California" An interview with Tom Steyer of NextGenClimate about the importance of environmental justice and the 2016 vote.
Monday, April 4, 2016 (4 comments)

Kate Nace Day: Human Trafficking Activist Under our national law, anyone beneath the age of 18 who is sold for sex is a trafficking victim. Consent is irrelevant. But in many states, prostituted children are still arrested and treated as criminals.
Monday, March 28, 2016 (2 comments)

Toxic Air in Oregon Attributed to Stained Glass Industry Donald Trump and other Republicans want to get rid of the EPA. See what happened in Oregon.
Sunday, March 27, 2016

Interview with Jennifer Pozner: Media Critic, Author, Anti-Racist Feminist An interview with media activist Jennifer Pozner.
Tuesday, March 22, 2016 (2 comments)

Rep. Barbara Lee Leads on Environmental Justice Rep. Barbara Lee has been a leader on Environmental Justice issues.
Friday, February 26, 2016

Marce Gutierrez-Graudiņš: Bringing Latinos to the Environmental Table An interview with Marce Gutierrez-Graudiņš about Latino Perspectives on the Environment.
Sunday, February 7, 2016 (1 comments)

Love Her, Love Her Not: The Hillary Paradox An anthology edited by Joanne Bamberger looks at different women's thoughts on Hillary Clinton.
Thursday, February 4, 2016

Texas Vs. Women's Reproductive Rights The Supreme Court has been asked to review a June 2015 ruling by the United States Court of Appeals for the Fifth Circuit, which upheld a law that would bolt the doors to 3/4 of the abortion clinics in Texas. This would leave the state's women, in an area of 268,820 square miles, without ready access to abortion that was "safe and legal."
Sunday, November 29, 2015

"Keep It in the Ground" Keeps Up the Pressure Stats from the last ten years show that almost 25 percent of American emissions have resulted from the fossil fuels that were burned as a result of federal leases. That number translates to a contribution of 4 percent of global emissions.
Monday, November 9, 2015

The Myanmar Election and the Myitsone Dam 2015 Goldman Prize winner, Myint Zaw's efforts recount a simple tale of a fight for environmental justice against exploitation, with the goal of protecting a national treasure -- the Irrawaddy River.
Monday, October 5, 2015

"I'm Living in a Sacrifice Zone" -- Women Speak Out for Climate Justice On the ground coverage of the WECAN event,"Women Speak: Climate Justice on the Road to Paris and Beyond."
Sunday, September 6, 2015 (1 comments)

New Environmental Justice Tool from the EPA A look at the new EPA tool that will help grass roots activists change the face of Environmental Justice.
Sunday, August 23, 2015

Emily May Gives a Hollaback! Against Street Harassment Emily May is leading Hollaback! to fight against street harassment around the world.

Wednesday, August 19, 2015

Martin O'Malley: Where Is He on the Environment? A look at Democratic Presidential candidate Martin O'Malley and his environmental record.
Saturday, July 25, 2015

Campus SaVE Act Responds to College Campus Sexual Violence What the Campus SaVE Act Will Do for Students this fall on college campuses.
Tuesday, July 14, 2015 (1 comments)

Interview with Jill Stein -- Green Party Candidate for President An interview with the Green Party candidate for President, Dr. Jill Stein.

Thursday, June 11, 2015

American Petroleum Institute Ads Target Smog Rules Big Oil is running an ad campaign to try and convince Americans they don't need regulations against smog.
Saturday, May 30, 2015 (1 comments)

"Frida Kahlo: Art, Garden, Life" A look at the new exhibit at the New York Botanical Garden, "Frida Kahlo: Art, Garden, Life"
Friday, May 8, 2015

Ellen Weider: Drypoints in a Digital Age A look at how printmaker Ellen Weider uses the process of drypoint.