Articles Listed By Date List By Popularity

Saturday, November 26, 2011 (1 comments)

Dec. 10, 2011: From Occupy Together to a Worldwide March of Billions We need to switch our focus from an occupation of the unworkable to a worldwide march of humanity. In ever respect, humanity is on the move. We are the 99%. We are worldwide. We are billions.

Thursday, September 29, 2011

I May Not Have a Job, But I Have an Occupation A dark cabal has occupied our world and tried to reduce the population to slaves. But the tables now are turned. It's our turn to take back that world and occupy it together, in peace, freedom, and harmony. I may not have a job, but i have an occupation.

Friday, September 16, 2011

On the Tenth Anniversary of 9/11, It's Time to Vindicate the American Muslim Community The American Muslim Community had nothing to do with the black events of Sept. 11, 2001. Even a superficial examination of the events of that day demonstrates that. Sooner or later, we'll have to exonerate them.

Sunday, August 28, 2011 (2 comments)

Revenge of the "Inferior Races": Standing Race Theory on Its Head Such popular protests as the Arab Spring and the Mediterranean March on Brussels are standing old theories of racial supremacy on their head. I'm glad to see those theories go.

Friday, August 12, 2011

If This is Your Job, Watch Out! The conditions that created the fertile ground for the current British riots will persist through good times and bad. They're not cyclical; they're structural. If we continue following the path we're on of eliminating work, we'll create a gulf between the employed and the technologically displaced that will lead to a permanent, growing, and impoverished underclass and the collapse of the social contract.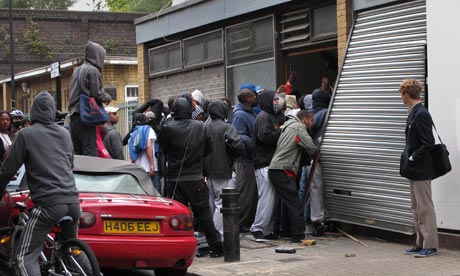 Wednesday, August 10, 2011 (1 comments)

The Summer of Their Discontent Our societies in the West have become more inequitable every year. Anyone who could be exploited, demoted, downgraded, paid less, or deprived of benefits has been. Anyone who can't find work finds the social-safety net that once existed almost shredded and non-existent now. And we sit here wondering why the youth of London are burning down buildings and looting shops.

Saturday, April 16, 2011 (1 comments)

What in the World is Going On? We are headed towards a planetary shift on or before Dec. 21, 2012. There is no cause for concern. Rather there is cause for jubilation as a new "Golden Age" approaches.
Monday, April 4, 2011

Fukushima Hotspots in the Libyan Desert NATO troops are causing a humanitarian disaster by using depleted-uranium weapons to take out Mouammar Gaddafi's tanks. The effects of DU weapons will be felt for generations.

Wednesday, March 30, 2011

Unwelcome: The Muslims Next Door Muslims did not cause 9/11. The same people who caused 9/11 saw to it that Muslims were scapegoated for it. Some day we will have to apologize to Muslims for blaming them and to Iraq and Afghanistan for all the people we killed on false grounds.

Tuesday, March 29, 2011 (1 comments)

The Declaration of Human Freedom No government can or should survive that derives its existence from the enforced submission of its people or that denies its people their basic rights and freedoms.

Thursday, February 24, 2011 (1 comments)

World Freedom Day is Sunday, March 6, 2011 World Freedom Day is Sunday, March 6, 2011. On that day, I invite everyone on Earth to express in their way that the world will be free.

Wednesday, February 23, 2011 (3 comments)

You Can Count on the Elite to Seal Its Own Fate Elites are dumb, foolish, stupid. Muammar Ghaddafi is no exception. And neither is the American elite.

Sunday, February 20, 2011 (1 comments)

We Must Close Down the National-Security State The national-security state is the main budget drain and source of insecurity in the world. We need fewer guns and more butter. We must close down the national-security state immediately.

Friday, February 4, 2011

I Declare the People's Global Revolution I declare the People's Global Revolution, the inherent freedom of every man, woman, and child on Earth, the right of every soul alive to abundance, medical care, sustenance, in a transformed world.

Wednesday, February 2, 2011 (1 comments)

Let My People Go! Watching the Birth of Unitive Consciousness in Tahrir Square The people of Egypt have said to Pharoah Mubarak, "Let my people go." Must we watch the birth of unitive consciousness in Egypt completely separate from it?
Saturday, September 11, 2010 (2 comments)

This 9/11, It's Time to Apologize to Muslims Muslims were not responsible for 9/11. The real culprits remain free and blamed Muslims as their cover story. It is time to stand up against the Islamophobia created by 9/11 and apologize to Muslims for wrongful accusations.
Sunday, September 5, 2010 (2 comments)

Hawaii, on Depleted Uranium, Do Not Be Fooled The Army has said that levels of depleted uranium in its Pohakuloa Training Area, where DU weapons have been fired, is safe. Don't be fooled. No amount of DU contamination is safe.
Saturday, July 31, 2010 (1 comments)

I Declare Peace. The Day of Goliath is Over I refuse to remain asleep any longer. As a sovereign citizen of Planet Earth, I declare peace. The day of Goliath is over.

Thursday, July 22, 2010

"Top Secret America" Top Disappointment The Washington Post's "Top Secret America" report is a top disappointment. The Post knows so little that's top secret that their claim is saddening. The most cursory glance at the alternative press reveals more.
Friday, July 16, 2010

"Ground Zero Mosque" and 9/11 The proposal to build a mosque at Ground Zero has become another occasion on which to renew the myth that Muslims were responsible for the events of 9/11. To Muslims of America, I apologize for this false accusation.
Saturday, July 10, 2010 (1 comments)

What Went Wrong? We went from a world made safe again for democracy after World War II to a world where a spreading stain of black symbolizes how bad we let things get. What went wrong?
Thursday, July 1, 2010

Dead Man Twitching The cabal are the only ones who won't admit that they're a paper tiger today. Let's give them a good shove and push them off the scene.
Wednesday, June 16, 2010 (3 comments)

Help Wanted: Only the Honest Need Apply The Gulf of Mexico oil spill is a metaphor for our time. Where is an honest person to be found? Now that we have killed the canary in the mineshaft, we are suffocating from the toxic fumes.
Tuesday, June 15, 2010 (16 comments)

Tom Bearden: Free Energy Frees Us From Our Dependence on Oil Tom Bearden proves that we do not need oil. We already have the capability of producing free-energy devices that would relieve us of pollution, wastefulness, and want by harnessing the infinite energy of the vacuum.

Tuesday, June 1, 2010 (3 comments)

The Galactic Factor: We Do Not Need Oil The covert state has tried to keep hidden from our view the galactic factor - the presence of extraterrestrials around our planet, here to help us with the planetary transformation expected in 2012. When we consider the subject, we see that we don't need oil. The galactics have the answer to most of the dilemmas facing us today. Free-energy devices are the answer to oil.

Wednesday, November 4, 2009 (1 comments)

The Black Hats Must Go The New World Order must go. Its crimes are known. It mission is known. The whole gang must pack their bags and leave.

Sunday, June 28, 2009 (1 comments)

To the People of Iran: Yes, We Can! To the people of Iran, yes, we can refuse to serve dictatorship.

Monday, February 23, 2009 (1 comments)

The 2012 Scenario Because two events are happening simultaneously, it is difficult to see that we are headed for the best of times.

Thursday, February 12, 2009 (3 comments)

We Must Have Accountability Now The old order is falling, as it should. But a new order is arising that ends our time of troubles.

Saturday, November 29, 2008

Creating a Working America, an America That Works Creating a working America means letting the corrupt economic structure to utterly fall and building an economy and a government from the ground up that function in totally different ways. Here are six principles upon which it may be based. Let it function as if everyone matters. Such an approach would make a working America and an America that works.

Saturday, November 8, 2008

We Miss the Point: The Next Step is OURS It isn't the time to wonder what Barack Obama will do next. It is the time to decide what WE will do next.

Saturday, November 1, 2008 (7 comments)

The Internet Revolution: We the People Say "No!" We the people are standing up and saying "NO!" to the deep state, the real terrorists who presently control the Earth. We will not allow you to torture, enslave and murder us. Your day is over.

Tuesday, October 28, 2008 (3 comments)

What War on Terror? The "war on terror" was envisioned as long ago as 1977 to keep the coffers of U.S. weapons makers full and ensure "full spectrum dominance." Whenever we hear a terror alert, chances are that we are being manipulated.

Wednesday, October 22, 2008 (3 comments)

Canada: From 9/11 Horror to Hemispheric Military Co-operation The war on terror is bogus. The hemispheric military agreements based on it are also bogus. But Canada could lose its sovereignty over them.

Monday, October 20, 2008 (14 comments)

A Canadian Responds to the NAU Americans must face the fact that Canadians know the immoral, unethical, and criminal behaviour of your government. I assert that, as friendly as Canadians are to the average, peace-loving American, the vast majority of Canadians do not, under any circumstances, want to be part of the United States of America.

Saturday, October 18, 2008 (17 comments)

I Accuse It is time to end the reign of a global elite intent on depopulating the globe and enslaving the survivors.

Friday, October 17, 2008 (3 comments)

To Muslims of America, I Apologize (Reissue) Muslims of America have been falsely blamed for the events of 9/11 and it is times to set the record straight and apologize.

Wednesday, October 10, 2007 (6 comments)

What's Worrying Portland? Will the military drills scheduled for mid-October in Portland provide a pretext for more suppression of civil liberties and a war with Iran?

Sunday, September 23, 2007 (1 comments)

One Step Farther Back from a DU War? Have the Chinese developed the tools to hijack American aircraft? They appear to have hijacked one carrying the Vice President and another carrying nuclear missiles.

Wednesday, September 19, 2007 (8 comments)

To Muslims of America, I Apologize Muslims in America have been falsely blamed for 9/11. It is time to set the record straight and not to accept this explanation in the event of a much-rumoured second 9/11.

Friday, September 14, 2007 (4 comments)

Chronology of a Second 9/11 The article provides a chronology of recent events that suggest that the Bush administration is planning a second 9/11, war with Iran, and the ending of democratic government in America.

Thursday, September 13, 2007 (4 comments)

DU Wasteland: Signs of Truth? Can we afford to gamble that we are wrong about the radioactivity and danger presented by depleted uranium? We are only gambling on the continued habitability of the planet.

Saturday, September 8, 2007 (1 comments)

Is President Bush Now DU-Contaminated? President Bush's visit to Iran exposes him to depleted uranium, even the smallest dose of which can have profound health impacts. Is President Bush DU-poisoned?

Friday, September 7, 2007 (2 comments)

Our Declaration of Independence On 9/11, Mr. President, we declare our independence from you. We withdraw our consent to be governed by you. We demand that you and your cabinet resign immediately.

Thursday, September 6, 2007 (5 comments)

This 9/11, Mr. Bush, Resign! We the People will not take another step to further plans of this murderous and tyrranical regime. We ask the military not to make war on Iran but to return to the United States and assist the people to overturn this oppressive regime.

Tuesday, September 4, 2007 (4 comments)

In the Name of All who Died on 9/11, We Must Act Now 9/11 has been fraudulently used to justify four catastrophic wars. We must not let it be allowed to justify a fifth.

Tuesday, September 4, 2007

Throw Mama from the Train a Kiss, a Kiss If a war with Iran happens after Labour Day, you may kiss the person next to you goodbye.

Monday, September 3, 2007 (7 comments)

Why We Must Not Go to War with Iran The amount of depleted uranium in the atmosphere today is already enough to render certain regions uninhabitable. One more DU war could kill us.