Articles Listed By Date List By Popularity
Page 1 of 2 First Back Next 2 View All
Sunday, April 9, 2017 (7 comments)

The Syria Conspiracy: Now Here's One I can Believe: Trump, Putin and Assad set the whole thing up. The chemical attack, the missile attack, the denials, the warnings from Trump, the threats from Putin. All according to script. Yes, it's a morbidly depressing theory and so, in some respects, I hope I'm wrong. But I wouldn't be surprised if I'm right.
Monday, April 3, 2017 (2 comments)

Pick a book, any book; now be it I feel a sense of frustration and fatigue on Facebook, which has become highly politically charged. And so, I'm writing about books. Pay attention. I want to know what you're reading. Also, if you could be a book, what book would it be? C'mon, folks, interface. Remember social media?
Tuesday, March 28, 2017 (1 comments)

GOP: A party without a head or a heart Today's Republican Party is a gaggle of angry constituencies -- a party of convenience for various factions who know nothing about governing.
Friday, March 24, 2017

Breslin and Berry, two originals: RIP Jimmy Breslin could write like hell. Chuck Berry could play the hell out of the guitar. A president straight out of hell. And Shaq thinks the Earth is flat. Oh well.
Monday, March 20, 2017

The dumb, venal, rotten GOP game plan(s) Since all three GOP game plans are working together for separate goals, they share a mutual interest in fomenting chaos. The media have to decide daily what to focus on: The Russians? The wiretaps? The Wall? The travel ban? The budget? The conflicts of interest? The Trump/Ryan health care plan?
Friday, March 17, 2017 (1 comments)

Trump couldn't lose for winning Less than two months since his inauguration, it's obvious: Donald Trump likes being president, but he is less than fond of doing president. The title is great. But the work? Who knew? He never wanted the job.
Friday, March 10, 2017 (5 comments)

A game of Solitaire in the White House The NIC was wandering around the White House in his bathrobe when the phone range. A voice on the other end suggested that to occupy his time he should play his favorite game -- Solitaire. "Yes, mother," the NIC obeyed and hung up. Having stacked the deck with just red queens, the trigger card, the voice called back a minute later and said, "Blame Obama."
Thursday, March 2, 2017

If the Grandy Man Shirt Fits, Wear It I say, in my ever-more-persistent effort to be aware of synchronicity in my life, that I was given my Curtis Granderson shirt to wear today because it would inevitably lead me to a place of positive thoughts, a place of hope and a bit of serenity. That's what.
Monday, February 27, 2017

Press gets chance to redeem itself on Trump In a strange way, Trump has pulled the reverse on the old he giveth with one hand and taketh away with the other. During the campaign he made a mockery of the press. In office he has continued to insult and assault the media because they are finally recognizing him for what he is. Much of the mainstream media has started doing its job again--Reporting the truth.

Friday, February 24, 2017

Behind his bluster, GOP pillages America If you watch the movie, ''You've Been Trumped,'' you'll realize this is all just the same plot over and over again. In place of the Scottish government that rolled over to the narcissist and let him build an ostentatious golf course, we have congressional Republicans, smiling and nodding and saying in private to other nations, ''Don't pay attention to what he says.''

Saturday, February 18, 2017 (1 comments)

Why won't McCain take on Trump? By not challenging Trump with actions as well as words, McCain leaves himself open to criticism that, while he may be prone to occasional flashes of anger, he's not willing to risk losing whatever standing, power, and influence he may have within his party by engaging in an all-out fight with the president based on principle.

Tuesday, January 31, 2017

Going ape in the Oval Office I apologize to chimps for even considering any comparison to the current resident of the White House. Sorry.
Series: 2016 election (22 Articles, 23078 views)
Friday, January 27, 2017 (1 comments)

Sorry, Caroline, you're no JFK Kennedy doesn't really offer much as a candidate. Being diplomatic with the friendly Japanese for three years is hardly preparation for the rigors of a presidential campaign. Besides, Democrats don't need another Hillary Clinton, baggage or not.
Wednesday, January 25, 2017 (6 comments)

Tom Wolfe, LSD, Orange Hair and Me What do great shooters do when they are in a shooting funk, when everything seems to clang off the back rim? They keep shooting. They don't pass the ball to someone else. They shoot themselves out of the funk. Also, I think Putin is playing his puppet for the fool he knows him to be.
Series: 2016 election (22 Articles, 23078 views)

Friday, November 11, 2016

Some thoughts on an election Remember when all those people thought it would be funny to vote for Sanjaya on "American Idol"? He couldn't sing worth a lick, but he made it to the finals.
Series: 2016 election (22 Articles, 23078 views)

Sunday, November 6, 2016 (2 comments)

Who stands with Standing Rock? In one day, a million Americans stood in virtual solidarity with the Sioux. Is it too much to ask their president and would-be presidents to demonstrate the real thing?
Series: 2016 election (22 Articles, 23078 views)

Saturday, October 29, 2016 (6 comments)

GOP has a day of reckoning coming I'm thinking that a lot of people -- a lot of white, Republican people -- have a date with a mirror. It's far too late to undo the damage Trump has done or to deny any part in it, but it's not too late to admit the mistake of supporting him in spite of all the hateful, false things he said.
Series: 2016 election (22 Articles, 23078 views)

Saturday, October 22, 2016 (1 comments)

The Kremlin and the death of the GOP I do not blame Trump for being who he is. I simply detest him. I do, however, blame the Republican Party for infecting American society with this utterly degrading election campaign. I mean every elected Republican official who has stood silently by and let Trump make a mockery of our democratic system and lay waste to any sense of decency or decorum in selection of the most powerful political leader on the planet.
Series: 2016 election (22 Articles, 23078 views)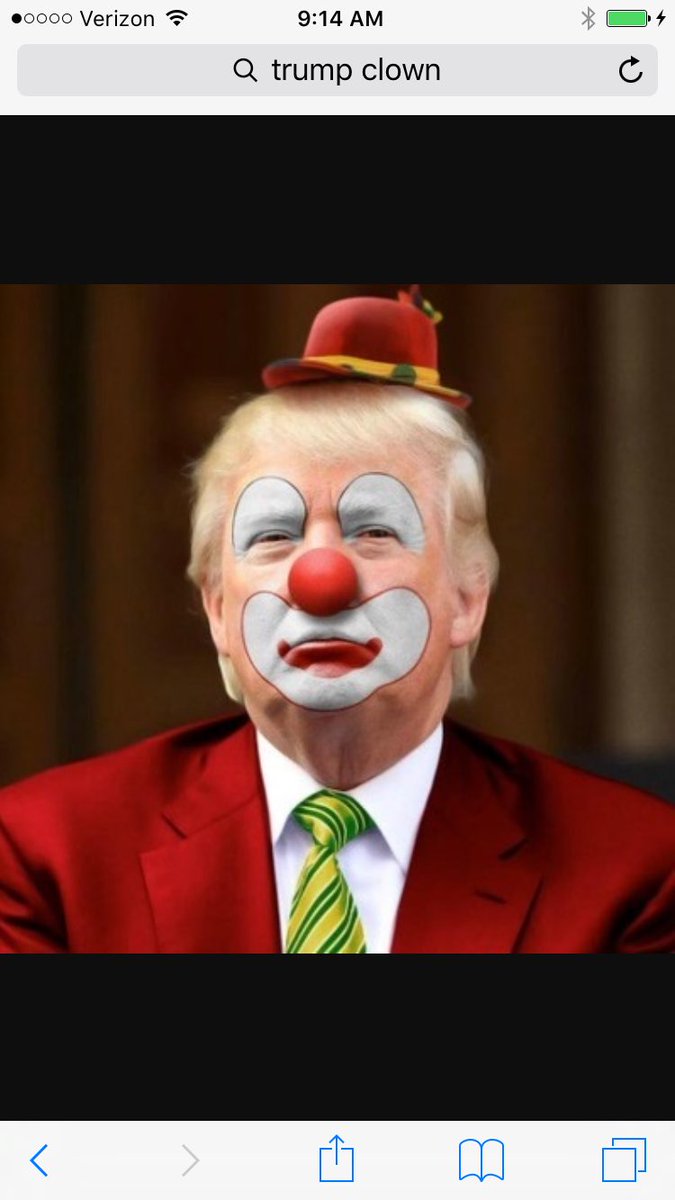 Monday, October 10, 2016 (9 comments)

This clown is armed and dangerous The eruption of scary clowns across America this fall is the inevitable culmination of a horrifying presidential campaign that began with the Republican Party's infamous clown car of candidates and has devolved into a daily episode of a self-aggrandizing TV showman with bright, orange hair saying scary stuff about what he will do if he is elected president of the United States.
Series: 2016 election (22 Articles, 23078 views)
Monday, October 3, 2016

Donald and the boys plot to beat Hillary A bunch of the "boys" were sitting around the GOP clubhouse having a few drinks the other day. It was too rainy to play golf and they were way too out of shape to care anyway. The talk inevitably came around to women. Women they had known. Women they could have known. Women they should have known. Women they wished they had known. Women they still wished they could know. If you know what I mean.
Series: 2016 election (22 Articles, 23078 views)

Thursday, September 29, 2016

In America, the rich are never wrong Bankers don't go to jail in this country. Drug company executives don't go to jail in this country. Insurance executives don't go to jail in this country. Wall Street brokers don't go to jail in this country. In this country, a billionaire who doesn't pay his employees, stiffs his creditors, brags about not paying taxes gets to run for president. The rich are never wrong.
Series: 2016 election (22 Articles, 23078 views)

Sunday, September 18, 2016

A false argument about 'false balance' In the opinion of The New York Times' public editor, Times reporters must resist the arguments about false balance -- giving political candidates' statements, opinions and actions equal treatment even though the truth argues otherwise -- because, in their distaste for Trump the reporters might be tempted to go easy on Clinton. Go ahead, finish laughing.
Series: 2016 election (22 Articles, 23078 views)
Monday, September 12, 2016 (4 comments)

It's only fair to say: It has to be Hillary We need to focus on the issue at hand: Donald Trump is the most dangerously ill-prepared candidate to ever run for president representing a major party. Hillary Clinton is one of the most-qualified persons to ever run for president and she is a woman. I submit those as pertinent facts.
Series: 2016 election (22 Articles, 23078 views)

Monday, September 5, 2016 (2 comments)

The truth shall make us free ... and angry One of the most disappointing aspects of this presidential campaign is that not nearly enough people are angry and downright embarrassed that one of our two major political parties has handed its presidential nomination to a congenital liar. A bigot. A misogynist. A narcissist. ... There I go again.
Series: 2016 election (22 Articles, 23078 views)

Monday, August 29, 2016 (29 comments)

Alt-Right: A trumped-up label for bigots Alt-Right is not a political philosophy. Rather, it is a fear-based agenda of white supremacy that is being spread via social media. It does not deserve any special, pseudo-sounding, political movement name so that reporters, editors and columnists can have a shorthand way of saying bigots.
Series: 2016 election (22 Articles, 23078 views)
Monday, August 22, 2016 (5 comments)

A sports fan desperately in need of a back page While I still turn to the sports page to start my day today, it's not nearly the same. First of all, on the Internet there is no back page. More to the point, the sports pages are no longer a sanctuary from the social problems of the day.

Monday, August 15, 2016 (2 comments)

And So it Went: A week of do-overs for Donald Donald Trump is a threat, an insult, a slur, a lie, a boast, an absurdity waiting to happen anytime he speaks. Life to him is one, big do-over. Any Republican with a shred of decency and self-respect, not to mention common sense, should have abandoned him months ago.
Series: 2016 election (22 Articles, 23078 views)
Monday, August 8, 2016 (1 comments)

And So it Went: Two dysfunctional political families trying to survive Three months away from having to choose between two of the most disliked candidates in our nation's history to be the most powerful person on the planet, we have become, in 12-step language, powerless over our political process and our lives are becoming increasingly unmanageable.
Series: 2016 election (22 Articles, 23078 views)
Monday, August 1, 2016 (3 comments)

Hillary takes Philly, the sweet smell of death, and so it went Hillary conquers Philly. Debbie does e-mails. Bernie cries. Donald pats his daughter's rump. An art gallery closes in Pine Bush. A flower stunk up The Bronx. The week that was.
Series: 2016 election (22 Articles, 23078 views)

Monday, July 25, 2016

And so it went, from Trump to Ailes. Trump, Ailes, Murdoch, Russian dopers and Pokemon. What a week!
Wednesday, June 29, 2016 (1 comments)

Dealing with the stigma of alcoholism C.C. Sabathia is the 'feel good" story for the New York Yankees this year, but no one will say why that is. The stigma attached to alcoholism is strong even in recovery.

Monday, June 6, 2016 (1 comments)

Ali, me and two guys named Frank Whatever you do, whatever you may have accomplished, for as long you can, you keep showing up for life. You lace up your running shoes and stay true to your principles. And don't forget to acknowledge people who do special things. It never hurts to hear a little "wow" once in a while.
Tuesday, April 19, 2016 (1 comments)

16 years ... still waiting for Hillary Hillary Clinton came to New York on her road to running for the White House 16 years ago. She didn't like answering questions from the press then, either.
Series: 2016 election (22 Articles, 23078 views)
Friday, March 18, 2016 (6 comments)

In a fog of fiction, Sanders offers truth Bernie Sanders is the only candidate in either party who is genuine. When he speaks, I believe him. Millions believe him, because he has no hidden agenda; he is beholden to no one.
Series: 2016 election (22 Articles, 23078 views)
Saturday, February 6, 2016 (6 comments)

Iowa caucus eccentricities: Heads I win, Bernie, tails you lose The "virtual tie" was a statement for Bernie Sanders against the establishment -- Democratic Party and major media.
Series: 2016 election (22 Articles, 23078 views)
Tuesday, February 2, 2016 (4 comments)

Falling in love with squats, sort of If you can only do one exercise, I'm told, squats are the one to do because they work so many different muscles. The added muscle strength helps protect against injury from falls. Squats also improve balance, which decreases the likelihood of falls. For the record, one-third of those over the age of 65 falls each year and falls are the leading cause of death due to injury among seniors.
Series: My Renovation (7 Articles, 17160 views)
Friday, December 11, 2015 (1 comments)

Nothing grand about this old party today I don't understand how longtime Republicans have let a super-conservative, ultra-religious, anti-science, anti-education, anti-government, anti-fact fringe element take control of their party without managing so much as a murmur of disagreement.
Series: 2016 election (22 Articles, 23078 views)
Wednesday, October 14, 2015 (1 comments)

Rehab or the playoffs? CC made the right choice Couldn't he wait a little longer and go to rehab when the Yankees weren't playing baseball any more? No, CC Sabathia couldn't wait and the Yankees knew it. With addiction, there is no "if." There is only "now."

Thursday, October 1, 2015 (1 comments)

A $15/hr living wage, not a minimum wage If $15 an hour is the minimum that fast-food workers need to live in New York without depending on other assistance, it certainly is a fair minimum wage for all workers in the state. Governor Cuomo is right.

Friday, September 4, 2015 (2 comments)

E-cigs: A way to quit smoking or new way to get hooked? E-cigarettes are being marketed as a way to reduce the harm to longtime smokers. That may be true. But why also market an addictive product -- nicotine -- to those who have never smoked, who have suffered no harm?
Tuesday, August 11, 2015 (13 comments)

The GOP turns back the clock on women What was billed as a presidential debate last week turned out to be an all-out misogynistic effort to cast women as second-class citizens, or less.
Saturday, June 13, 2015 (7 comments)

Hillary, beware the cloak of inevitability One of the knocks on Clinton has always been that she seems to feel entitled, that she should get people's votes just because she is Hillary. That she should be New York's senator just because. That she should be the first woman president of the United States just because. Why does she want to be president?
Series: 2016 election (22 Articles, 23078 views)

Tuesday, June 2, 2015 (4 comments)

George says he wants to do it ...as a Republican George Pataki is running for president as a Republican, but not any kind of Republican we've seen in the 21st century. For one thing, he thinks global warming is real. The GOP is old, but hardly grand. It's lost its mind and sold its soul. The onetime Party of Lincoln is not even the Party of Ford.
Series: 2016 election (22 Articles, 23078 views)
Wednesday, April 1, 2015 (1 comments)

Women's Obstacles to Sobriety As difficult as it is for anyone to recover from addiction, women face some challenges that men don't.
Thursday, February 12, 2015

Surviving February with warm sports memories Football is over and baseball has yet to begin. Hockey and basketball don't get serious until June. Why not Join me in another favorite sporting pastime -- reminiscing about some special moments in sports. C'mon, it's February.

Wednesday, February 4, 2015

How to avoid winning a Super Bowl When the game's on the line in the schoolyard, the best player on the team always got the ball. Didn't happen in the Super Bowl.

Sunday, January 25, 2015 (16 comments)

UFO's and global warming -- it's science,folks Is there life elsewhere in the universe? Undoubtedly. Is it more intelligent than us? I sure as hell hope so.

Sunday, January 18, 2015 (8 comments)

On acting my age, whatever that means It's my observation that a lot of people of a certain age are not thrilled with trying something new. It's as if they feel they have lived long enough and done enough. No need to learn anything else. So, they have flip phones. They don't text or Google. They barely e-mail. Kindle, schmindle; give 'em a real book. And not a Facebook. That's just too confusing. Change is for the young. I don't get it.
Series: My Renovation (7 Articles, 17160 views)
Saturday, January 3, 2015 (21 comments)

Francis: The pope of hope Pope Francis, the people's pope, has been a revelation and a one-man revolution within an organization that has been entrenched in dogma and shielded by ceremony for centuries.
Friday, December 12, 2014 (1 comments)

Two choke hold deaths, decades apart Two black men, two deaths by choke hold at the hands of white policemen, 27 years apart. Have we learned nothing?

Friday, September 26, 2014 (2 comments)

For Little Leaguers, No.2 was No. 1 Mostly, when I look at Derek Jeter's career, I'm impressed with how quietly he went about his job, how almost routine he made the anything-but-routine appear.
Thursday, September 25, 2014 (2 comments)

When police act like an occupying army Where have you been America? The militarization of police forces has been going on for years.
Sunday, June 15, 2014 (5 comments)

Give me a 'D' for "dumb,'' Pat When did dumb become fashionable in America? This country is suffering from Sajak Syndrome, a combination of willful ignorance and abject laziness.

Friday, May 9, 2014 (2 comments)

The kidnappings the world ignored It took a major social-media campaign for the major media and other nations to respond to the kidnapping of 300 teenaged girls in Nigeria. A sorry commentary on the world in which we live.
Friday, May 2, 2014 (1 comments)

Meet Donald Sterling, NBA plantation owner The NBA knew about Donald Sterling for years, but his racist, misogynistic behavior became unacceptable only when the rest of the world found out.
Friday, April 11, 2014 (1 comments)

A husband/father/ballplayer gets it The Mets' Daniel Murphy was criticized by New York radio sports commentators for taking three days paternity leave for the birth of his first child. This is stupid personified.
Sunday, March 30, 2014 (4 comments)

The pride of Copenhagen -- not its zoo The Copenhagen Zoo followed up its execution of a young, healthy giraffe by killing a family of lions -- father, mother and two young cubs. This is not euthanasia; this is human arrogance.
Tuesday, March 25, 2014 (2 comments)

The cost of not eating healthy The misconception is that it's too expensive to eat healthy. But tweaking unhealthy diets is not enough.
Series: My Renovation (7 Articles, 17160 views), The food we eat, or don't (8 Articles, 12834 views)
Friday, March 7, 2014 (1 comments)

Society is still out of touch with the reality of addiction The death of Philip Seymour Hoffman due to a heroin overdose produced the same statements of disbelief and confusion that followed similar drug-related deaths of celebrities. It's called addiction, people, and it's a democratic disease, affecting anyone..
Saturday, March 1, 2014 (3 comments)

The new 'breakfast of champions' Forget Wheaties, this breakfast of Greek yogurt, bananas, grapes and more is incredible and delicious. Changing eating habits is merely mind over matter.
Series: My Renovation (7 Articles, 17160 views), The food we eat, or don't (8 Articles, 12834 views)