Articles Listed By Date
List By Popularity
SHARE

Wednesday, October 9, 2019
Amazon, Israel, and the Occupation of Palestine
Besides Amazon's dealings with Israeli companies supporting and profiting from the Occupation, many more questions remain. The most troubling of these questions surround to how Amazon Israel will deal with realities on the ground---
(2 comments) SHARE

Sunday, July 9, 2017
Apartheid illustrated: Israeli soldier shoots another soldier in Hebron
...a fatal shot by one Israeli soldier to the other. The injured commander was immediately evacuated to hospital by an Israeli ambulance, and was later confirmed dead. The Israeli forces immediately closed the whole area to Palestinians by closing all the checkpoints, collectively punishing the civilian Palestinian population.
SHARE

Saturday, May 27, 2017
Two shot in Hebron as Israeli forces clash with protesters during general strike
Palestinian protesters clashed with Israeli soldiers and border police yesterday in Hebron, as Palestinians demonstrated in solidarity with the prisoners' hunger strike. The clash lasted for five hours, with Israeli forces using tear gas, sound bombs, rubber-coated steel bullets, and live ammunition to disperse the protesters. A 15-year old and a 20-year old were shot, with many others arrested.
SHARE

Sunday, April 30, 2017
Day 13,Palestinian Prisoner Hunger Strike- Clashes in Hebron
Heavy clashes broke out during two consecutive days as Israeli forces stormed the Bab Al-Zawiah neighborhood in al-Khalil, attacking young Palestinians protesting in solidarity with the ongoing prisoners' hunger strike.
SHARE

Saturday, April 15, 2017
Palestinian City On Lockdown as Illegal Settlers Celebrate
In Pictures: Hebron on lockdown as Israeli settlers and tourists celebrate Pesach 14th April 2017 | International Solidarity Movement, al-Khalil team | al-Khalil (Hebron), occupied Palestine
SHARE

Sunday, April 9, 2017
Palestinian assaulted and work tools confiscated during early morning raid by Israeli forces
At 2am on Wednesday morning, three intelligence vehicles and six military vehicles arrived at the building where Shaha Dharma lives with his family in Kafr ad Dik; Salfit municipality. For over two hours, Israeli forces raided, harassed, and searched the apartments of the three families living in the building.
SHARE

Thursday, April 6, 2017
Hebron Palestine Faces More Closures by Israeli Occupation Forces
Palestinian residents will face the acceleration of its near total isolation in the H-2, Israeli military controlled section of occupied al-Khalil (Hebron). Upon military order, Israeli forces announced the fortification of checkpoints and further land seizure...
(1 comments) SHARE

Sunday, April 2, 2017
Israel Responds with Violence Against Palestinian "Land Day" Commemoration
As Palestinians commemorated "Land Day" their non-violent action came under heavy attack by the Israeli Forces with more than 45 people shot with rubber-coated metal bullets and many more suffering from tear gas inhalation.
(6 comments) SHARE

Thursday, March 16, 2017
Honoring Rachel Corrie (April 10, 1979 -- March 16, 2003)
Today, March 16th, 2017, marks 14 years since the day that Rachel Corrie had her life taken. And though her life ended early, her courageous heart and defiant spirit will be carried onward, and continue to inspire many activists now and into the future.
SHARE

Saturday, February 25, 2017
Remembering the Ibrahimi Mosque massacre
Today, February 25th marks the 23 rd commemoration of the Ibrahim Mosque Massacre in Hebron. "On February 25 1994, a US-born Israeli military physician walked into the Ibrahimi mosque in Hebron armed with a Galil assault rifle. It was early morning during the holy month of Ramadan, and hundreds of Palestinians were crammed inside, bowed in prayer.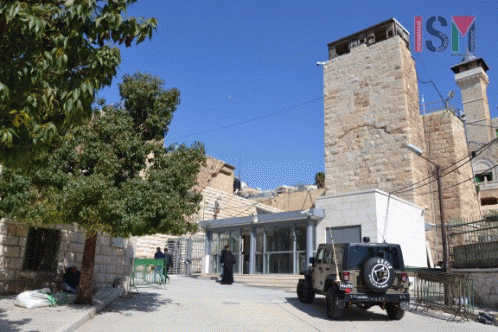 SHARE

Saturday, February 18, 2017
Israeli forces are solidifying their grip on Hebron
Israeli forces continued the practice of detaining men and confiscating IDs for the duration of Friday prayer. But this did not hinder the male population from praying, so this Friday, a long line of men prayed outside in the sunshine, while military personnel chattered in the background.
SHARE

Saturday, February 11, 2017
Palestine: A Day in the Life of an Internamional Volunteer
This is not a story about Internationals Volunteers. It is the story of some of the Palestinian people of Al Khalil [Hebron]. Every once in a while it turns out we end up being a small part of their story. But we are here to support them in their struggle, because our struggle is directly connected to theirs.
SHARE

Saturday, January 28, 2017
Palestine: Sebastiya will not be ruined
Sebastiya is a beautiful small town northeast of Nablus up in the hills. It is a site of many ancient Roman ruins, including sites from Herod's dynasty, sites of Alexander the great, and a chapel and mosque of Nabi Yahya (John the Baptist) that remains today a pilgrimage site for Christians and Muslims.