Would you like to know how many people have visited this page? Or how reputable the author is? Simply
sign up for a Advocate premium membership
and you'll automatically see this data on every article. Plus a lot more, too.


Peter Phillips Ph.D. Professor Sociology—Sonoma State University President—Media Freedom Foundation 1801 East Cotati Ave Rohnert Park, CA 94928 707-664-2588 Daily News at: http://mediafreedom.pnn.com/5174-independent-news-sources Validated News & Research at: http://www.mediafreedominternational.org/ Daily Censored Blog at: http://dailycensored.com/ Project Censored: http://www.projectcensored.org/
SHARE



I have 5 fans:

Become a Fan.
You'll get emails whenever I post articles on OpEd News
Peter Phillips is a Professor Sociology at Sonoma State University and recent past Director of Project Censored. He teaches classes in Media Censorship, Investigative Sociology, Sociology of Power, Political Sociology, and Sociology of Media. He has published thirteen editions of Censored: Media Democracy in Acton from Seven Stories Press. Also from Seven Stories Press is Impeach the President: The Case Against Bush and Cheney (2006) and Project Censored Guide to Independent Media and Activism (2003).
In 2009, Phillips received the Dallas Smythe Award from the Union for Democratic Communications. Dallas Smythe is a national award given to researchers and activists who, through their research and/or production work, have made significant contributions to the study and practice of democratic communication.
Phillips writes op-ed pieces for independent media nationwide having published in dozens of publications, newspapers and websites including: Common Dreams, Buzzflash, Dissident Voice, Global Research, and Minute Man Media. He frequently speaks on media censorship and various socio-political issues on radio and TV talks shows including Talk of the Nation, Air America, Talk America, World Radio Network, and Flashpoints.
Phillips has completed several investigative research studies that are available at Projectcensored.org including: The Global Dominance Group: 9/11 Pre-Warnings & Election Irregularities in Context, A Study of Bias in the Associated Press, Practices in Health Care and Disability insurance: Deny Delay Diminish and Blame, US Electromagnetic Weapons and Human Rights, Building a Public Ivy: Diversity at Three California State Universities, and The Left Progressive Media Inside the Propaganda Model.
Phillips earned a B.A. degree in Social Science in 1970 from Santa Clara University, and an M.A. degree in Social Science from California State University at Sacramento in 1974. He earned a second M.A. in Sociology in 1991 and a Ph.D. in Sociology in 1994. His doctoral dissertation was entitled A Relative Advantage: Sociology of the San Francisco Bohemian Club http://libweb.sonoma.edu/regional/faculty/Phillips/bohemianindex.htm
www.mediafreedominternational.org/
OpEd News Member for 715 week(s) and 0 day(s)
7 Articles, 0 Quick Links, 0 Comments, 0 Diaries, 0 Polls
Articles Listed By Date
List By Popularity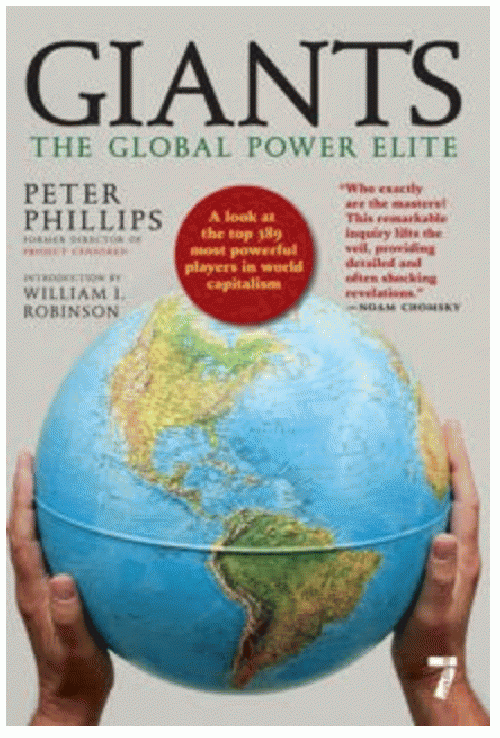 (8 comments) SHARE

Saturday, August 11, 2018
Giants: The Global Power Elite
Central to the idea of a globalized power elite is the concept of a transnational capitalist class theorized in academic literature for some 20 years. Giants reviews the transition from nation state power elites, as described by Mills, to a transnational power elite centralized on the control of global capital around the world.
(2 comments) SHARE

Friday, March 17, 2017
The Diabolical Business of Global Public Relations Firms
The expansion of public relations and propaganda (PRP) firms inside news systems in the world today has resulted in a deliberate form of news management.
SHARE

Wednesday, June 15, 2016
Orlando Killer Worked Inside the Global Security System
The Orlando mass murderer, Omar Mateen, worked for G4S, one of the largest private security employers in the world. G4S has some 625,000 employees spanning five continents in more than 120 countries. G4S is a part of neoliberal imperialism that is leading to the substitution of and privatization of state police.
(10 comments) SHARE

Monday, September 16, 2013
The Financial Core of the Transnational Capitalist Class
While millions suffer, a transnational financial elite seeks returns on trillions of dollars that speculate on the rising costs of food, commodities, land, and other life sustaining items for the primary purpose of financial gain. They do this in cooperation with each other in a global system of transnational corporate power and control and as such constitute the financial core of an international corporate capitalist class.
(2 comments) SHARE

Monday, May 14, 2012
Desperate Times Demand Revolutionary Measures
Reform is not an option. Runway capitalism is moving unrelentingly towards sociopolitical-environmental collapse--cheered on by a two-headed single party machine known as US Congress. Activists, who see the coming disasters as catastrophic, are seeking revolutionary change through non-cooperation, and occupy disruptions. Yet, many are the still delusional hopefuls desperately fumbling with traditional responses...
(1 comments) SHARE

Friday, May 4, 2012
"Scoundrel" Billionaire to Receive Honorary Doctorate from Sonoma State University
Sonoma State University's (SSU) President Ruben Armiñana arranged an honorary doctorate for precrash Citigroup's CEO, SSU mega donor Sanford Weil. He's to share it with his wife, Mrs. Weil. It's safe to say they are not getting their assinine degree for being one of the most despicably venal couples in America.
(5 comments) SHARE

Tuesday, February 21, 2012
Cuba Sets a Global Example for the Achievements of Socialism
In the United States there is a continuing propaganda drumbeat against the Cuban revolution. Castro is often described as a military dictator repressing his people and blocking freedoms in Cuba. But this description ignores some undisputed social advances under his leadership that could serve as an example of what a society can do when it turns its resources to humanitarian purposes.